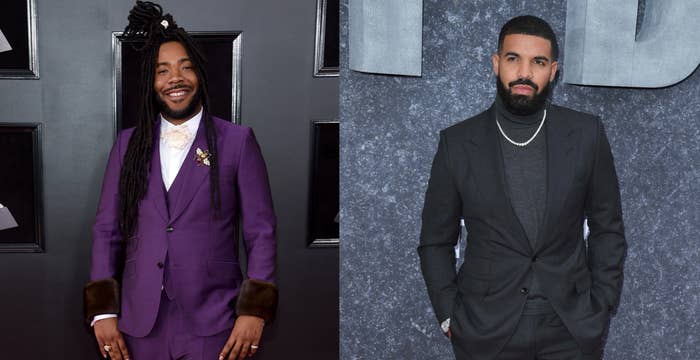 DRAM has called out Drake after the rapper made an apparent reference to the "Cha-Cha" and "Hotline Bling" drama in 2015.
"Somebody tell Drake to shut the fuck up about that shit, man," said DRAM in a video shared on Twitter on Friday. "Fucking five years ago, this n***a never even touched me, n***a. I pressed his ass! His fucking bodyguards, goddamn—I ain't gonna hold you, his bodyguards went to town on the kid. But his bodyguards did, not his bitch-ass! He ain't touch me, he's a bitch. You know that."
His comments come after Drizzy evidently referenced DRAM's breakthrough hit "Cha-Cha" on "BackOutsideBoyz," which appears on his collaborative album with 21 Savage, Her Loss. "Tried to bring the drama to me, he ain't know how we cha-cha slide," Drake raps, seemingly nodding to an altercation. In 2015, DRAM accused Drake of plagiarizing "Cha-Cha."
"What's up, my n***a? But you don't wanna do that," DRAM continued. "You wanna have your guards. That's cool, though. He ain't touch me, though. And that shit from five years ago! Come on, n***a. … Why don't you bring up how you got smacked by Diddy or some shit?"
In a series of tweets shared in 2015, DRAM said he was seeing a lot of comparisons between "Hotline Bling" and "Cha-Cha." "Yeah, I feel I got jacked for my record…But I'm GOOD," he wrote. In a quote that was pulled from a Fader cover story, per Pitchfork, Drizzy suggested the similarity between the songs was akin to when Jamaican artists would hop on the same riddim.
"Imagine that in rap, or imagine that in R&B. Imagine if we got one beat and every single person—me, this guy, this guy, all these guys—had to do a song on that one beat," Drake said. "So sometimes I'll pick a beat that's a bit, like, sunnier, I guess is the word you used, than usual, and I just try my hand at it. And that's kind of what 'Hotline Bling' was. And I loved it. It's cool. I've been excited by that sort of creative process."
"BackOutsideBoyz" isn't the only track to feature a line from Drake to provoke a reaction from another artist. On the Daft Punk-sampling "Circo Loco," Drizzy referenced Megan Thee Stallion getting shot by Tory Lanez, and the line could be perceived as him suggesting she lied about the incident.
"This bitch lie 'bout getting shots but she still a stallion," he rapped, drawing criticism from Megan herself. It's worth noting the line is seemingly about injections, and could mainly be an inappropriate reference rather than an outright accusation she lied about the incident—but who really knows how charitable to be when it comes to Drake lyrics.