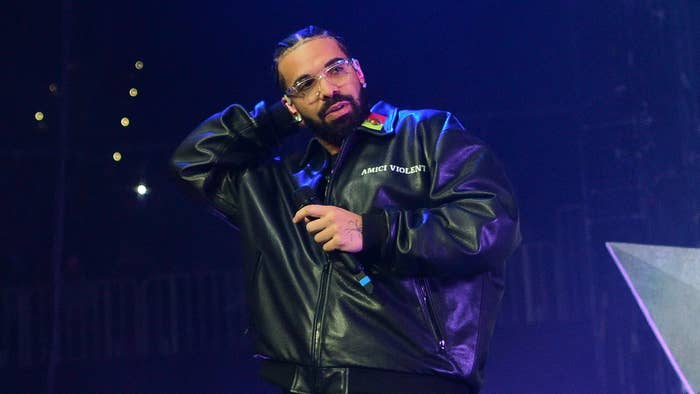 Drake is being sued for copyright infringement after he reportedly used an unauthorized sample by Ghanaian rapper Obrafour on "Calling My Name."
In court documents originally published by Music Business Worldwide, Obrafour claimed that Drizzy's record label Republic Records reached out to him to clear the use of a sample in the Honestly, Nevermind cut. Obrafour, real name Michael Elliot Kwabena Okyere Darko, argued that the song used a short vocal sample from his track "Oye Ohene" featuring Tinny. "Killer cut, blood, killer cut," the sample goes.
The lawsuit states that Deborah Mannis-Gardner from Republic Records sent a clearance email on June 8, just over a week before the album dropped on June 17. In the alleged email she wrote that she was "currently working on a sample clearance for Republic recording artist Drake." Mannis-Gardner added, "Drake has used samples from the above referenced song." The email referred to the song by its working title, "Darkness." 
In the email, Mannis-Gradner wrote that "the rights that we are looking to secure include the right to use this sample in our new composition in all audio configurations, now known or hereinafter devised, throughout the world, in perpetuity including music video rights and digital downloads and ring tones/ring tunes." On June 13, Obrafour received a follow-up email checking to see if he had seen the message. 
"The copying of the Sampled Phrase in the Infringing Work is so direct in nature that the audio of the Sampled Phrase heard in the Infringing Work contains little or no audible manipulation, processing, or other alteration to its original character as heard in the Copyrighted Work," argues the lawsuit. "This lack of audible alteration to the audio of the Sampled Phrase heard in the Infringing Work is notable to the extent that it is generally atypical for a song to sample audio from another song without at least some audible manipulation, processing, or other alteration to the basic character, speed, and/or pitch of the sampled audio."
Obrafour is seeking $10 million in damages and a portion of the profits from "Calling My Name."