Up-and-coming Harlem rapper Delly has braved the outside world during quarantine for his fun "No Games" video. His new track with Nyla Symone sees him don a full hazmat suit, making the most of the mostly empty city during the coronavirus pandemic.
"Super excited to be dropping my first song with Delly because he's next to blow in NY," Symone said of the collaboration. "This feels special." Distinctively New York, the track itself references the MTA, and the line is accompanied by Delly in his hazmart suit riding the subway.
Prior to the release of the track, Delly responded to a comment comparing his flow to that of Baby Keem. "YOU NOT BABY KEEM," someone commented. "Yes I'm 27Delly," Delly replied.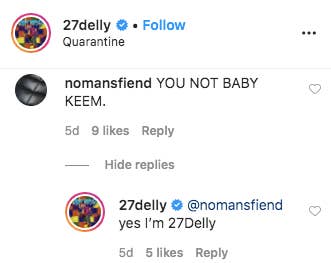 In reference to the exchange, Delly told Complex, "Keem's flow is rudimentary, it didn't originate with him and it isn't going to end with him. Stealing creative concepts and selling persona/facades should be the real conversation." 
Watch the video for "No Games" above.