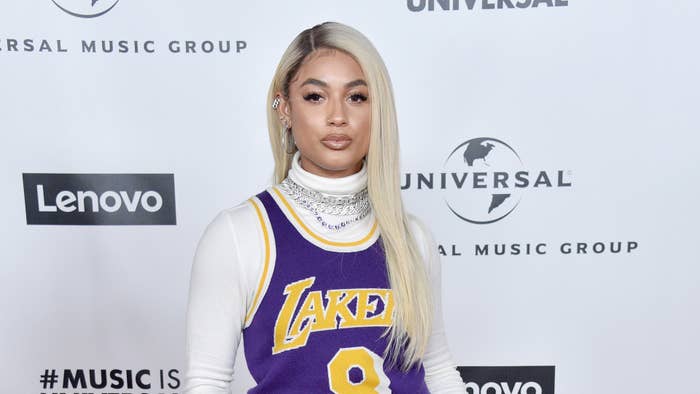 UPDATED 1/24, 8:30 p.m.: DaniLeigh is once again addressing the colorism accusations she has received since playing a snippet of a song titled "Yellow Bone." The singer and rapper said she felt misunderstood, saying she was just speaking about the interests of her boyfriend DaBaby. "That's what he wants, that's what he has," she said. 
While acknowledging that colorism is a real issue, DaniLeigh said it wasn't something that crossed her mind when she was making the song. After revisiting previous talking points about her own ethnicity, she asks why people would accuse her of colorism with a cringe-worthy retort: "How? I'm dating a whole chocolate man. I have beautiful dark-skinned friends."
See original story below. 
DaniLeigh is facing backlash after she previewed a song titled "Yellow Bone."
The singer and rapper teased the track on social media. "YELLOW BONE THATS WHAT HE WANT," she wrote alongside a brief preview of the song.
After it started to court controversy and accusations of colorism, she addressed the situation in the comments. "Why I can't make a song for my light skin baddies??" wrote DaniLeigh. "Why y'all think I'm hating on other colors when there are millions of songs speaking on all types... Why y'all so sensitive & take it personal... Gahhhh damn."
DaniLeigh also took to Twitter to address the criticism, writing, "Congratulations y'all gotta another thing to say about me when u hate."
Many reactions on Twitter have been negative, with some commenters calling her out for her usage of the term "yellow bone."
MeMe, DaBaby's ex and the mother of one of his children, also chimed in on the controversy via her Instagram Stories. (DaniLeigh and DaBaby are romantically linked in addition to being collaborators.) "Lmfaooo I'm gone," she wrote alongside crying-laughing emojis. "I ain't gone dooooooo it."
DaniLeigh and MeMe previously went at it on social media, with the latter claiming she had been blocked while the former simply told her to "shut up" and to "get a job."