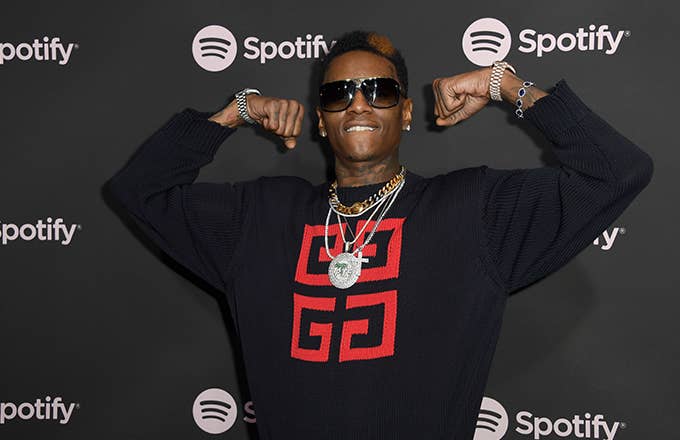 On Monday (Feb. 4), it was reported that Soulja Boy had allegedly beat and kidnapped a woman in his home on Feb. 2. The woman, known only as Kayla, had previously dated the rapper. TMZ reports that law enforcement will now be visiting Soulja's Agoura Hills home just outside of Los Angeles after receiving a search warrant.
Police are reportedly already searching the property, although it is not clear if Soulja is present during the search. They're hoping to find any evidence from the incident, specifically targetting the garage Kayla claimed she was tied up in. Soulja's team admitted that Kayla got into a fight with one of Soulja's managers, but otherwise say that the allegations against him are "100 percent fabricated."
Soulja Boy has already denied the allegations, with sources close to the rapper explaining she turned up to his house drunk after he split up with her. Kayla, meanwhile, said that she attempted to leave the property after the two of them got involved in an argument, at which point she clipped the curb while backing out of his driveway.
Soulja's assistant started fighting with kayla after they saw the incident, with Soulja later dropping by to break it up. Kayla alleged that Soulja kicked and punched her while she was on the floor, after which he tied her up to a chair in his garage with an extension cord. She said she was imprisoned for six hours.
Recently, Soulja Boy has inserted himself into the coversation surrounding Ariana Grande's "7 Rings," which fans have said sounds similiar to his 2010 single "Pretty Boy Swag." Soulja himself has agreed with the assertion, but in speaking with Billboard, he's said that he's open to working with her in the future. 
"I just feel like she should have reached out and we coulda did this song," he explained. "She could have got a feature, know what I'm saying? She coulda called me. We could've got into the studio and done something ten-times as dope, you know."
Soulja Boy wasn't quite as positive when the song first dropped, however, calling her a "thief." On his Twitter, he added, "Give me my credit. Period. [...] Lol stop stealing my swag."