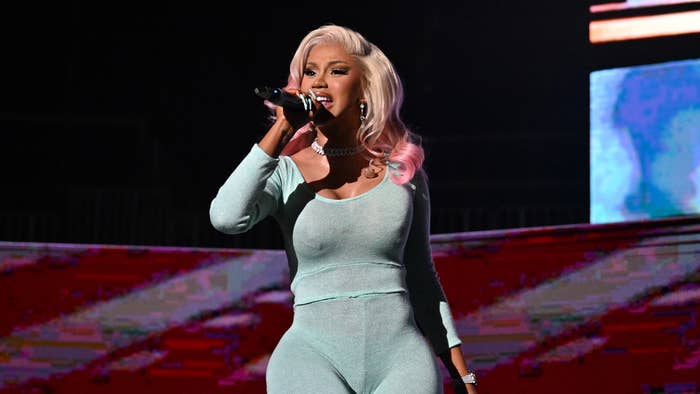 UPDATED 6/21/23, 3:15 p.m. ET: Brian Szasz, the stepson of billionaire Hamish Harding, caught wind of Cardi's comments about him deciding to go to a Blink-182 concert and slammed the Invasion of Privacy rapper on social media. He also decided to respond to an OnlyFans model's thirst trap.
"What a pos trashy celeb," Szasz wrote. "Cardi B trying to get clout off me and my families [sic] suffering. I went to a Blink 182 concert for coping rather than sitting at home and watching the news. Shame on you Cardi get some class!"
See original story below.
If you've ever wondered what the etiquette is if and when one of your relatives goes missing on a submersible, Cardi B is here to help.

After learning that the stepson of British billionaire Hamish Harding—who is one of the passengers on the missing Titanic sub—went to a Blink-182 concert recently, Cardi took to Instagram to set him straight.
"Ay so one of the billionaires that's missing underwater, on the submarine shit... One of the billionaires, they stepson is at a concert, right, a Blink-182 concert" Cardi B said.
"People was like, 'Uh what is he supposed to do, be sad at the house? Is he supposed to go look for him himself?' Yes. You supposed to be at the house sad," she continued. "You supposed to be crying for me, you supposed to be right next to the phone waiting to hear any updates about me. ... Isn't it sad that you, a whole fucking billionaire, and nobody gives a fuck about you. Like, you missing, and motherfuckers is ready to shake dicks at concerts. That's crazy. I'd rather be broke and poor, but knowing that I'm loved."
When the news broke that the OceanGate Expeditions submarine was missing, Brian Szasz publicly confirmed on Facebook that his stepfather, Harding, was among the five people onboard the craft. With the search operation making international headlines, Szasz shared a post about going to a Blink-182 concert, sparking widespread debate on social media.
"It might be distasteful being here but my family would want me to be at the Blink-182 show as it's my favorite band and music helps me in difficult times," he wrote on Facebook.
To add insult to injury, a Twitter account that appears to belong to Szasz tweeted at Blink-182's Tom DeLonge to let him know he was at the San Diego concert. "My stepdad is missing in the sub at the Titanic site," the tweet reads. "I'm here at the San Diego show for support thanks."
In the replies to his tweets, many questioned his priorities during a time of crisis for his family. It's hard to know what song Szasz would request at the show if he had the chance, but maybe, "I Miss You"?
The submersible craft went missing on Sunday, June 17 approximately 1 hour and 30 minutes into its planned journey to visit the wreckage of the Titanic.
On Tuesday, the Department of Homeland Security was informed that an aircraft involved in the search and rescue operation detected "banging" sounds in 30-minute intervals coming from the general area the vessel and its five passengers went missing. The craft began its journey from St. John's in Newfoundland with 96 hours of oxygen, which authorities say could run out by Thursday morning.