Cardi B Says Rappers Making 'Slow Sh*t' Who 'Wanna Die' Need to 'Stop Doing Lean and Smoking Weed' (UPDATE
During a recent Instagram Live, Cardi B lamented the lack of club-oriented rap music and suggested rappers "need to stop doing lean and smoking weed."
Getty
Image via Getty/Richard Bord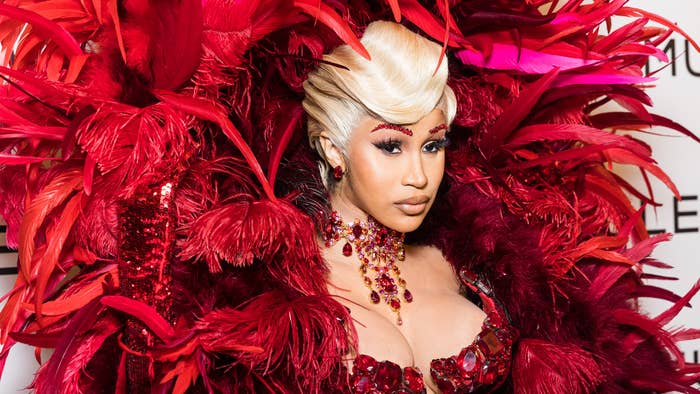 UPDATED 6:25 p.m. ET: Cardi clarified the intent behind her message, tweeting, "I just want a balance sorry if I worded things wrong. I just love music that drop hard and turn the club up." She mentioned Meek Mill's "Dreams and Nightmares" and Tee Grizzley's "First Day Out" as songs that offer "a perfect balance of rap and turn up."
She also co-signed a fan's message with a retweet about the point she was trying to make:
See original story below.
During a recent Instagram Livestream, Cardi B lamented the lack of club-oriented rap music and suggested rappers "need to stop doing lean and smoking weed."
On her stream in the early hours of Monday, Nov. 1, which can be viewed in full here, Cardi B said there's too much "slow shit" in hip-hop right now and the clubs have been missing her music.
"I know what n***as is missing in the club. Me! They missing me, they missing my music," she said. "And now that I'm in the game and everything and I be seeing all these muthafuckas on Twitter like, 'You need to have rap, you need to have bars, you need to have this...' I want to make music to turn the fuck up, 'cause when I go to the club, that's what n***as wanna hear."
After those comments, she said that there's a wave of "depressing" music, and implied the rappers making this music have been consuming too much marijuana and lean.
"I feel like we keep hearing the same song over and over and over again. These rappers nowadays, all of them wanna die," she continued. "They all wanna die. All these n***as need to stop doing lean and smoking weed. You know, this the thing about these rappers, right? They got money and they start buying too much motherfucking weed, and too much lean and they make that slow shit. The club need me. The strippers need me. The hoes need me. The motherfuckin' get money n***as need me. … I wanna shake my ass."
While Cardi has yet to announce her next studio album, the Bronx rapper has continued to top the Billboard Hot 100 chart with her energetic trap-oriented songs such as "Up" and "Bodak Yellow." It's safe to assume that she'll be aiming for a party vibe with that Invasion of Privacy follow-up when it does arrive, then.