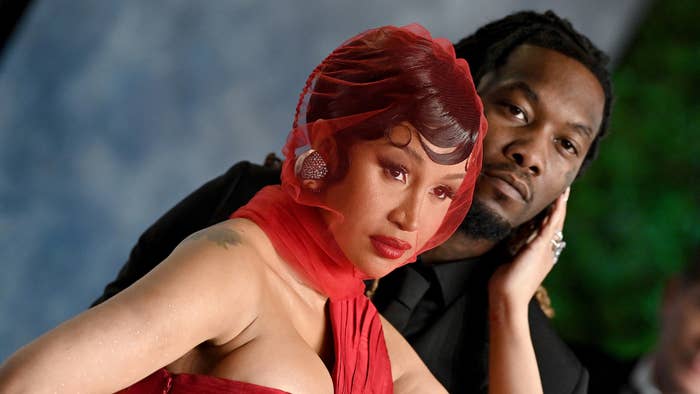 After singing a portion of Keyshia Cole's "I Should Have Cheated," Cardi directly responded to the latest rumors about her and Offset's relationship.
"Listen. Don't pay attention that country man y'all," she said on Twitter Spaces. "Don't pay attention that country man. That Spaces the other day got motherfuckers spiraling and thinking shit. Come on now. I'm fucking Cardi B, n***a. I think sometimes motherfuckers forget. I'm Cardi B. If I was giving this p*ssy to anybody it be not just anybody. Can't f*ck regular-degular-shmegular, 'cause they gonna tell the world. And I can't f*ck anybody in the industry, 'cause they gonna tell too. Y'all ever heard that Rubi Rose where she says 'got a big ass mouth?' So please boy, stop acting stupid. Stop acting Stupid. Going crazy over a f*cking space. Don't play with me. What the f*ck. Stop playing. Thats all I'm gonna motherfucking say."
It's unclear where the rumors came from, or whether the screenshot of Offset's Instagram is legitimate. Either way, it appears as though Cardi is not entertaining any of it.
The rumors come not long after Offset reunited with Quavo onstage at the 2023 BET Awards with a tribute to the late Takeoff. The tribute marked their first time performing together since their Migos bandmate was fatally shot last year. Cardi was among those to enthusiastically react to the moment, which got a huge reaction both online and with the BET Awards crowd. "I can't take it right now… proud of my boys," Cardi added of the performance.
The couple faced accusations that Offset had cheated last year, which is something Cardi B decided she never wanted to address. Particularly of note were rumors he cheated on her with Saweetie, which stemmed from speculation among fans after Quavo had a line on his and Takeoff's track "Messy" alluding to an affair.
"You know why I was quiet? I was quiet because one thing I'm gonna do [is] find out the truth," she told Jason Lee of Hollywood Unlocked last year. "You know that I was finding out that truth. So, it's like, if I entertain something that I know is not true, on the internet, people be like, 'Oh, it is true because you're addressing it. But when I don't address it, it's true or not, as well."
Cardi B actually filed for divorce from Offset in September 2020, but they called off the separation just a month later. Prior to that, Offset was rumored to have been involved in a cheating scandal with model and rapper Summer Bunni.