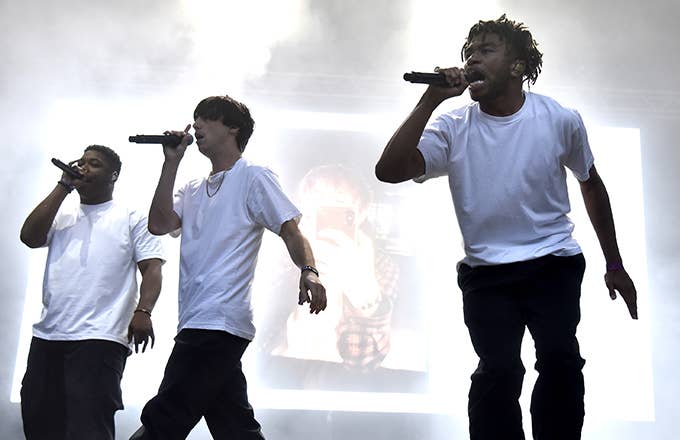 It's been a tumultuous year for boyband Brockhampton, and that's putting it lightly. Besides signing to RCA Records for a reported $15 million, the group also lost one of their founding members Ameer Vann following sexual misconduct allegations. However, they're bouncing back bigger and better with their upcoming fourth studio album, Iridescence.
Having just announced that the highly-anticipated record is arriving next week on Sept. 21, they've also just shared a new merch drop ahead of its release.
As to be expected from Brockhampton, who do all their visuals and merch in-house, the new collection has some striking pieces. Get what you can while it lasts here. As well as sharing the merch drop, they also revealed the tracklist for Iridescence. 
Before the album arrives, however, they plan to debut a documentary that recaps the crazy year they've had. Titled THE LONGEST SUMMER IN AMERICA, the doc follows them from their RCA signing, the fallout that came with kicking out one of their members, and the recording process of what eventually became Iridescence.
Initially the group announced their fourth album would be titled TEAM EFFORT, before canceling the release in favor of PUPPY. When Ameer was kicked out of the group, they scrapped the record and start work on a new version called The Best Years of Our Lives, which they started recording while in Hawaii. Eventually that morphed into Iridescence when they came together to finish recording at Abbey Road, London.
Check here to see where the documentary is showing and how to get tickets.