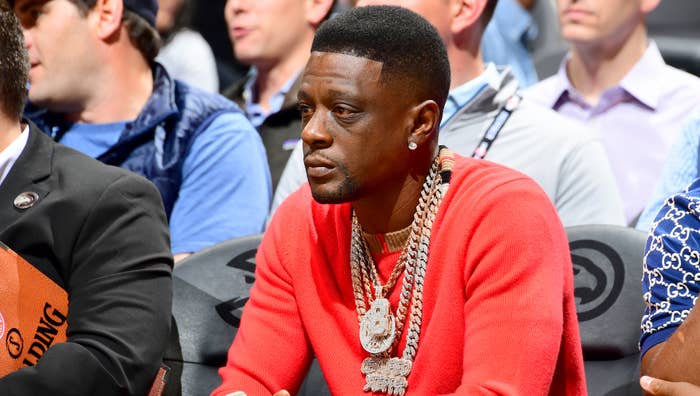 Dwyane Wade recently appeared on Ellen to talk about his 12-year-old child Zaya coming out as a transgender girl. "First of all me and my wife, Gabrielle Union, we are proud parents of a child in the LGBTQ+ community and we're allies as well," he said, making it clear that his daughter has his full support.
Boosie Badazz decided to criticize Wade's support in a rant on Instagram.
"I gotta say something about this shit, bro. Dwyane Wade, you gone too fucking far, dawg," the 37-year-old said, before quickly delving into more transphobic comments. "That is a male. A 12-year-old. At 12, they don't even know what they next meal gon' be. They don't have shit figured out yet. He might meet a woman, anything, at 16 and fall in love with her. But his dick be gone—how he gon'—like, bruh, you going too far, dawg."
Showing how little he knows about trans identity, conflating sexuality with gender, he continued to criticize Wade. "Don't cut his dick off, bruh. Like, bruh, for real, if he gon' be gay, let him be gay," Boosie said. "But don't cut his dick off, bruh. Don't—and dress him as a woman, dawg. He's 12 years old. He's not up there year. He hasn't made his final decisions yet. Don't cut his fucking dick off, Dwyane Wade, bruh. You fucking trippin', dawg." 
It's worth pointing out that Wade at no point indicated that Zaya was receiving gender reassignment surgery, only that she wishes to use she/her pronouns. In a recent ESPN documentary, Wade addressed how he found difficulty in announcing Zaya coming out. "We struggled with what people would say about a 12-year-old making a decision about her life," he said. "But we also know our child."
Watch Boosie's video above, and see what Twitter had to say about his comments below.