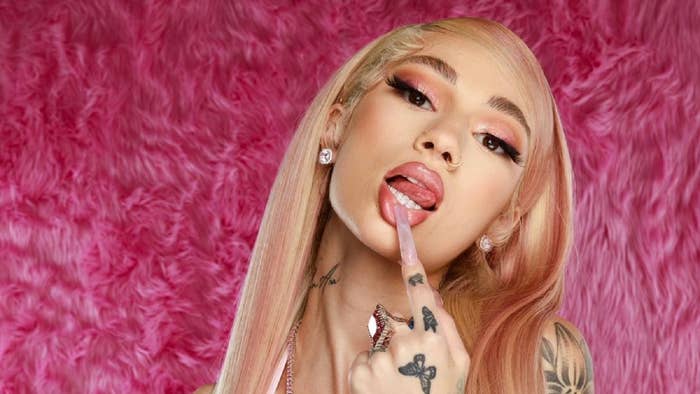 Bhad Bhabie, who purchased a $6.1 million Florida mansion earlier this month, now claims she's made $50 million on OnlyFans.
The controversial "Hi Bich" rapper, whose real name is Danielle Bregoli, originally went viral for her wild appearance on Dr. Phil alongside her mother in 2016, when she first uttered the catchphrase "cash me outside."
But it appears that the viral sensation is ready to move on. Bregoli recently went on Instagram Live to express her frustrations with the constant "cash me outside" references. She referenced a TikTok that referred to her as the "cash me outside girl," and she didn't appear too pleased about it. She said she shared her own TikTok in response, and is now facing backlash on the platform, she claimed.
"So basically, I was just saying if someone's speaking about me… And you feel the need to say something like that, I'm not saying it's the end of the world but why say something like that?" she said in the clip below. "If you know when they say that, who they're talking about, why add that in? So everybody get mad … Like, 'Well, that's how people know you!' I'm not mad, I'm just saying, why even say it?"
She explained that anyone referring to her as such is "annoying" or "ignorant." She also suggested that "only 10 percent" of people only know her for her Dr. Phil appearance. "There's probably more people who only know who Bhad Bhabie is."
During the clip, in which she said she's the youngest female rapper to go platinum, Bregoli claimed that she's made $50 million from OnlyFans. Upon launching her page last year, Bregoli showed that she made $1,092,762.63 in just six hours. If her claims are true, that would put her among the highest-earning OnlyFans creators in the world. It's not clear over what time frame she's made that much money, though, but she does charge $24.99 per sub.
This is far from the first time Bhad Bhabie has fought back against the "cash me outside girl" descriptor. In a video shared on her YouTube page last year, she said that it doesn't fully represent who she is. 
"For years I didn't even want to talk about it. People would say it and I would just be like, 'Okay yeah, whatever,'" she said at the time. "I'm still a human being you have to have some sort of respect for me."