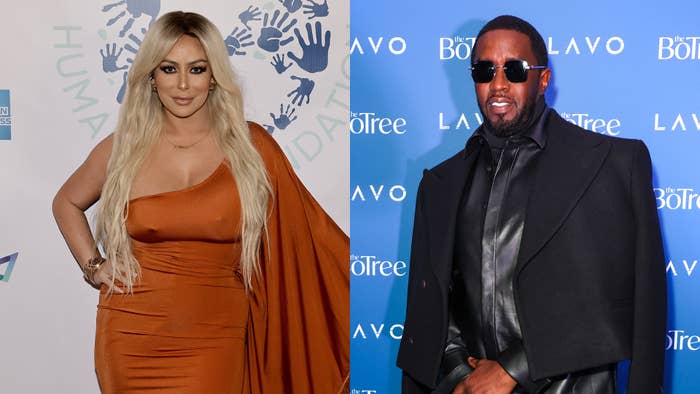 Former Danity Kane lead singer Aubrey O'Day has shared support for Cassie after she filed a sexual abuse lawsuit against Diddy.
In a series of screenshots shared on social media, O'Day suggested that she's been trying to "tell" people about Diddy's abusive behavior for years. "Been trynna tell y'all for years," she wrote alongside a screenshot reporting Cassie's lawsuit against the Bad Boy Records founder. "Prayers up for this queen Cassie." In another screenshot, she added, "One day y'all are gonna put some respect on my name when I tell you things."
She later tweeted her surprise to see the news trending on X, formerly Twitter. "The FACT that these are all trending right now has my mind blown," she wrote. "I never thought I'd see the day... Wow. #Diddy #MakingTheBand #Cudi #KimPorter #Cassie #Snoop #Tupac #BrotherLove #RyanLeslie #RKelly."
A fan suggested that she would air out her own experiences once an assumed non-disclosure agreement lapses. "No NDA," she confirmed. "I just try to stay respectful with other people's truths while also not compromising or having to lie about my experiences. It's a balance."
In a statement shared with Rolling Stone, she reiterated her support for Cassie.
"I am in full support of Cassie. It isn't easy to take on one of the most powerful people in this industry and be honest about your experience with them. I know what her heart is feeling right now, because I have done so as well," she said. "May her voice bring all the others to the table, so we can start having more transparent conversations about what is actually happening behind the scenes. There is a lot more to all of our stories!"
O'Day previously starred on MTV's Making The Band 3, which tracked the development of Danity Kane. She signed to Bad Boy Records but was kicked off the show and fired from the band by Diddy in 2008. In an episode of the podcast Call Her Daddy last year, she said she was fired because she "wasn't willing to do what was expected of [her]—not talent-wise, but in other areas." While she did not specify what she meant by that comment, she added that she was "the only girl that was in those types of positions."
She described Diddy as "the hardest person" to work for and compared the experience to "torture." She alleged he subjected her to "mind games," "betrayal," and "a lot of lies." As recently as September, per People, she claimed Diddy sent an NDA to her to make sure she would never "disparage" Bad Boy Records. She said she warned everyone else in Danity Kane not to sign the NDA.
Her Danity Kane bandmate Dawn Richard also shared support for Cassie in a tweet shared on Thursday, November 16. "Praying for Cassie and her family, for peace and healing," Richard wrote. "You are beautiful and brave."
Cassie has accused Diddy of rape and over a decade of abuse in a lawsuit she filed in Federal District Court in Manhattan on Thursday, Nov. 16.
"After years in silence and darkness," she said in a statement, "I am finally ready to tell my story, and to speak up on behalf of myself and for the benefit of other women who face violence and abuse in their relationships." She is seeking unspecified damages in the lawsuit.
Cassie said that Diddy began exhibiting controlling and abusive behavior shortly after she met him in 2005 when she was 19. In one 2009 incident recalled in the lawsuit, he allegedly pushed her into a car and kicked her in the face until she started bleeding. Following the incident, she was kept in a hotel room against her wishes for a week and told she wasn't allowed to go home to visit her parents when she asked. She also said that he forced her to participate in his voyeuristic and cuckoldry fantasies, by making her have sex with male prostitutes so he could record videos, take pictures, and masturbate.
In a statement provided to Complex, Diddy's attorney Ben Brafman denied the allegations against his client.
"Mr. Combs vehemently denies these offensive and outrageous allegations," Brafman said. "For the past six months, Mr. Combs, has been subjected to Ms. Ventura's persistent demand of $30 million, under the threat of writing a damaging book about their relationship, which was unequivocally rejected as blatant blackmail. Despite withdrawing her initial threat, Ms. Ventura has now resorted to filing a lawsuit riddled with baseless and outrageous lies, aiming to tarnish Mr. Combs' reputation and seeking a pay day."
Diddy is currently the subject of a "locked investigation" being conducted by the NYPD.