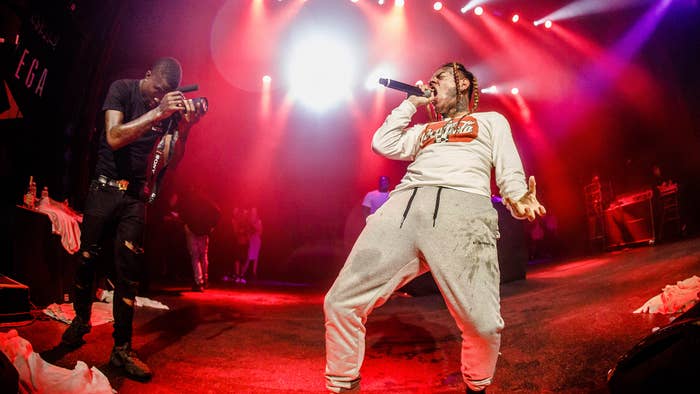 It's looking as though 6ix9ine is finally gearing up to drop his first new music following his release from prison over coronavirus concerns. TMZ reports that sources close to the controversial artist have explained 6ix9ine will be the only person onscreen in his new video, a decision made both due to worries over the virus and his safety.
Just last week, 6ix9ine was granted permission by a judge to shoot and release music videos from his house and backyard. 6ix9ine is clearly not wasting any time in quarantine, already outlining his plans to shoot the video without his team appearing beside him. Security guards are expected to help with the shoot, presumably handling the cameras. Sources added 6ix9ine has assigned himself as the director as well as the sole star of the video. The location of his home is reportedly to be kept secret, with fears that anyone wronged by the rapper—who cooperated with authorities in court—might find where he lives.
It has been hinted that another rapper might be involved in the track and the video, but their appearance in the clip will be dependent on whatever they themselves shoot for it. On his Instagram Stories, 6ix9ine teased a date of Friday, May 8, although he didn't explain what fans can expect yet. 
Last fall Dave East said in an interview that he'd met 6ix9ine before the latter was a rapper, revealing Tekashi was actually working behind the camera. "He didn't have no tattoos, no rainbow hair. He had a regular haircut. He sat in the corner [of the studio]. He was a cameraman, he used to do videos. That's a fact," East said.
Following 6ix9ine's reassignment to home confinement due to concerns that he might contract coronavirus behind bars, 6ix9ine has reportedly been on something of a spending spree. Prior to his release, he signed a record deal with 10K Projects for a reported $10 million. He is expected to deliver two albums for the label, one in English and another in Spanish. Judging from the impending arrival of new music, he could fulfill at least one of the albums in that contract before he's off house arrest later this year.