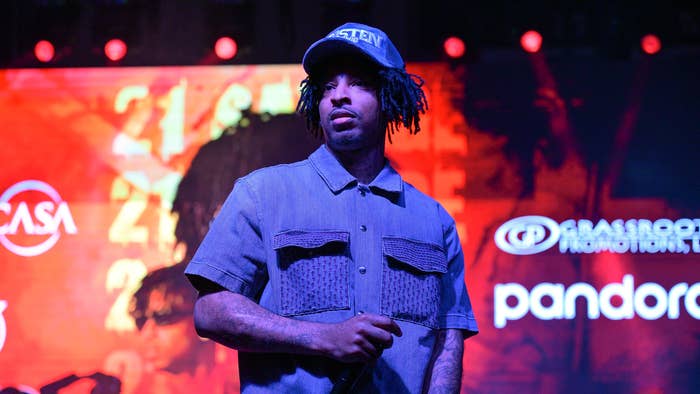 21 Savage has doubled down on his claim he could beat any of the artists featured on XXL Freshman Class of 2016 in a Verzuz match.
In a recent appearance with Twitch streamer Kai Cenat, the Her Loss rapper confirmed he believes he's the best of the bunch. "Those people include Uzi, Yachty… Who else is on there?" said Cenat, to which 21 replied, "Jesus Christ, Muhammad Ali, Michael Jackson." Cenat suggested that a Verzuz match-up between him and Uzi would be good, and 21 added, "Yeah, for sure."
Asked if he would be crowned the winner overall if put up against Lil Uzi Vert, he said, "Yeah, depending on the crowd, for sure." Someone else on the stream asked about Kodak Black, who recently called 21's claims "cap," and he responded, "I'm smoking Kodak."
"Nah, Kodak got some shit though, it just depends how a n***a play it," he continued, before directly responding to Kodak's comments. "He acting like I ain't got that shit, that's what be the problem. He forgetting, I don't know what n***a thinking. Before all this Drake shit, I been having hits. Been having diamond songs and shit. I'm probably the only n***a of this generation to go platinum with no features. 'Cause they always talking like, 'Savage a feature artist.' No Savage went platinum before with no features, my first album."
His debut album Issa Album, which dropped in 2017 and has zero features, was certified platinum in November 2020. In a tweet shared this week, 21 also appeared to indirectly address those doubting he could hold his own against the entire list of rappers, which also included Denzel Curry, G Herbo, Dave East, Lil Dicky, Desiigner, and Anderson .Paak.
"Where all y'all fans be at when these n***as drop albums," he wrote.
Both Kodak and Desiigner have responded to 21's initial comments. "That's how you should feel, know what I mean?" said Kodak. "But you know I always put myself first over any n***a, any day. That's cap." Desiigner, meanwhile, reminded 21 that he's gotten plenty of platinum plaques himself, too.
On Instagram Live, Kodak once again said 21 don't want the smoke. He tried to DM him and even hit up Verzuz about the potential match-up. "Don't be capping on this internet if you ain't ready to be standing on that fire," he says.

In other 21 news, he has reacted to the recent memes surrounding the song "Rich Flex."