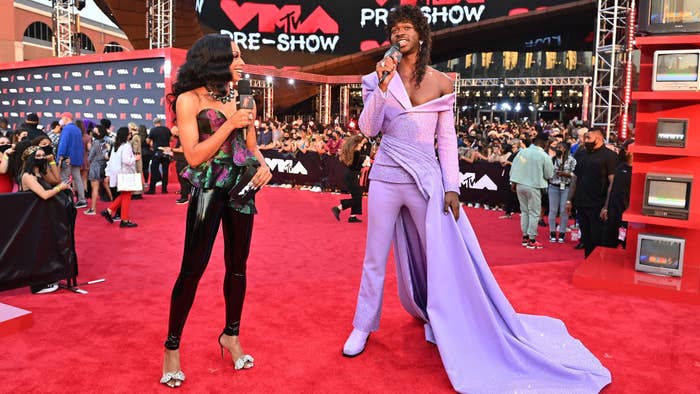 Lil Nas X's purple fit at the MTV Video Music Awards' red carpet was bold and beautiful. But not everyone was a fan.
During the VMAs pre-show, broadcast journalist Jamila Mustafa chatted with Lil Nas X about the special night, but not before she seemed to get a dig in about his Atelier Versace outfit.
"Listen," Mustafa says in a now-viral clip in response to Nas asking what she thinks about his look. "I'm not gonna say I'm hating on the fit, but let's move on." 
Nas continued to joke around with Mustafa during the conversation and appeared to enjoy the chat, so while some fans assumed it was a diss, others think people are misunderstanding what she was trying to say.
"I took this completely different than y'all are," one user wrote. "To me it was like she was trying to say 'I'm not gone say I'm hating, but I'm hating' but instead she said let's move on lmao."
Regardless of the attention his look is getting, it was a big night for Nas, as he took home the coveted "Video of the Year" award for "Montero (Call Me By Your Name)" with an acceptance speech that let fans "give it up for the gay agenda."