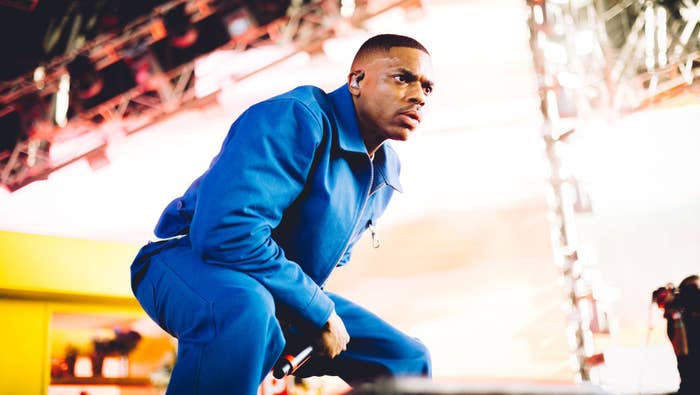 Following the release of his new album Ramona Park Broke My Heart, Vince Staples said he feels Black people are looked at for "entertainment."
"I feel like a lot of the time, we get this voyeurism: 'Ah man, it must be so hard,' or, 'I can't imagine growing up where you grew up, experiencing what you did.' People look at us like we're entertainment and not people," he told The Guardian. "That's how we look at rap music. That's how we look at Black people."
The Long Beach rapper continued, sharing that there's "perpetual violence" in the industry, and that listeners "engage in trauma porn for people obsessed with poverty and violence who don't know it, don't digest it or really care about it."
"The truth is, someone can like my music, but if I did one of these things that's talked about in music for survival I would be shunned by the world," he explained. "We just don't care about people like me and where I come from – we just pretend to."
Staples previously spoke about rap feuds and how he feels the industry sees "money in the violence" during a March discussion with Hot 97. As he explained, things were different back in the day. 
"I feel like it was more protected," Staples said of the industry. "When you hear N.O.R.E. and all those other people talk about the role that their A&R's and executives had in their life, moving them out and doing certain things for them, like when Snoop talks about Master P moving him out to New Orleans. I don't think anyone's doing that anymore. I think they see the money in the violence. Back then, the violence ruined the money."
Ramona Park includes features from Lil Baby, Ty Dolla Sign, and Mustard, and serves as a follow-up to Staples' 2021 self-titled LP. He previously shared two singles to promote the album, including "Magic," which he dropped on Valentine's Day.