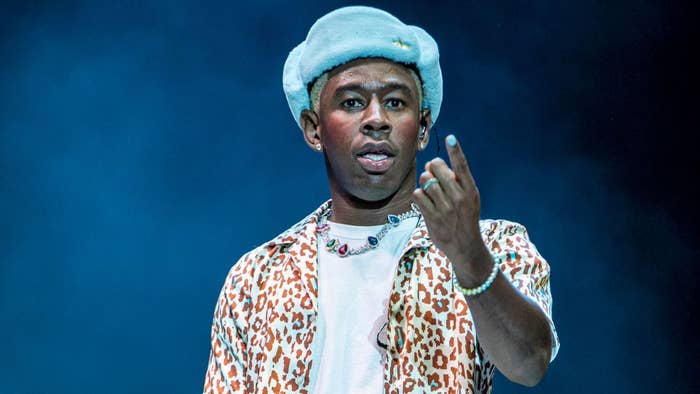 While most of the hip-hop world is still geeking out over Kendrick Lamar's verse on Baby Keem "Family Ties," Tyler, the Creator is geeking out but with a bit more access. 
In XXL's fall 2021 cover story, Tyler chopped it up about his new No. 1 album Call Me If You Get Lost, some early rap influences, and the fact that he's called Kendrick Lamar every two days about his verse, which is reminding him to "just stay weird and stay tryin'."
"You know why it ruined me? Because it's someone at that level still gunning," Tyler said. "He's trying new voices. He's trying new shit. He's still learning. You can tell he was off his phone for a few months." 
The conversation also saw Tyler discuss a few early influences, including the Black Eyed Peas' first album, Behind the Front, and their track "Positivity." 
"I'm still learning genres but like, Damn, that's jazz," Tyler recalls. "Then, they kick in and they're rapping and I'm like, Wow, this is sick. And the drum patterns kinda skip and stuff and I'm like, This is sick. And then, Dr. Dre's 2001 comes out. This is like, fourth quarter '99, and I'm hearing this Eminem guy and I'm like, 'What is this?'"
One early influence, even outside of music for Tyler, was Jay-Z, who Tyler says inspired him to be "one of the few who's really listening and learned how to kind of run businesses since I was 17."
In a video shared to the publication's YouTube page, Tyler—who responded to a question about his sexuality with "I'm just living life, brother"—explains more of his vision behind the new album, and claps back at listeners who say he switched up. 
"It's interesting, people are like, 'Ah, he became everything he would talk shit about.' Like bro, [when I did] 'Yonkers' I had like 40 chains on. What are they talking about? 'Fuckin' Lame,' one of my first songs from 2007, 2008, [I rap], 'I'm rollin' in the beamer...' I've always been into that stuff but it wasn't super prevalent in the finished products of all my things, so this album just really dips into that lifestyle."
You can watch the full video below.