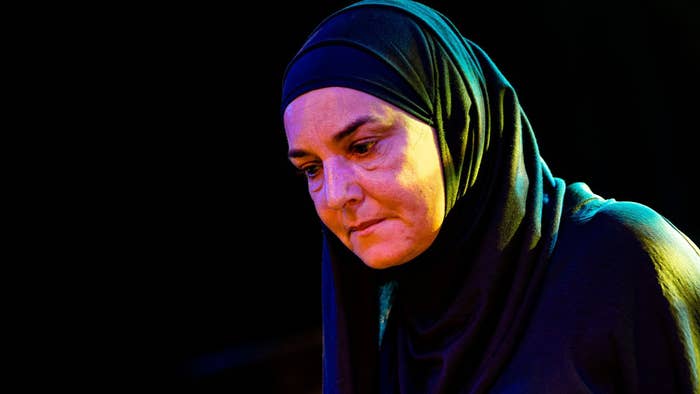 Sinead O'Connor is mourning the loss of her 17-year-old son, who had gone missing earlier in the week. 
Her son, Shane O'Connor, "decided to end his earthly struggle," according to the singer who shared the news of his death on her Twitter feed. 
"My beautiful son, Nevi'im Nesta Ali Shane O'Connor, the very light of my life, decided to end his earthly struggle today and is now with God," O'Connor shared. "May he rest in peace and may no one follow his example. My baby. I love you so much. Please be at peace."
Police confirmed the news, per the Guardian, after the teenager was missing since Thursday from Newbridge, County Kildare in Ireland. He was last seen on Friday in the Tallaght, Dublin 24 area, and the Gardaí—national police—shared they were concerned about him. 
"This is a message for my son, Shane," Sinead tweeted before the news of his death. "Shane, it's not funny any more all this going missing. You are scaring the crap out of me. Could you please do the right thing and present yourself at a Gardai station. If you are with Shane please call the Gardai for his safety."
The Gardaí confirmed the search had ended, after a spokesperson told the Irish Mirror that a body was discovered in the Bray area of Wicklow on Friday. Shane was O'Connor's third of four children. She also shared on Saturday that Ireland's The Child and Family Agency did not inform her of her son's death 26 hours after it happened. 
"26 hours after my son died in the so called care of the Irish State in the form of Tusla, I have yet to receive any contact from Tusla or their representatives," she wrote. "I was informed by Gardai of my son's death and later I spoke with the GAL. No contact from Tusla is unacceptable."
O'Connor shared earlier that Shane was on suicide watch at Tallaght Hosptial's Lynn Ward, and questioned how he was "able to go missing," alleging a refusal to "take responsibility."