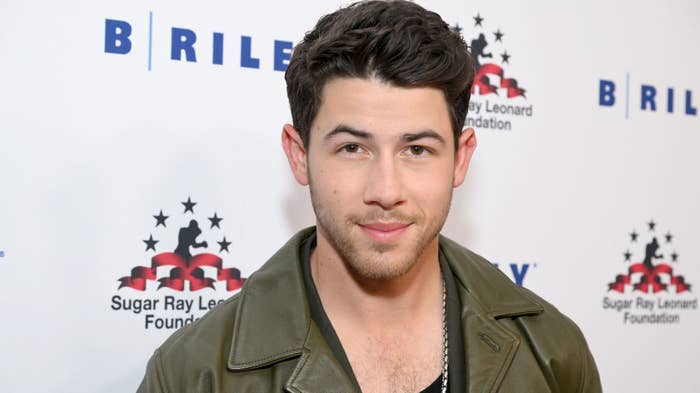 Nick Jonas is opening up about how the birth of his daughter, Malti Marie, has changed his perspective. 
The JoBro, along with his wife Priyanka Chopra, welcomed their first child via surrogate back in January, Malti Marie Chopra Jonas. Since then, Jonas explained that tragedies—such as the mass shooting that took place this past week in Texas that left 19 children and two adults dead—hit a little deeper when you have a child.
"The weight of everything is much more intense," he told Variety during Sugar Ray Leonard Foundation's "Big Fighters, Big Cause" charity boxing match at the Beverly Hilton hotel. "I think it's now about trying to be as present as possible and as thoughtful as you can be for your family, but also for other people's journeys. I'm so grateful for [Malti Marie] and the wonderful perspective of being a parent."
Jonas elaborated, telling the publication that "as a father, as an uncle, I can't not think about the kids and all the lives that were lost," and that he's "hoping for change to happen." His comments came during the charity event, where he also spoke to Variety about having Type 1 diabetes, as he was honored by the organization with the Golden Glove award for his diabetes advocacy this past week. 
"I look to the people that helped me through my journey — my family, my friends — and I want tonight to be about them," Jonas said. "But they decided to give me this honor and it just kind of feels bizarre in some ways, but I'm really grateful."
Tuesday's shooting at Robb Elementary School has since sparked national outcry from other public figures like President Joe Biden, LeBron James, and Chris Evans.
"These kinds of mass shootings rarely happen elsewhere in the world," President Biden wrote on Tuesday. "Why are we willing to live with this carnage? Why do we keep letting this happen? Where in God's name is our backbone to have the courage to deal with it? It's time to turn this pain into action."