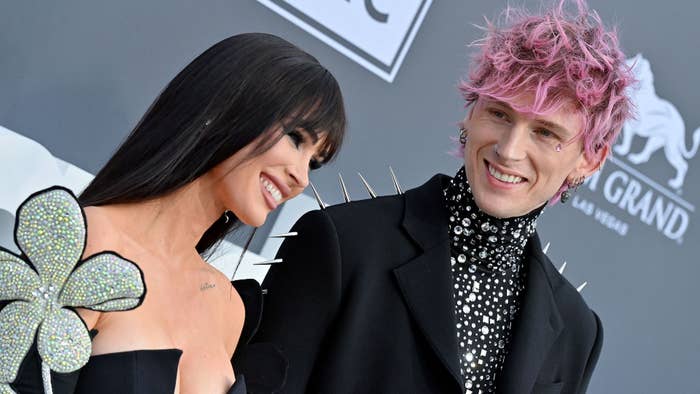 Machine Gun Kelly made a special dedication during his performance at the Billboard Music Awards on Sunday night. 
At the show, MGK played his single "Twin Flame," a performance he said was for his "unborn child," as he referred to partner Megan Fox as his "wife." It's unclear if they've gone from engaged to married yet, or are expecting a child at this time, but he was proud to shout out his future family. 
"Go to sleep, I'll see you in my dreams/This changes everything, now I have to set you free," he sang. 
Adding some additional context to the track, MGK took to Twitter after the BBMAs to explain how "Twin Flame" came together for him, writing it "broke my heart to sing the end of that song."
"I recorded twin flame 2 years ago today, the second half came a year later," he wrote to his fans. "Beautifully serendipitous getting to sing it for you tonight."
In Vegas for the BBMAs, Fox posted a few videos and pics of herself in a sparkling blue one-piece outfit before adding a text message screenshot in fourth slide in the IG below.
"Was this blue outfit expensive because we just cut a hole in the crotch so we could have sex🤷🏻‍♀️," Megan wrote, presumably to a stylist or member of her team. The reply? "I hate you 😂😂😂. I'll fix it."
Machine Gun Kelly has pledged to return to hip-hop on his next project, following another chart-topping release with his second pop-punk album Mainstream Sellout. In an interview with Audacy Check-In, the MC-turned-rockstar said he's going to make a rap record for himself this time. 
"For no other reason, no point to prove, no chip on my shoulder," he said. "If I keep doing things to prove things to people, I'm going to one, drive myself crazy and two, not make a good product."
In other relationship news, Fox recently spoke with British Glamour about occasionally drinking drops of her partner's blood for "ritual" purposes. "I guess to drink each other's blood might mislead people or people are imagining us with goblets and we're like Game of Thrones, drinking each other's blood," she said. "It's just a few drops, but yes, we do consume each other's blood on occasion for ritual purposes only."