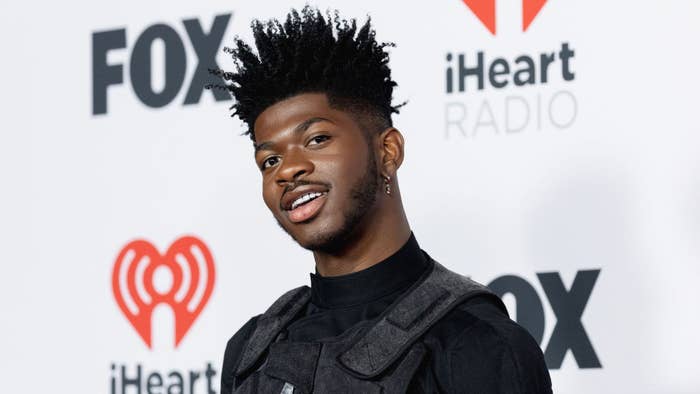 The second Will Smith slapped Chris Rock at the Oscars, the controversial takes began to flood Twitter. 
One in particular, from user Dr. Emily Porter, caused a stir that apparently caught the attention of a certain Grammy Award-winning musician. The medical professional has now made their account private after tweeting a hypothetical about the slap, and Twitter was quick to dunk on her take.
"Just a reminder that if Will Smith had slapped Betty White for a joke she made (however insensitive), she easily could've called backward, cracked her skull and died of a brain bleed," Porter wrote. "Same with Bob Saget obviously. Violence is NEVER okay. I'm team #takeitback."
Of course, Smith did not hit Saget or White, both of whom died earlier this year. He hit Rock, who made a joke that many felt was insensitive given his wife Jada's alopecia. After the slap, Lil Nas X was one of many who spent Monday firing off joke after joke, and his own hypotheticals.  
"Just a reminder that if Will Smith had built a time machine and went back in time and slapped harriet tubman as a baby for a joke she made (however insensitive), she easily could've fallen backward, cracked her skull and never freed slaves," he wrote. "Violence is NEVER okay."
Nas X continued in another tweet, where he shared lyrics from the Fairly Odd Parents theme song.
"Y'all sitting here laughing but imagine if will smith was an average kid that no one understands mom and dad and vicky always giving him commands (bed, twerp) doom and gloom up in his room Is broken instantly by his magic little fish who grant his every wish cause in reality they," he wrote.
After somebody told the artist—who just saw his Montero single "That's What I Want" step into a Billboard Hot 100 peak of No. 8 today—that his Tubman tweet had "nothing to do with anything," he doubled down, telling them that "it literally does." Then he shared another sarcastic hypothetical about a certain children's show character. 
"You would not be laughing if will smith slapped peppa pig then chopped her into tiny bits, added ¾ a cup of minced onions, a dash of paprika, and just a sprinkle of gouda, then cooked her for breakfast on a warm sunday morning in delaware. would u?"
As for the real-life slap aftermath, the Academy has announced a "formal review" of the incident, and is also holding a reported emergency meeting with president David Rubin and CEO Dawn Hudson.