John Mayer has opened up again about letting go of his ego. 
The Sob Rock connoisseur, who delivered his latest studio album in July, took to Instagram Stories to answer some fan questions Tuesday about anything album-related or not. And fans surely came prepared, with one asking the 43-year-old rocker if he still feels like a "recovering ego addict," a phrase he used back in a 2015 Today interview. 
"No, and I'll tell you why," John wrote, per E. "Your 20s and 30s are like the hours between 8pm and 11 pm on a weekend night. You're kind of frantically hoping for the most validating plans to come through."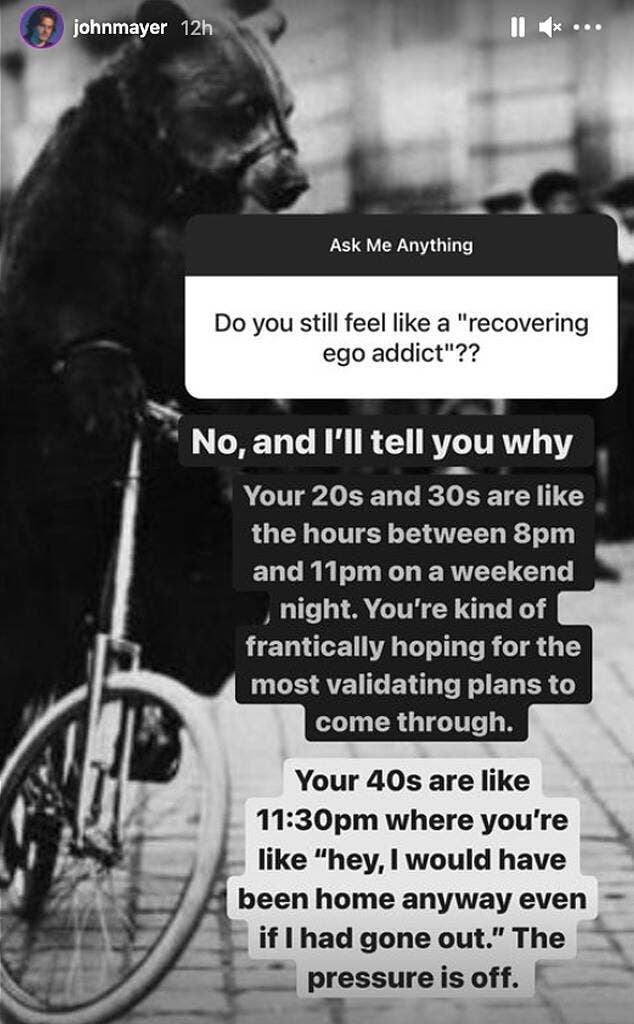 He continued, sharing that "your 40s are like 11:30 pm where you're like 'hey, I would have been home anyway even if I had gone out.' The pressure is off."
His response is a bit different than what he said in 2015, when he revealed that "the only way that I can be sure that I don't relapse is to admit that I constantly have this ego addiction, every day. So I do the Grammys and I go home because if I stay, I get high again."
Sob Rock ended up debuting at No. 2 on the Billboard 200, falling behind Pop Smoke's second posthumous release, Faith. John landed a solid 86,703 units in its first week of availability.