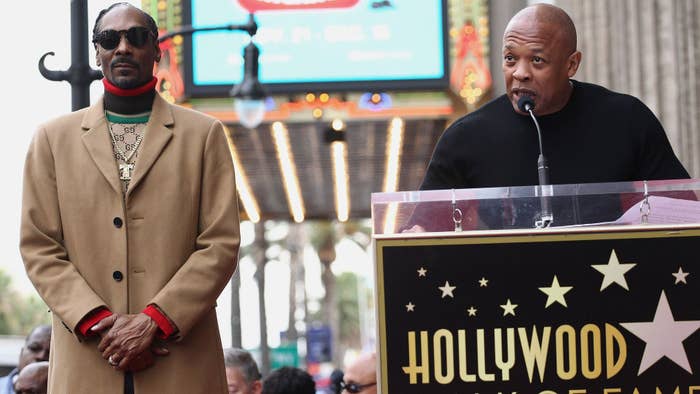 Nobody knows how to show love quite like Snoop Dogg. 
In a new Instagram post, Dr. Dre shared a positive video he received from Snoop recently, writing to his 5.8 million followers how much he appreciated the act of kindness from his longtime collaborator. 
"Thank you to everyone for sending me so much positive energy," Dre wrote, days after reports emerged that he was served divorce papers while at his grandmother's funeral. "I'd like to share this inspirational message from my brother [Snoop]."
In the clip, Snoop advises his longtime friend to do what he "do best," by taking his "hurt, anger, and that pain" and making "magic" with it. 
"Ever since I was fuckin' with you, before I was fuckin' with you, you could always take pain, anger, frustration—anything that was negative and you could get something positive out of it," Snoop said. "That's why you the doctor."
Snoop continued, sharing that God is working with him and that Dr. Dre is a leader to him, and has been to many others over the years.
"They say Snoop Dogg is an icon, he's a God, he's a king, but there's one n***a to honor, and that's you," Snoop said. "So you get your shit right and focus on being great. Take all that negative energy, all that shit that you dealing with—the death, the fucking lawsuits, all that shit—put it all in your mind and your spirit and make something magical, n***a."
Snoop ended his video by paying homage to Dre and his impact, while sharing the duo—alongside the rest of the start-studded Super Bowl LVI Halftime performers—remain close to one another as they prepare for the big event.
"You got your soldiers with you. You got me, Em, Kendrick… We with you, cuz, let's go."
The video comes days after TMZ reported that a process server for Dre's ex-wife Nicole Young approached and attempted to serve him legal papers—regarding further payments for Nicole's legal fees—during his grandmother's funeral in a Los Angeles cemetery. Dre-affiliated sources say he was served the papers nearby his grandmother's casket, while sources for Young say otherwise, and that it took place in a parking lot.