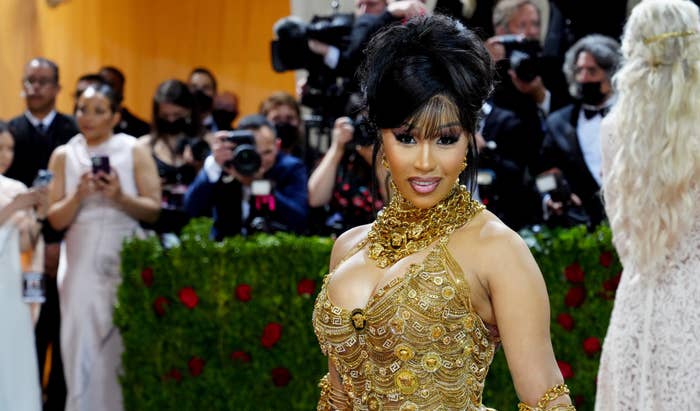 There is no drama between Billie Eilish and Cardi B. 
After a Met Gala after party Monday night, people stirred up rumors online about the pair when Eilish was captured on video saying the words "so weird" in Cardi B's direction during the event. 
Hours later, as Twitter began to run with the narrative that Eilish was shading the rapper, Cardi ripped those trying to start something, and shared an Instagram DM exchange between her and Eilish. With just one tweet, the two put the rumors to rest.  
"I hate the internet cause one, how do y'all turn one of the most lit parties into drama," Cardi wrote on Twitter. "Two, 'Ocean Eyes' is the song I cater to my daughter. Three,Billie is my fuckin baby. Yesterday, from the Met to the party, everything was drama free. Why do yall wanna turn everything into mess?"
Eilish says in the Instagram exchange that she was "so worried" Cardi was "gonna see" the now-viral clip, and clarified exactly what she meant when she said the word "weird."
"I was fucking calling the people around you weird because everybody was coming up to you and shoving their phones into your ass," she said. "And I was like, 'just look at her, with your eyes.'"
In another recording, Cardi says the internet is "trying to divide us," and calls Eilish "my baby."
Of course, Billie and Cardi were just two of the many musicians and celebrities who appeared at this year's Met Gala, which housed the theme of "gilded glamour," as an homage to the Gilded Age in New York dating back from 1870 to 1880.
Among the many attendees were all the members of the Kardashian-Jenner family, with Pete Davidson walking the carpet alongside girlfriend Kim Kardashian, as well as Jack Harlow, Gunna, Anderson .Paak, Elon Musk, and more.