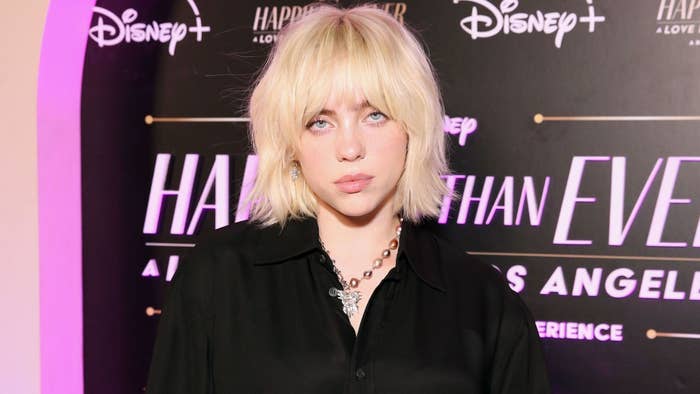 Billie Eilish says she's dealt with plenty of failures in her life, but at the end of the day, it's all about how she looks at it. 
In a new interview with Stormzy for the fall cover of i-D, Eilish and the UK rapper discussed her latest album Happier Than Ever, being role models, and the problematic nature of most pornography. The conversation also saw Billie explaining that "it's really easy to feel like a failure when so many people are looking at you and telling you you are one."
"It can be hard not to believe them," she said. "I grew up with the internet. I use social media for the same reasons everyone else does, and you come across these videos saying you're ugly and you suck and you're terrible and that makes me feel like a failure. There are other things too, more concrete things, like when I disappoint myself, when I don't feel how I said I was going to feel, or do the things I said to myself I was going to do…but failure is an interesting thing because, like success, it's really only in your head."
Later in the conversation, Eilish—who topped the Billboard 200 with her sophomore LP last month—questioned why people "have an opinion about everything I do or say," adding that role models should be "realistic."
"The problem is when people have unattainable role models, or dream of an unattainable life, or an unattainable face and an unattainable body, and that's not healthy, for kids especially," Billie shared. "We're all real people. I think when people see celebrities on the internet, or social media, they don't see them as real people or human beings – and I catch myself doing this too—they see them as characters. When really we're all just random people in our cars trying to keep it together."
The pair also chopped it up about porn and Billie's track "Male Fantasy," with her saying she felt it was important for a song to talk honestly about pornography.
"Pornography can make you feel violated and good at the same time and this conversation turned into the song," Billie said. "It was hard to write because we wanted it to be as revealing as possible."