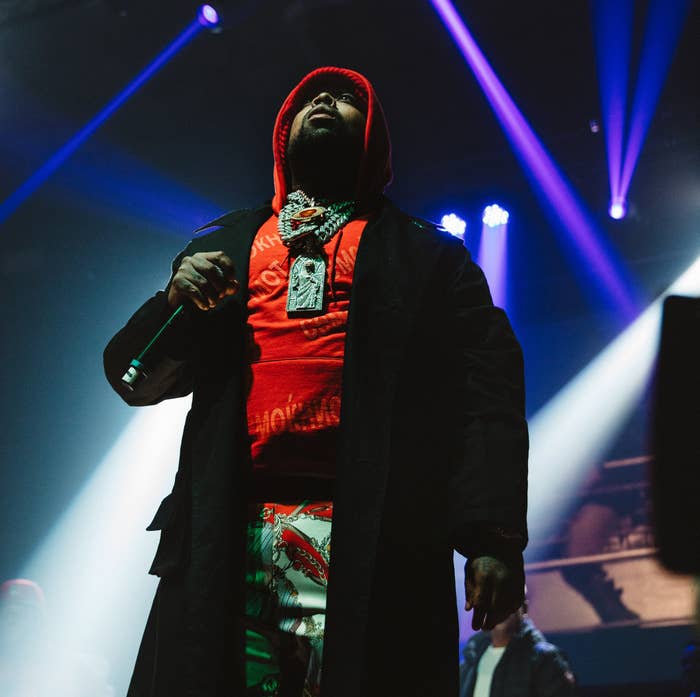 The digital age has taken the rap world wild places. Right now, we're smack in the middle of Westside Gunn's Hitler Wears Hermes 8: Sincerely Adolf double album. The Griselda mastermind was planning to release the project all at once, but ended up dealing with some post-production issues that prevented him from being able to put it all on DSPs at once.
But, ever-appreciative of his rabid fanbase, he didn't keep them waiting and decided to drop a 13-track Volume 1 of the project last week. It's already stirring up some "album of the year" buzz from rap purists. Loaded with verses from Lil Wayne, Sauce Walka, Stove God Cooks, Boldly James, and of course Flygod himself, Volume 1 is a stellar exhibition of the rap curation that Westside says he's about to delve into more heavily, as he only sees himself dropping two more projects and then focusing on being an executive producer (along with his non-music ventures).
He's already getting started on that path, as his mindset for his own projects is for guest features to outshine him. Otherwise, he feels like the collaboration is pointless. "I want you to shine," he explains. "I want you to kill me, because that's only going to make the best music."
You can read below to find out which two albums he'll be executive producing down the line. We also talked about HWH8, getting props from Kanye West and Tyler, the Creator, two projects he's going to curate with rap legends, and just what the inside of the Donda house looked like at the Kanye listening session. The interview, lightly edited for clarity, is below.
Stove God Cooks is on five tracks on Vol. 1. Can you speak to the chemistry y'all have?

Stove is easy to work with. I just put on a beat and let him go in the booth and do him. Everything he did, we did right next to each other. It's not like I sent him that shit. I just put on the beat and he'll just do his one-two. I'm a mastermind when it comes to that—I just got a crazy ear. I'm a curator. I take pride in curating more than rapping. I already know what somebody's going to sound good on. That's why when you hear people on my shit, it'll be some of their best work, because I hear them on it before they do. That's why I even approach them, that's how I do it. I'll usually make the music first, and then I'll be like, "You know who would kill this?" Then I reach out. 
When it was Stove God's time to start cooking a project, we were in Phoenix and I just started playing the beats. I was just like, "Yo, I need you to kill everything you have—that's the instructions." If you're on a Westside Gunn album, you gotta kill it. That's literally the only thing I ask. I literally ask the person to outshine me. People will listen to it anyway, because I'm on it. I tell them, "Yo, if I do 12 bars, do 36, do 48, do 64. I want you to shine. I want you to kill me, because that's only going to make the best music."
Everybody's been going crazy about Sauce Walka's verse on "Westheimer." How did that come together, and what was your first reaction when you heard it?

Sauce is the homie. I've got a lot of love for Sauce. We did "Lakers Vs Rockets" before, so I already knew what he was capable of. Besides him being a homie, I know he's a crazy MC. He's a wild guy. You either love Sauce or you hate Sauce—same way people say that you love Westside or you hate Westside. There's really no in-betweens. For this project, I'm just, like, "I got to have Sauce. There's no way I'm going to have a double album and don't have Sauce on it." Throughout the years, since we did "Lakers Vs Rockets," Sauce has been rhyming on some of the beats I drop, like remakes and freestyling over them. He already loved that style. I think that's his favorite style and it was just like, "Yo, you know what, I need to have him on here." 
I got a crib in Houston, too. Westheimer, everything is over there, from the Galleria to all my restaurants I eat at and everything. It's just one of them places for me when I'm in Houston. So it was just only right that was the name [of the song]. And then when I'm in Houston, I change my name to Westheimer. Just like when I'm in L.A., I change my name to Lord Fairfax. Wherever I'm at, I got a different name. My name is where the town is.



"If you're on a Westside Gunn album, you gotta kill it. That's literally the only thing I ask. I literally ask the person to outshine me."
You said people have been telling you it's "album of the year." You've talked before about Grammy consideration for previous albums. Do you want to make your case to the Grammy committee right here? [Laughs.]

I really don't even be caring about Grammys, honestly. I won in the streets, bro. The shit that the Grammy dudes can do, I can do, but the shit I do, the Grammy dudes can't do. So I already won in my eyes. I don't even need those accolades. It doesn't even make sense. We already know last year, Pray for Paris should have won a Grammy. It wasn't even nominated. Nobody can teach me or tell me culture. Like, I'm in this shit.
When I get off the phone right now—everything I got going on today—they're not tapped in to do what I do. If I get nominated, you know, blessings. I'm thankful. If I don't, I wouldn't be upset. I got snubbed plenty of times. Like I said, I've never even been nominated. Every single year I got an album of the year contender, and I've been on everybody's lists at the end of the year and all of that, [but] when it comes down to shit like Grammy's and all of that, I don't know. I think I'm too grimy for that shit, so they don't want me in.
[And] the title… Let's not forget the title [Hitler Wears Hermes]. I'm not no dummy. I know the title can hinder me as well. I think that's one of the reasons iit might not get considered, too. And I accept that. I'm not tripping. I do it for different kinds of people anyway. The people that know me know that my intentions are well, and I don't even move or think in a negative way.  It's all positivity right now. Life is good. And I'm grateful. I've never been on that type of time. 
The fans know me. Griselda has a whole cult following and they're diehards. If somebody even mentioned anything wrong about the title, they'd jump on their neck. Because it's, like, "Yo, do you know this guy before you say what you're saying?" The same people that say something will take it back after they know it. Do the research. I'm already in this shit too deep. I'm already nine years in with the same title. So people just hear about me today and they're goin' crazy, and it's like, "Do you understand that this is nine years?" I'm actually on my end. Like, it's too late. I've already explained this in a million interviews, and I'm not about to keep explaining it. But it is what it is. I think the name of the album has something to do with it too, I'm not gon' hold you.
You referenced trying to bring other artists to your world, to the point of hearing a beat and knowing, "Yo, I want to put this person on that." When you reach out to somebody and it's an unorthodox match, how often do you have to sell them on the track and explain your vision? 

I really don't. My only instruction is always just to kill shit and beat me. I don't care what you talk about. I don't care how long it is. Just whatever it is, try to smoke me. Like, if I do a song with somebody and I'm better than them, why even have 'em on here? That's where I'm at with it. Like, why even have them, I can just get on myself. I'm going to put you on my record so you could be worse than me? 
I'm Westside Gunn already. I don't need nobody. I don't got to chase no clout. I don't got to put somebody on the song just because. I'm pretty sure I could call Drake right now and be like, "Hey, I need a record. We could do one." But that's gonna happen when I feel like it makes sense to do it. I don't have to do nothing I don't want to do, because I'm already who I am. I already built this shit brick by brick. I'm already too deep in this shit.
You're talking to the person who damn near changed the whole landscape of all of this shit. 90% of this music right now that you think are these artists, they was inspired by me. Trust me. To even just wanna work harder, taking bits and pieces here from the cover art and the ad-libs and the sounds—they're doing everything. I see it, because you got to think when I was starting, none of these motherfuckers was doing a thing.
Now, all of a sudden, everybody wants to do this and do that. Like, it just lets you know. And it's not like they don't know who I am. Because they know who I am, that's what I'm saying. I know everybody, and I have personal conversations with everybody behind closed doors. The only person who really just came out and gave truth, and that I respect 1,000,000%, is Tyler [the Creator]. 
Tyler told you, like, "Yo, Westside Gunn made me want to rap again." Him doin' that? I gotta tip every hat I own to him, because he kept it a buck. All your other favorite rappers, they don't have that. They don't have that in them to say that. Because they're winning, they're selling more records, they're more popular. I'm the one that's influencing them, but they're not going to say that because, just imagine if I get more popular than them or I start selling more than them, then what's the point? What's the purpose of them?



"You're talking to the person who damn near changed the whole landscape of all of this shit. 90% of this music right now that you think are these artists, they was inspired by me. Trust me."
Did Tyler tell you those comments as well, personally? 

Of course. I'll text him. I talked to him. I seen him at the BET Awards and that was right after his album came out. So you know when he was saying all of that to the press, I was there on the red carpet while he was on the red carpet. You just didn't see me cause I was doing interviews myself. But it's all love. I know Tyler is crazy. I actually wanted him on this project, but timing's crazy for him.
I'm not trippin' because I know if he could, he would. It was a couple of people that was like, "OK, maybe, but time is crazy." And I work so quick. When I give somebody a record, I'll be like, "Yo, I need this shit back in 48 hours, bro." And you might be booked for the next two weeks. No studios in sight. So it was like, "OK, you're not going to make the album." So all these verses that you'll be hearing from people, they're turnarounds. I'll put the pressure on them. "Yo, go in the studio today, the latest tomorrow."
You were on Kanye's "Keep My Spirit Alive." Was that a verse that you recorded in Wyoming, or was that something that you recorded in one of the recent sessions?

That verse is old. I went to Wyoming, but I didn't do that in Wyoming. I actually recorded that when I was making the Who Made The Sunshine album. When I was making it, he hit me and was like, "Yo, I got a joint for you, man." You know, Donda been pushed back 57 times. [Laughs]. Donda been was supposed to have came out. So when he hit me with the "I need this," I made it on the spot. When he sent me that beat, I sent that shit back to him in less than an hour, since I was already working. I was already in album mode.
The only thing was, [Kanye] threw a monkey wrench, like, "Yo, this is a gospel album, bro." And I was just like, "Man, bro, I can do the best I can, but you know how I give it up." And that's why I still say shit like, "Flushed the work just in time and they raided, thank God." The street shit, but I mixed it. Or how thankful I am for the things that happened that could have—shit could have went bad. It could have been the end of me. True story raps. If you listen to every word of that lyric, it's so real. I got references to every last line in that whole song.
Do you have any idea what might become of the other work that Griselda did with Kanye?

Man, I don't even know, bro. I promise you, man. Ye is Ye, so respectfully, if that shit don't never see the light of day, it just don't ever see the light of day. It is what it is, but that's family. He just invited me out to do Soldier Field with him, to sit on the porch with him. When I dropped my project, he hit me, and he congratulated me. When Donda dropped, I congratulated him. That's real fam. We never switched up on each other. That's what he thanked me for, like, "Yo bro, ever since I met you, you ain't never changed up. Even when people was trying to come at my neck or something crazy, it was you still by my side and was fighting for me when everybody was trying to dog me." 
He appreciated that and I respect that a million percent. It's certain people in this industry, they do a lot of fake shit. But it's certain people in the industry that do a lot of real shit and I ain't going to lie, a lot of people hate Kanye. You know what I mean? Because of the way he act or whatever the case may be, they don't get him. They don't understand him, but he's a good dude. He's a respectful dude, and any time he ever came to me, it's always been love and always been respect. You've got to love and respect that.
How far before the Chicago listening event did he ask you to come through?

A day.
The day before?

That's how Ye do. That shit be last-minute, man. You better just be on point. [Laughs]. You don't know when you're going to get that call from him.
I had shit to do that day! Literally, I had shit planned that I had to do for my own album. When my album dropped, I was on the porch. I stopped doing my own promotion for my album, for him. That's what I'm saying. It's love. I don't even look at it like that. I look at it like, "Man, we pushing the culture forward. This is a huge look. That's a good brother to me, and we're just going to keep this shit going. I'll promote my shit later. I'll let the streets talk, and then tomorrow I get on here and do my one, two like I do." I really wasn't tripping at all. But I had no notice, man.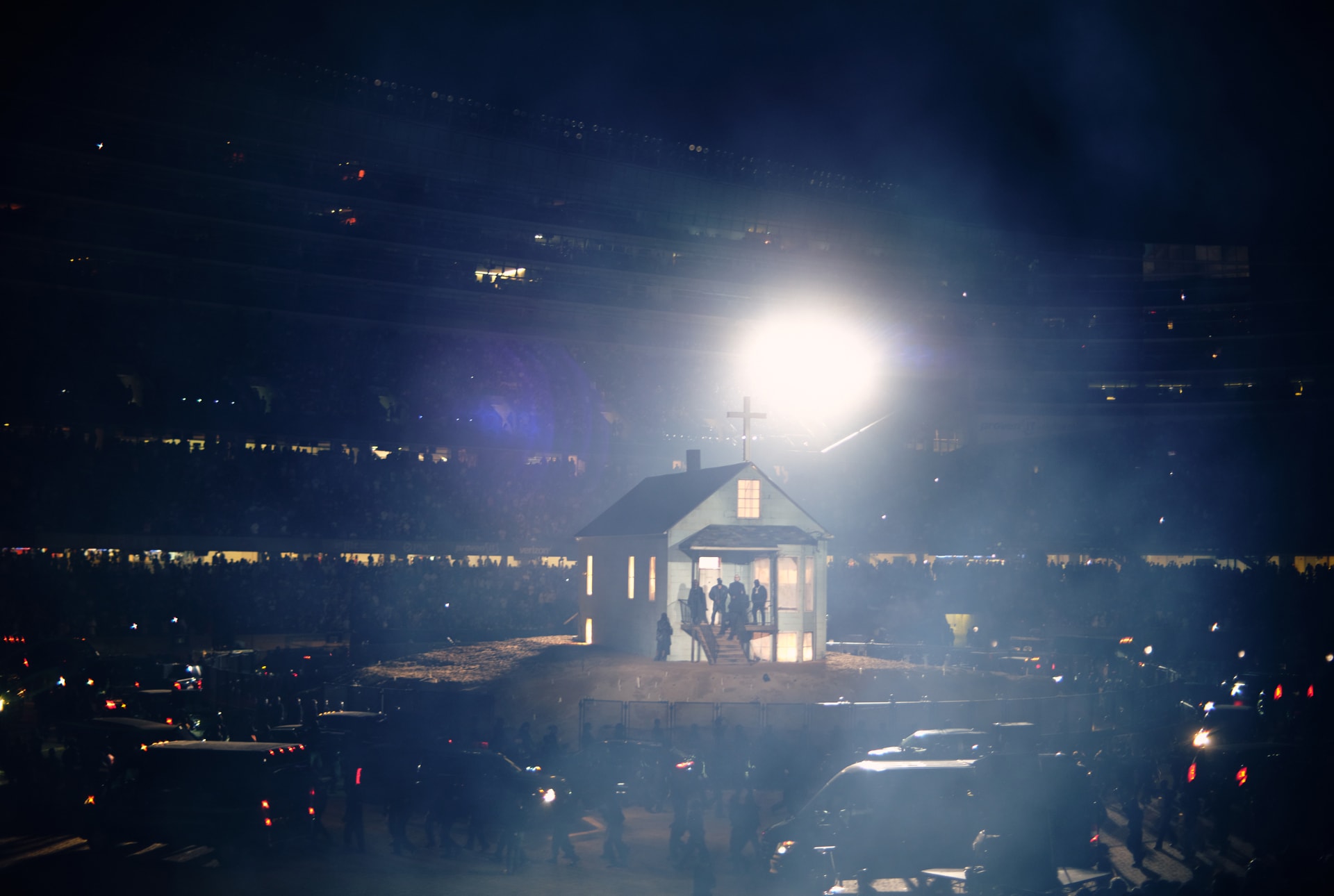 So, what was in the house? Did it look like a house inside or…?

[Laughs]. It was crazy. It was just like a production kind of set. It was crazy because the house was upstairs and downstairs. You had to walk upstairs to go out. You know what I mean? So it was a downstairs part with the TV so you could watch what's going on and shit like that, but it was fire. It was one of the illest things I did, man. I'm thankful for that, man. That look was crazy up there. 
You talked a little bit about your passion for being a music curator. Who are some artists that you'd like to EP a project for, outside of the Griselda orbit?

I mean, that's what I do anyway. I curate. So once I stop, I'm about to just focus on that anyway. I had already approached a couple of artists about doing something. I felt like doing something with Jada right now, while all eyes is on Jada, he should let me curate or provide the soundtrack for him to just come body. I feel it'd actually even be his best project. 
I done already hit up Raekwon to try to do an old school, grimey Raekwon and Ghostface project, but I curate it. I could do something for Anderson .Paak. Switch it all the way up. Melanie Charles. Somebody that could just sing, got a beautiful voice, and could play instruments. Then I just come and provide the soundtrack and we just cook up and add those crazy MCs on top of this shit and make it special. I'm about to start doing all of that now. It's not even about me no more. I don't have to rhyme to still give you those same results.
How receptive are Jada, Rae, and Ghost to doing those projects?

100% ready. It's about time. We all grown. We all got businesses and families. We not no spring chickens. We got so much shit going on. Ever since Jada did the Dipset and Lox Verzuz, he's been on fire, doing his appearances and all of that. And you know, Rae and Ghost, they about to go on tour. So they've been doing these shows, and they've been back in the studio cooking, just getting a feel of shit. So you never know when it's going to be, but they want to. As I know that's what they want to, I can already start cooking, getting beats together. When they're like, "Yo, I got a two week pocket," I already got the soundtrack. All they got to do is put the rhymes on.
Last year, I remember you were saying those were your final projects. I also remember the conversation that went viral with you and Busta Rhymes. How much of that conversation factored into your decision to come back? And what were the other factors that made you feel like, "Yo, I still got a couple more projects to offer?"

Busta definitely had a big influence in that, because that clip might've only been three minutes, but I was with Busta until the next morning. Me and him fell asleep that night in the studio. [Laughs]. That shit was all genuine love. We didn't tell nobody to record that. It's just that Camouflage Monk happened to record it and I put it out there. But it wasn't supposed to be meant to just be on camera. By the time he noticed it was on camera, he was just like, "No, keep it rolling." Because it's genuine.
People don't be seeing this type of shit behind closed doors. And not only was it [just] that conversation, Busta will call me and tell me I ain't quitting. [Like], "Yo man, quit talking about that retirement shit. We need the fly guy, man. You don't understand. You brought a breath of fresh air to this shit. You brought motherfuckers back who thought it was over. You gave them a way to feed their family again, like the OGs is so grateful for you."
And I was like, you know what? You're right. I might not drop as much as I was doing, but I could do something every now and then just to keep the shit going. But [also], like I said, I just came [up] with the alternative of saying, "Yo, even if I'm not making the project, I could just curate a project." I can still give you the best music and hip-hop without me even rhyming on it.
Do you have a timeframe for those last two albums? 

No. There's no rush. I still want to do GunnLib with Madlib, because people are on my back for that. I got to do that. And then I still want to do one more with my family. I still want to do another What Would Chine Gun Do? And that's really it. There are only two projects I really want to do. One more solo and then one more that I could do with my family, and I'll probably end it that way.
No one knows what the future holds, but do you feel like once you get to that point [of stepping back from rap and curating albums], you'll definitely not be looking to release anything else or will you still release here and there?

No. I think I'll be done. I always be saying I don't want to be the 40-year-old rapper. You got to understand, some people only have rap, bro. I own the label. I have so many more dope artists that I'm about to push. I own stores, restaurants, clothing lines. I'm a businessman. I don't have time to just keep rapping like that. It's just not even in me to keep rapping like that.
I've seen some buzz about Rome Streetz being down with Griselda. How true is that?

Oh, 100%. Rome Streetz is Griselda. It's official. We [didn't] go all out hard with [promoting] it, but it's 100% signed, sealed, delivered. You're actually the first person that I've told, that's like, "Yo, Rome Streetz is Griselda." 
What is it about him that made you want to put him down with the team?

Man. Supreme lyricism. It's not too many people that can fuck with Rome. [He] gives me that '90s feel. He's nostalgic New York City rap. And I just want to take that and put him in the position where he's a part of the program, man. He's a part of the transition to making a balance in this shit. That's my job. That's what the Flygod is here for, to put a balance in this shit. So he's just a part of the plan. He's a major piece of the puzzle.



"Rome Streetz is Griselda. It's official."
What is it that you look for in an artist that makes you feel like you want them on the team?

I mean, it's really the traits. It's not even about what other people are saying. Because I'll be up on dudes early. So I can't even say what the word on the street is. It's just about me keeping my ears to the street personally and liking dudes. You got to think, of all my projects, I'm the one. It didn't matter how big I was or how many legends or who else was on a project. I threw Rome on here. I threw Boldy on there. I threw Stove God on there. I threw Crimeapple on there. I threw Mach on there. Eto on there. I throw FleeLord on there. I threw Camino on there.
You see what I'm saying? I've been doing this shit this whole time. No matter who I was meshing with, I do the whole process. Here go Eto. Here go Flee. Here go Crimeapple. I've been doing this shit since day one. And that's what I do. It's just a few more MCs that I'm liking right now, that's going to still get the opportunity. I don't know when, but I'm just steady watching. I like to see what they like to do on their own. I'd like them to keep working while I'm still working on what I'm working on.
That's what kind of let me be like, "Okay, I could go further." Say, for instance with Rome Streetz. I been peeped Rome Streetz, and I put him on my album, and I just wanted to kind of test the waters to see what's going on. But ever since then, he still went back to back to back to back to back, higher. I'm like, "Yo, he's hungry. This is what I like to see. He's hungry." If I give him that opportunity, he's going to go crazy. And that's where we're at today.
Is there anything else you wanted to let people know about, as far as your non-music ventures?

Man. Just know, man. Everybody loved what I did thus far with Griselda Records, man. But the second wave is crazy, man. I got Rome Streetz coming. Boldy James coming. Stove God coming. YN Billy coming. Armani Caesar coming. 
And then, like I said, whatever I curate with all the dope MCs that's already in the game. The best is still yet to come. We're about to just really get busy. And then I got the Libby's Lemonade, you know what I mean? I got an 11-year-old girl out of Buffalo, makes the best lemonade in the world now. We got our own lemonade going on. We got our own special flavor, the Flygod lemonade.
I'm in a hibachi restaurant business. High end. Better than Benihana. About to take that to a couple of major cities. I'm just doing what I'm doing. And plus, of course, the fashion, and all the collabs I got coming up with fashion. I got my art galleries. I got everything going, bro. This is culture. It doesn't get too much more culture than Westside Gunn. 
When you just think about everything, from the music to the fashion to the art, it's not too many people who are on top of me. Because even if they're just dope MCs, they're not doing shit else I'm doing. Not even close. So while they focus on all trying to be the best MC, I'm doing 50 other things. And then, it's crazy, because then when I drop my project, my shit's still better than their shit. So that [should] tell you something, right there, too.