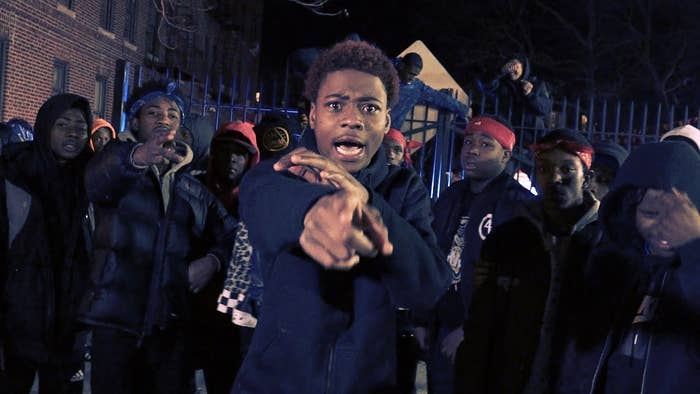 In late January, up-and-coming rapper Nas Blixky was shot in Brooklyn's Prospect Lefferts Garden neighborhood. Days later, the New York Daily News ran a story in which his family spoke on his behalf, claiming he was going to drop the "Blixky" from his name and overhaul his lyrical content. "I told him he's better than that," his stepfather said. "You want him dead? He's dead. He'll be back with better music and better lyrics."
Nas Blixky hasn't confirmed or denied his parents' claims, but a recent video shows him in a hospital bed, rapping, "Lost some loved ones in the trenches, got me sliding with this blicky." It's unclear which direction he'll go, but his stepfather's wish for "better lyrics" is reverberating throughout New York. 
A day after Blixky's shooting, artist and dancer TDott Woo was fatally shot in Brooklyn on the same day he had sign a record deal. After news broke, Hot 97's DJ Drewski reacted to the ongoing violence in the most actionable way he felt he could, by announcing that he will no longer be playing diss records on his radio shows New at @2AM and The New MVMT. On Instagram, he wrote, "I'm not supporting no more diss/gang music! If ya dissing each other in the songs, don't even send it to me!" Drewski added, "We are losing too many young men and women to the streets!" 
The reaction was widespread. Drewski tells Complex that "99%" of the responses have been positive, noting that local community leaders and pastors have applauded him and invited him to attend church services and meetings. Hot 97 and Apple Music personality Ebro came out in support of his decision, noting that he had already refrained from playing diss records. Ebro also took to Instagram to challenge Hot 97 DJs TT Torrez and Funkmaster Flex to do the same. Joe Budden recently had a segment on his podcast titled "We Don't Support Your Beefs Anymore." It seems like many people in and out of the rap world feel like diss songs are contributing to gun violence, but Drewski was the catalyst for making those feelings tangible.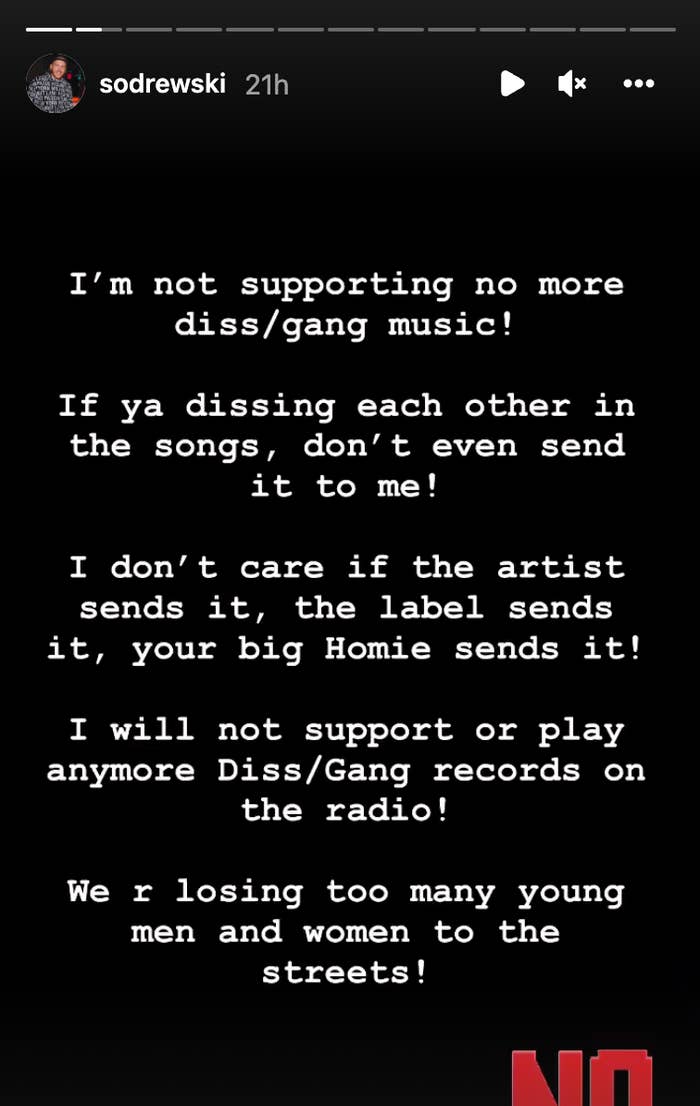 On the flip side, some people have criticized his decision, arguing that boycotting diss records won't change the social conditions that cause gang violence, and it will hinder artists' careers. Fivio Foreign recently told TMZ, "It's not the music that's killin' people, it's the music that's helpin' niggas get out the hood." He had just left a meeting with New York officials, DJs and family members of slain New York rappers where they discussed "the future of drill on the airwaves," according to TMZ. Rising Bronx rapper B-Lovee echoed Fivio's sentiment on Instagram Live, noting, "Music is not the reason why niggas is gettin' up and killin' niggas. Music don't make people do anything."
While some people may have misinterpreted his decision as a ban on all drill music, Drewski implores, "It never was just drill music, but it turned into that." He clarifies that his decision is specifically about "any lyrics that can incite or lead to actual street violence. If they don't mention names or gang sets and they're speaking generically, I'm cool with that." His issue is with disses "where the artists are directly name calling and sending violent threats at one another. When an artist is insinuating they made an act of violence against someone and in return may be smoking on them. When an artist is talking down on or against the opposite gang set." 
"We just don't want to add fuel to the fire that's already going on," he says. "Because I'm seeing it firsthand—I know the artists, I'm speaking to the artists. They say, 'Drewski, we don't want to have to do none of this. It's just, we know when we put a diss out, it's going to get the views on YouTube.' So I know they don't even want to be a part of it. But because they're knee deep in it, their egos, it's hard for them to speak on it [and] say, 'We not doing this.' So I said, 'Let me be the catalyst, let me open that door.'"
Drewski, who is white, says he understands how his identity may have played into some of the negative reactions to his decision. "When you see a photo or video of DJ Drewski, and it's a white kid, it's like, 'Hold on. One, why is he speaking up, and where is it coming from?' Because unfortunately, there's misconceptions, and you have the whole culture vulture thing that people like to dive into. My focus is not on that, but I understand why people could be negative. I just try to stay focused on what the message is and the positivity. And if I can enlighten someone, if they take from what I'm saying, that's cool. But if they can't figure it out, the world keeps going. I just feel like, if you knew me for who I am and me as a person, you'll understand a little more and you won't have to question it."
The veteran DJ has been on the pulse of the New York rap scene for the better part of a decade. "I just don't talk about that stuff, but I'm usually ahead of the wave when it comes to the music scene in New York," he says. "I'm the first one to play A Boogie on the radio. I'm the first one to put Lil Tjay, Pop Smoke, Fivio Foreign, Sheff G, Sleepy Hallow, 22Gz [on the radio]. If I'm playing these artists first and contributing to their success and their career, I feel like I'm guiding them the right way and trying to help them."
Several other New York City DJs followed Drewski's lead by voicing their own plans to stop playing diss records, including Power 105 DJ Gabe P and D-Teck, who tells Complex, "We got to do this with no fear, because at the end of the day, it's our social responsibility. I don't care if they don't like it. [I'm] 10 toes down on stopping the bullshit."'
D-Teck is a veteran DJ who hosts Wazzup Radio online and plays on New Rochelle, New York's WVIP 93.5 and Madison, Wisconsin's WORT 89.9 FM stations. He says he's long been tired of artists provoking each other and dissing the dead in their lyrics, noting that multiple times a week, he gets submissions that he has no urge to play because they're too disrespectful. 
"We know the culture. People speak about their environment, how they grew up," he says. "But what is causing a lot of these issues is people disrespecting each other directly. 'Oh, I pull up on your block, pull up at their grave, I'm smoking on you.' I feel like as a creator, you still have a social responsibility. So even though, yes, I'm all for the freedom of expression and freedom of speech, but remember, you're not just going to 'kill your opps' [on a record]. You just influenced another set of people to continue that cycle."
Many artists in the Brooklyn drill scene have taken cues from their Chicago drill predecessors by closely narrating the city's ongoing gang rivalries, including the Woo vs. Choo divide. Drewski credits artists like Curly Sav and Bambino for being the first Brooklyn drill rappers, but also says that records like 22Gz' "Suburban" and Sheff G's "No Suburban," two opposing disses, helped "ignite" the modern wave of Brooklyn drill and set a precedent where many artists are throwing direct threats at rivals and even dissing dead enemies.