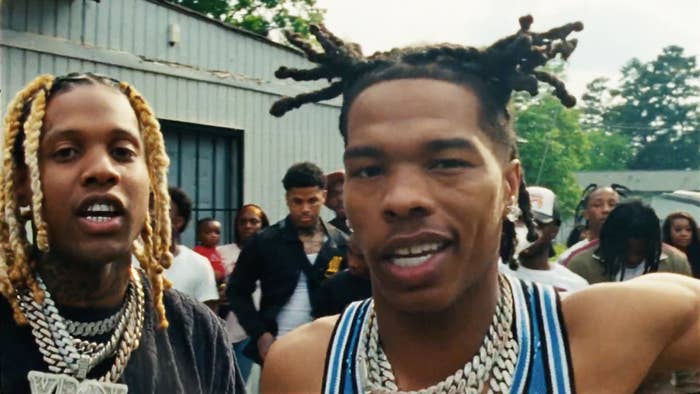 When we asked Lil Baby about his plans for 2021 back in January, he hinted that he might drop a collab album. 
"The only way I don't drop a solo album in 2021 is if I drop a joint album, like a Drip Harder 2," he said. "Something like that."
It turns out the joint album he was referring to is The Voice of the Heroes with Lil Durk. Believe it or not, this is already the third collab album of Baby's career, following 2 The Hard Way with Marlo in 2017 and Drip Harder with Gunna in 2018. This one arrived with even more anticipation than the others, though, because Lil Baby is coming off an MVP year and Lil Durk is in the midst of a wildly successful second act of his career.

So, does it live up to the hype? Will The Voice of the Heroes go down as one of the best albums of the year? Or will it be a regrettable footnote in the resumes of two of the hottest rappers out? After giving this thing a few initial listens, three members of the Complex Music team (Eric Skelton, Jessica McKinney, and Andre Gee) answered several burning questions, including: What's the best song? Who had the best guest feature? Who won the album? Here are our first impressions of Lil Baby and Lil Durk's joint album The Voice of the Heroes.
Eric: "Hats Off" stands out on first listen. I'd put money on this getting the most streams by the end of the year, and that's not just because Baby, Travis, and Durk are each RapCaviar mainstays. Both Baby and Durk do their thing, then Travis comes through with his best verse in a long ass time (more on that later). I've also got to shout out a sleeper, though. "That's Facts" isn't as flashy as "Hats Off," but it might be the hardest song on the whole project.
Jessica: "That's Facts." It has all the components I'm looking for: great production from Wheezy, a catchy hook, and strong verses from both Durk and Baby. On the other songs, one of them usually outshines the other (even if it's only slightly) but on "That's Facts" they're very evenly matched. 

Andre: "2040." My first impression is that it carries on the energy of "Every Chance I Get." Lil Baby comes out the gate rapping his ass off, jumping into different flows every 8 bars, then Durk follows up, talkin' his shit. They're both really rapping, and there's no vocal runs going on here, which is my lane. It also has one of the most lively beats on the whole project. 
Eric: This album loses momentum in the middle when a run of similar-sounding songs start blurring together, so I could do without tracks like "Medical" and "Please." There are better versions of each of these songs elsewhere on the tracklist and they feel like filler.
Jessica: "Please." It has a slower tempo and leans toward the emotional and sentimental side of things, but compared to tracks like "Still Hood" or "Rich Off Pain," it doesn't achieve the same effect. There's nothing particularly wrong with "Please," but I don't see myself coming back to it. 

Andre: "Medical." The content didn't really resonate with me. 
Eric: I'm just happy to hear these guys come together at the (current) peak of their powers. It isn't often that we see joint projects like this actually come to fruition between two artists in the midst of career-defining hot streaks. Remember when J. Cole and Kendrick promised a collab album nearly a decade ago and it never materialized? Baby and Durk delivered, and their chemistry is as strong as we'd hoped.
Jessica: Their chemistry and commitment to staying true to their sound. It's a hood rap album with plenty of bars about making it out of the trenches and representing their respective cities. As Lil Baby told MTV News, "When it comes to that street shit, we're the voices and the heroes of this shit." That comes through on the album. 

Andre: Their chemistry. This didn't feel like just a business move, or something their teams put together. It sounds like they have a genuine creative chemistry and fuck with each other outside the music. It really felt like they were vying to be the best on each track, which is a sign of a productive creative process. 
Eric: It needs more variety. An 18-song tracklist is a little too long for an album with so many similar-sounding tracks, so the second half gets repetitive. Some of the finishing touches feel rushed, too. The mixing sounds off on songs like "Man of My World," and the cover art… Man, don't get me started on the cover art.
Jessica: I don't have too many complaints about the album, but I would've liked a shorter tracklist. If they had cut two or three songs at the end of the tracklist, it might have been stronger. With that said, there weren't any blatant issues with the album. 

Andre: I'd say the length of the project, but it's really the production. There was a point in the middle of the album where it felt like there were too many downtempo, moody beats which kind of blended together. Durk and Baby were differentiating it with good concepts, but switching out some of the moody synths and keys with some samples or other instruments would have made for a better all-around listen. 
Eric: Travis Scott. He starts the verse by rapping better than we've heard him in a long ass time. Then the beat breaks down and he experiments with a new flow where he bends his voice upwards at the end of each line, which gives it a really cool effect. Between this and his verses on Baby Keem's "Durag Activity" and YSL's "Diamonds Dancing," I'm much more excited for Utopia than I was before. It feels like he's tapped into a new energy right now.
Jessica: Young Thug on "Up the Side." It's clear that Baby and Durk have borth drawn inspiration from Thug in their own raps, so having the "teacher" and the "students" link up is a nice full circle moment. Plus, Thug just fits really well on the song.
Andre: I feel like Meek and Travis both had solid verses, but I'll say Rod Wave. "Rich Off Pain" gets to the essence of all three artists' music and catalog, so it was cool to see them collaborate on the most practical terms. 
Eric: Heading into this album, Baby was the clear favorite. He was out-rapping everyone on their own songs—even Drake and J. Cole. And he does the same here. Just listen to his ridiculous verse on "That's Facts." If you're going to refer to yourself as "Baby Jay-Z," you've got to back it up with a hell of a performance, and that's exactly what he did. Durk kept things closer than I thought he would, though. At times, Baby's flow gets a little repetitive on the back half of the album, and Durk adds much-needed variety by switching up his own flow. They both did what needed to be done. 
Jessica: Lil Baby walks away with the W here, but not by very much. On many of the tracks, Durk kept up, and even outshined Baby at times. On a track like "2040," Baby took the lead with an undeniably dominant performance, while Durk shined on slower, more sentimental records like "Make It Out" or "Bruised Up." Then on tracks like "That's Facts," they rapped at the same level.

Andre: "Won"? I feel like they both did. It's a collaborative effort. But if I had to choose a preference, it's Lil Baby. The way he's been continuously going off for a couple years now, mixing up the melodies with technical rhyming and exploring different pockets in the same verse is one of the coolest things in rap right now. Anyone still stigmatizing the new Atlanta like they can't rap should listen to Lil Baby and shut the hell up. 
Eric: Overall, I'm happy this exists. It's fun to hear two of the biggest rappers in their lane come together (especially after a pretty dry past 6 months in music) on the same project. Of course, joint albums rarely sound as good in reality as they do on paper, and I have a feeling they each saved their best work for their own solo albums. The Voice of the Heroes is a little too long, and there are some throwaways, which makes me think it would have been better as a 7- or 8-song EP. Still, I'm generally happy this is out in the world. Also, I'm already seeing people write this album off because of similar-sounding production, but they're missing how fucking good these raps are, and how much meaning each of these guys are putting into their verses. Listen again and pay closer attention. 
Jessica: I think it's a solid project. Lil Baby and Lil Durk both sound great, and their chemistry is strong. The Voice of the Heroes is a hood rap album that has a real chance of translating to mainstream success, and they never lost sight of their core sound and audiences. 
Andre: On first listen it was a solid project. I think it was bogged down by too many similarly produced songs and it would have felt more potent at 12 or 13 tracks (and/or with more differentiation of production). But both of them showed up and demonstrated what makes them great artists, as well as why so many people wanted to hear them together.