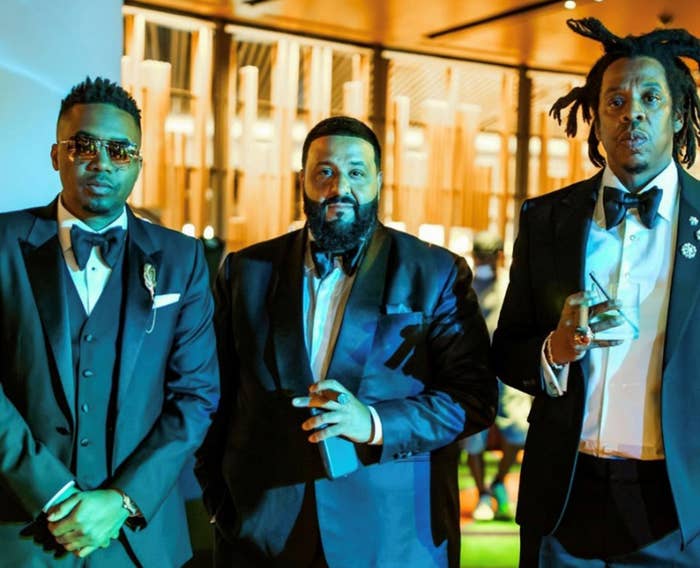 He's back with... another one. 
DJ Khaled's 12th studio album Khaled Khaled has arrived, and like usual for Khaled releases, it's full of A-list co-stars. The 14-song tracklist features everyone from Jay-Z to Nas to Cardi B to Drake. Hell, Khaled was feelin' himself so much that he put Justin Bieber and 21 Savage on the same damn song.
No one can hype up their own album quite like Khaled can. Announcing the project's release date with a giant billboard and dozens of Instagram posts, Khaled told fans, "This my name. This is my legacy. Time to bring more light." Then he took things to a new level by listing Allah as an executive producer.
So, does it live up to the lofty expectations he set? Is the music as exciting as the tracklist? After running this back a few times today, the Complex Music team put together a list of 10 things we learned, which you can read below.
Lil Baby has been telling everyone that he's working on a collaborative album with Lil Durk right now, and we got a preview with "Every Chance I Get." Pulling off the best rap collaboration on the whole album, their chemistry is undeniable as Durk punctuates the end of each of Baby's verses by singing, "Yeah, yeah, yeah, yeah, yeah." It's a simple touch, but he does it in a way that says, "Yeah, we know we're the shit right now," without having to spell it out. Talking about his relationship with Durk, Baby recently pointed out, "When it comes to that street shit, we're the voices and the heroes of this shit. Kids look at us like heroes." He's right. These guys are on the top of the world right now, and it's coming across in the music. If the rest of their album sounds like this, it'll live up to the hype (especially if Tay Keith has more joints on there, too). —Eric Skelton
Khaled's whole brand is predicated on creating "movies." If Khaled Khaled was a visual presentation, it would be scene after scene of actors going through the motions while paying homage to classic movie moments. Re-exploring samples canonized in the '90s and '00s is the thing to do now, but it's important to make sure the new song does the old song justice. "Wild Thoughts" did that. "Nas Album Done" did that. But some of the songs here, like "We Goin Crazy" (sampling Shawty Lo's "Dey Know"), "This Is My Year" (sampling Biggie's "Long Kiss Goodnight"), and "Just Be" (sampling Ghostface Killah's "All That I Got is You") feel like Khaled told his producers to incorporate spastic drums, excessive progressions, and every other bell and whistle to distract us from the audacity of using a classic sample for a song that's just pretty good. This album is the most obnoxious example of Khaled leaning heavily on nostalgia as a selling point, especially since so few of the artists performed to their full potential. There's no such thing as an untouchable sample, but if you're going to re-explore a melody that already has a place in our heart, you damn well better make sure you do something good with it. —Andre Gee
It was only a matter of time. Everyone and their mom is signing up for Coinbase accounts right now, and it feels like we're about to hear cryptocurrency bars everywhere. This isn't new, of course—Eminem told us about "everybody doing bitcoin" a few years ago and there have been references on rap songs here and there—but it feels like we're on the tipping point of crypto lyrics popping up every Friday. On Khaled Khaled, noted Coinbase investor Nas raps, "Winner in life, fuck a coin toss/ I'm coin-based, basically cryptocurrency Scarface." Not to be outdone, Rick Ross gets a crypto bar of his own off on "This Is My Year" when he raps, "You can send in Bitcoins, time to triple it with stocks." This trend barely started and it already feels a little worn out, but don't be surprised to hear a lot more of it. Brace yourselves for clunkers. —Eric Skelton
In Lil Wayne's early mixtape days, he had a habit of rapping over Jay-Z beats, spitting over everything from "Big Pimpin" to "Lucifer" to "Dirt Off Your Shoulder." And in 2021, it's a trick he keeps going back to. On Khaled Khaled's opening song "Thankful," Wayne doesn't straight-up rap over a Jay-Z beat like he used to, but the song does put a spin on Bobby Bland's 1974 single "Ain't No Love in the Heart of the City," which was famously sampled on Jay-Z's 2001 hit "Heart of the City (Ain't No Love)." After Jeremih handles the first half of "Thankful," Wayne comes in with a quick verse, rapping about his riches and name-dropping 50 Cent as the familiar Hov-adjacent melody plays in the back. Just like old times. —Eric Skelton
Ahead of the album's release, DJ Khaled made a big deal about a "gift" he received in the form of a feature. "I have a gift for the world. I can't wait to share it with you…  I couldn't post any pictures of this gift I have for u. I had to sign an NDA," he wrote on Instagram. Fans began to speculate the "gift" Khaled was referring to was Beyoncé. After all, Bey is known to use NDA's regularly. Well, the good news is, Beyoncé is on the album. The bad news: her contribution is miniscule. Bey is credited as "The Hive" on "Sorry Not Sorry." While the song features prominent vocals from Jay-Z, Nas, and James Fauntleroy, Beyoncé's only contribution is background harmonies. So for all those from the BeyHive showing up for another verse similar to 2019's "Top," readjust your expectations. —Jessica McKinney
Khaled stirred up a lot of anticipation when he announced "Sorry Not Sorry" and an accompanying video. Each link-up between Jay-Z and Nas feels like a rap holiday, but this time around it was as underwhelming as one of those days where everyone still has to work. As the title indicated, Nas and Jay took turns boasting about how rich and fortunate they are, with Nas deeming himself "cryptocurrency Scarface" and Jay-Z noting, "I like who I've become." It is refreshing to hear rap vets in a good space and loving life after the tragedies of the past month, and both verses were solid enough, but it feels like they could have gone harder (and Jay-Z definitely could've rapped a little longer). The vibe wasn't helped by a cloying hook and saccharine production that sounds like Khaled ripped it from Self-Made 4 sessions. While Khaled was rummaging through samples for the album, maybe he could've found a classic sample from either one of their catalogs for them to jump on. But we got what we got, an "Already Home" song that feels like they're doing so good that the high expectations we have for them don't matter. —Andre Gee
Khaled albums always seem to have an MVP. Sometimes it's been Rick Ross, Wayne, or Drake, but we're in a new era. It's Lil Baby's moment, and he made that clear on his three appearances. "Every Chance I Get" with Lil Durk may have been the best song on the album, and he carried the bulk of the load on the thumping track. He outshone three other stars on "I Did It," and also turned in a nice appearance on "Let It Go." All three tracks explored different moods, and he understood the assignment all three times. —Andre Gee
A lot of people are talking about Cardi B's contribution on "Big Paper," and with good reason. On the record, which is co-produced by Tay Keith, Cardi is indulgent as she rips through the beat with braggadocious bars about her money, status, and influence. She also fires a few warning shots to haters who are preying on her downfall ("Sleepin' on Cardi, all that nappin' shit done/ Off with your hat, all that cappin' shit done"). "Big Paper" is a strong follow-up to the success of 2020's "WAP" and this year's "UP." While those were more party anthems, though, "Big Paper" marks a shift, as Cardi reminds us she can also be a hard-hitting, all-bars sort of rapper. "Big Paper" track may have been turned in at the last minute, but it's certainly one of the standouts on Khaled Khaled. —Jessica McKinney
Before the album dropped, DJ Khaled got everyone excited about the possibility of Justin Bieber and Justin Timberlake getting on the same song together when they jumped on a FaceTime call together. Instead, we got Bieber on a song with 21 Savage (which is as strange as it sounds, but not bad) and whatever the hell this solo Timberlake track "Just Be" is. I'm not sure whose idea it was to get JT to sing over the same sample from Ghostface Killah's "All That I Got Is You" (The Jackson 5's "Maybe Tomorrow") but it's one of the most regrettable moments on the whole album. On the song, Timberlake earnestly sings that his "heart's in the right place," and that might be true, but everything about this one is too cheesy to ever listen to in public. We could have done without "Just Be." —Eric Skelton
When it comes to "movie" status, Khaled is veering into Fast & Furious territory. Former devotees of the franchise have seen enough speeding cars and explosions to know that the schtick isn't doing it for them anymore. We'll probably check in just for the big names to see if there's a memorable moment or two, but that's no winning formula for full-length music projects. Even at the height of his run, DJ Khaled albums were carried by mammoth hits that allowed him to rave about platinum plaques and other accolades that deafened the reality of their top-heaviness. 

But Khaled Khaled doesn't have those moments (save an old Drake song), exposing a project full of mashed together collaborations where the sum of the collective parts is underwhelming. Starpower alone isn't going to do it anymore, especially when it sounds like those artists are going through the motions. It's time for Khaled to go back to the drawing board. Maybe that means going back to his early days of mostly embracing Florida artists (there's more than enough talent to do that). Maybe it's using the project as a platform for younger, hungrier artists who won't give him a phoned-in appearance. Maybe it's just putting out EPs instead of bloated albums, because constantly shooting 4/14 isn't it. Khaled clearly bought in to Micheille Pfeiffer's Scarface assertion that "nothing exceeds like excess," but the bubble has burst on that mantra. —Andre Gee