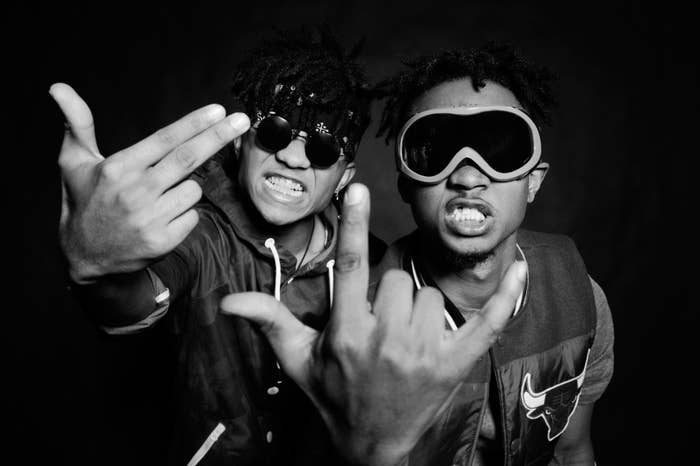 Slim Jxmmi​ skateboards into the entrance of Hot 97 with Gucci goggles atop his head. He kicks the board up into his hand while Swae Lee begins to sing into the echoing, high-ceilinged lobby: "Codeeeeeeine craaaaazy." He draws out each word operatically as they proceed to walk through, followed quietly by their DJ, manager, and publicist. They dap up the building security graciously then chase their way to the elevator. Once seated in a waiting room, Swae begins to explain how he got banned from Snapchat.
"Too many nudes," someone chimes in. Apparently replying to a high volume of female fans has put Swae's account in jeopardy. Slim Jxmmi's Snapchat appeal is more about how creative he gets with it. He prides himself on putting the extra effort into coloring in a masterpiece for each message.
In the waiting room, the only thing that keeps the energetic Sremmurd boys from bouncing off the walls is the magnetic attraction of their phones. They focus on a flood of Snapchats, tweets, and Instagram notifications, constantly showing each other what's being said to and about them. But they simultaneously tap into the social energy in any physical space that they happen to be in. At any given moment, they might be drafting a tweet while flawlessly executing an ollie and flirting with the label rep.