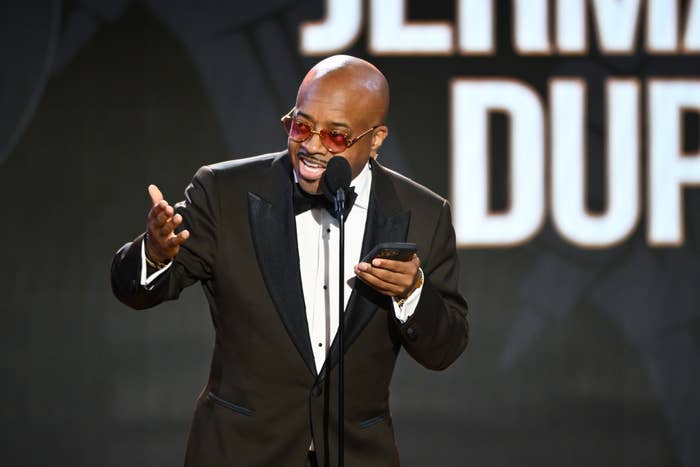 Jermaine Dupri says he invented "making it rain."
In celebration of 30 years of So So Def Recordings, Dupri sat down with Apple Music's The Estelle Show to talk about how the practice of throwing cash started.
The CEO recalled rapper Talib Kweli came to Atlanta for the first time in the 1990s and hit up Magic City with him and Janet Jackson. Once inside, they started throwing bills in the air at the infamous strip club.
"I actually was the person who created this because I did this first in the 'Money Ain't A Thang' video," said Dupri. "Me and Jay-Z are in the car throwing money throughout the whole video. That became my thing with that song. That became my thing going into these strip clubs."
However, Dupri admits that the dancers didn't have the same reaction back then, adding, "I remember going to the club throwing the money. The first time I ever threw the money in the air, I probably threw $1,000 on the floor. And the girl at the strip club said, 'You want me to get down on the floor and get my money?' She didn't understand what was happening."
He continued, "I tried this a couple of places where I was out throwing money and...they didn't understand what was happening. And this is just my confirmation of me saying, 'I know that I was the first person doing this.'"
Dupri's "Money Ain't a Thang" is a single off of his 1998 LP Life in 1472. Although the track never uses the phrase "make it rain," it does feature the bar "Drop a little paper/Baby, toss it up."
The origin of the phrase "make it rain" is still somewhat contested. Fat Joe and Lil Wayne's 2006 hit "Make it Rain" stands out as one of the earliest examples of the phrase being used commercially. Songs like "Make it Rain" by Travis Porter and Lil Jon's "Act a Fool" both used the phrase in 2010 and further pushed the term into mainstream consciousness.
In a 2011 interview with Young Jeezy, the rapper spoke to Rolling Stone about being credited by DJ Drama for inventing "making it rain."
"I'ma be real, man, this might sound like the craziest thing to you. I, and others like me—trap stars—we always considered ourselves Robin Hoods: we go out and get the money. Just think, if you was in the village and you a hunter, you take pride in going out to hunt the prey and bring it back for the village to eat."
Jeezy continued, "In our situation, we took pride in getting money so that the hood could eat. A part of the hood was the strip club, so—in our minds—we looking at it like we putting kids through school, we buying school clothes, we paying tuition, we paying car notes. We felt like we was the providers. And that's what we are! When you a ghetto star, when you a hood star, you gonna take care of your grandmother, your mother. When you on that next level, you gotta take care of the city, the streets. All of that consists of going to the strip clubs and throwing up money; like, I'ma have fun doing it, but I'ma give back. And, like, in doing so, they don't gotta take the risks that we did. The women shouldn't have to go out and kill the goddamn elk."