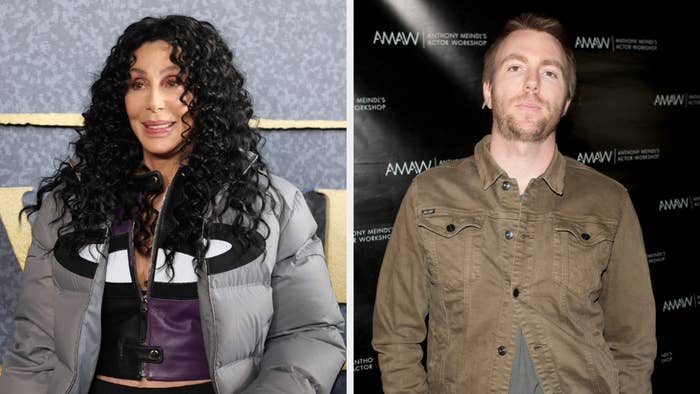 UPDATED 10/11, 11:50 p.m. ET: Cher denies a report that she hired four men to forcibly remove her son Elijah Blue Allman from his hotel last year, saying "that rumor is not true."
The singer seemingly confirmed the alleged incident stems from concerns over Allman's health and welfare when bringing up his substance abuse issues with People. She also argued that, as a mother, she would do anything to help her children.
"I'm not suffering from any problem that millions of people in the United States aren't," Cher said. "I'm a mother. This is my job—one way or another, to try to help my children. You do anything for your children. Whenever you can help them, you just do it because that's what being a mother is. But it's joy, even with heartache—mostly, when you think of your children, you just smile and you love them, and you try to be there for them."
Elsewhere in the People interview, the 77-year-old spoke about her relationship with 37-year-old Alexander "A.E." Edwards.
See original story below.
Cher has been accused of orchestrating the kidnapping of her own son.
Court documents obtained by outlets including Variety allege the singer employed four men to forcibly remove her son, Elijah Blue Allman, from his New York hotel on the night of his wedding anniversary with estranged wife Marieangela King.
King made these allegations in a declaration to a Los Angeles court filed in December 2022 as part of their ongoing divorce case.
In the declaration, King, 36, claims that she and Allman, 47, had spent 12 days in New York reconciling their marriage when the alleged abduction occurred on Nov. 30. She states that one of the assailants told her they were hired by the singer. The 77-year-old star's concerns over Allman's health and welfare were allegedly the motives behind the abduction.
Allman, who has a history of drug addiction, had allegedly been living at L.A.'s Chateau Marmont hotel for the past six months. He is now reportedly at a rehab facility in Pasadena, California following an incident where he supposedly collapsed outside of the famed hotel's entrance. In a 2014 interview with Entertainment Tonight, Allman said he started experimenting with drugs at age 11 with weed and ecstasy.
"I am currently unaware of my husband's wellbeing or whereabouts," King is quoted as saying in the declaration. "I understand his family's efforts to make sure he is well, and I want what is best for my husband."
After the alleged abduction, King claims to have been asked to leave the couple's home, which is reportedly owned by Cher, and obliged the request assuming she would be able to receive her support payments on time to afford housing. "I was not allowed to retrieve all my belongings from our primary home and residence, nor was I given the opportunity to inventory our assets," King says in the docs.
Elijah, who's the son of the late rocker Gregg Allman, is the youngest of Cher's two children.