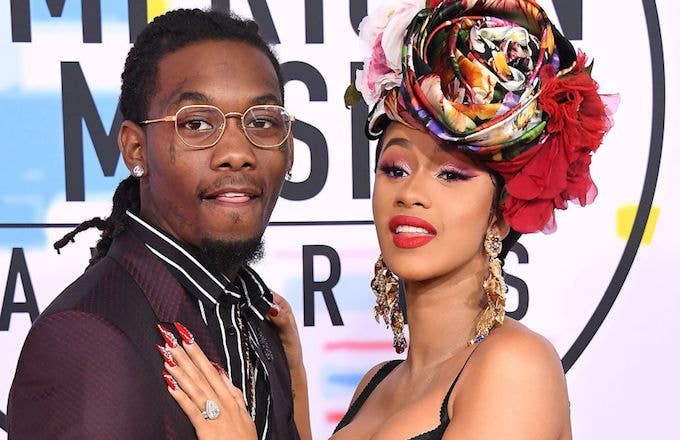 Cardi B and Offset's romantic relationship is officially over. One year after eloping, the Bronx rapper went on Instagram to announce their split on Tuesday night, saying, "It's nobody's fault it's just like I guess we grew out of love." 
But it might be somebody's fault, and that somebody might be Offset. TMZ reports the announcement comes shortly after alleged text messages surfaced earlier this week, creating another cheating scandal for the Migos rapper. In screenshots of said texts, Offset allegedly asks a woman who goes by Summer Bunni to participate in a threesome with him and rapper Cuban Doll.
The leak was reportedly orchestrated by a source who had a falling out with Cuban. There is also a photo of the 20-year-old rapper and Offset FaceTiming. If they're real, the texts happened on June 28, shortly before their daughter Kulture was born in July. 
The former Cuban Doll associate later shared an apology on her Instagram. "Seeing a woman's pain does not bring me any joy, nor do I think it's funny," she wrote of the situation. 
Summer Bunni went on to post an emotional video in which she cried over her alleged affair with Offset. She claimed that she wasn't aware of "how serious his marriage was," and insisted she hasn't been with Offset since he and Cardi B welcomed their first child together.
These are far from the first allegations of cheating leveled at Offset, but it's unclear if this is the real reason behind Cardi's decision to break up.
Cardi did issue a warning to her husband in December of last year. During a concert she said, "I let a n***a know though. You do that shit again, you gon' lose your wife." The line was definitely an ode to Beyoncé's playbook, who warned JAY-Z with the same message on Lemonade. 
After the breakup, some fans speculated the split might be a marketing strategy for Offset's solo debut project, which comes out on Dec. 14. Cardi hasn't addressed that theory or the new cheating rumor.
According to Bossip, the Migo denied the Cuban Doll rumors before Cardi's announcement. "I never tried to convo with you h*es. Cap Cap Cap. Leave me and my fam out the cap. Bust *ss h*es with no bag. Good on the thots," he reportedly wrote in the since-deleted post.