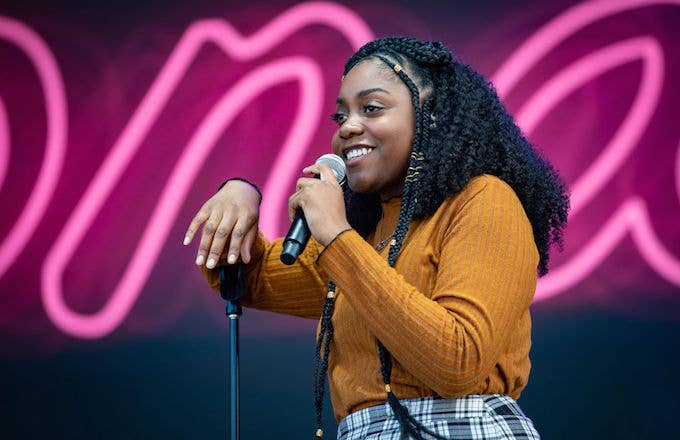 Chicago native Noname's debut album Room 25 comes out this Friday. Ahead of its release, Fatimah Warner, the rapper known for her poetic sensibilities and intricate songwriting, talked with Fader about what all has changed since releasing her 2016 mixtape Telefone.
Noname sprang up originally in under the moniker of Noname Gypsy, which she later dropped. She captured listeners' attention with her flows alongside other Chi-town rising stars like Chance the Rapper and Mick Jenkins. But those connections didn't form out of thin air.
"I started watching a lot of old Def Poetry Jam videos on YouTube and got really obsessed with it. I was like, 'This is the most amazing fucking thing I've ever seen.' I researched youth poetry in Chicago and the program I used to be in, YOUmedia, that popped up," she told the magazine. "That's how I ended up going there and meeting [Chance and] all those people—a Google search! A Google search changed my life, bruh."
In 2016, Noname released her debut mixtape Telefone, which was met with huge critical acclaim. This new album is being independently released just like Telefone, simply because she doesn't "want to wait around for people to greenlight [her] creativity." Other than that, the two full-lengths come from very different places with very difference sentiments.
"It came to a point where it was, like, I needed to make an album because I need to pay my rent," she explained to Fader. "That was the first time I was ever in a position that I started making music out of a financial obligation...I was like, 'Oh my god, this is how people feel, this is why people have like 10 albums.' When you start making money, your responsibilities are just more."
Her debut album will shed some of the innocence of its predecessor. "Telefone was a very PG record because I was very PG. I just hadn't had sex," she said before later expressing how Room 25 will be different. "I'm finally able to dance around with the idea of being vulgar in that way."
As a result of the more PG and poetic signatures on her debut project, Noname thinks her fans may be surprised by the contents of her new album—especially those looking at her to be an island in a rap landscape comprised of Nicki Minaj and Cardi B. "I feel like a lotta people are gonna be like 'Ughhh.' A lot of my fans...I think they like me because they think I'm the anti-Cardi B. I'm not. I'm just Fatimah," she said. She also said she continues to see people tweeting her "like I'm this generation's Lauryn Hill or I'm like the conscious version of different female rappers who don't make the type of music that I make. ... Maybe this project will show some of those people who think that I am this very, like, conscious female rapper that I'm just as regular and normal as everybody."