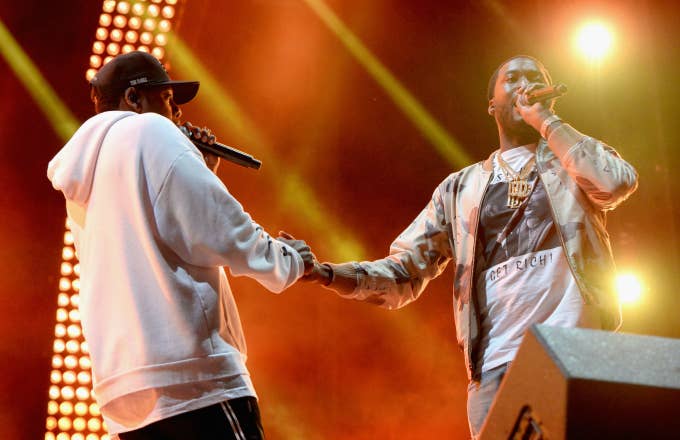 Meek Mill, Michael Rubin, JAY-Z, and more are joining forces to launch a new criminal justice reform organization.
Details will be unveiled next Wednesday (Jan. 23) during a press conference, including who will be the CEO of the organization. Meek, Rubin, and Hov are joined by Robert Kraft, Daniel Loeb, Michael E. Novogratz, Robert F. Smith, and Clara Wu Tsai. 
Meek's involvement is tied to his own personal battle with an unfair justice system. The CHAMPIONSHIPSrapper became the face of prison reform following his very public sentencing of two to four years in prison for violating his probation linked to a decade-old gun and drug conviction. The controversial sentencing came in November 2017 at the hands of Judge Genece Brinkley, who allegedly had a vendetta with the rapper for personal reasons.
Before his release in April 2018, he gained support from across the hip-hop community and beyond calling for his freedom. JAY-Z penned a New York Times op-ed in support of Meek, while dissecting the unjust sentences that stem from probation violations.
"On the surface, this may look like the story of yet another criminal rapper who didn't smarten up and is back where he started," he wrote. "But consider this: Meek was around 19 when he was convicted on charges relating to drug and gun possession, and he served an eight-month sentence. Now he's 30, so he has been on probation for basically his entire adult life."
The two also collaborated on the CHAMPIONSHIPS track "What's Free," where they rap about freedom, racial injustice, and the pitfalls of the criminal justice system.  
Meek recently advocated in support of the release of Cyntoia Brown, who was granted clemency earlier this month.