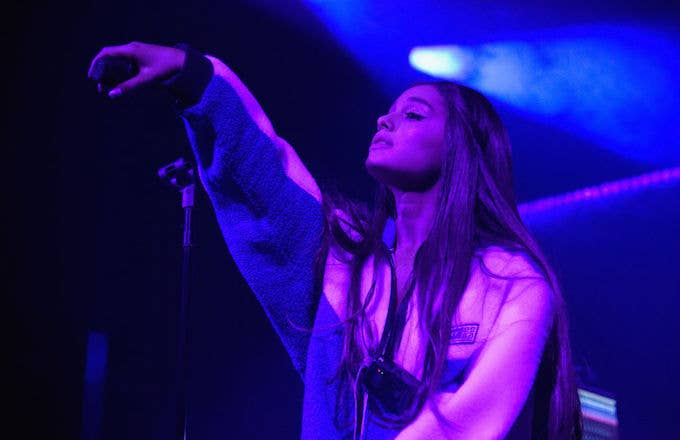 Ariana Grande, 2018's queen of pop and ponytails, will film a one-hour BBC special next week to commemorate her new No. 1 album Sweetener.
According to Variety, the show will include performances of new songs from the album, as well as some of Grande's old bops, and will be taped on Sept. 7 to air later this fall. The special will also feature an interview, and more importantly, the singer is going to be backed by an all-woman orchestra. The last time Grande worked with BBC was hosting her One Love Manchester event following the terrorist attack on her Manchester Arena concert.
"Ariana Grande is such an incredible talent," said David McCall, the U.K. presenter hosting the special. "She's very funny and incredibly kind and has achieved so much already in her career! I'm really excited about talking to her and, of course, hearing some of her amazing music."
Following the successful roll out of singles, including "No Tears Left to Cry" and "God Is a Woman," Ariana's fourth studio album easily landed in the No. 1 spot on the Billboard 200 on Sunday, dethroning Travis Scott's two-week run on top. Sweetener also earned Grande's best first-week numbers. It beat out her 2016 project Dangerous Woman, and marks the most-successful streaming week ever for a woman pop artist.
Grande is expected to announce her 2019 tour sometime soon, but so far there are no details besides pre-ticket access when you buy some merch. In the meantime, the singer will likely be hanging out somewhere boo'd up with Pete Davidson and his Big Dick Energy.