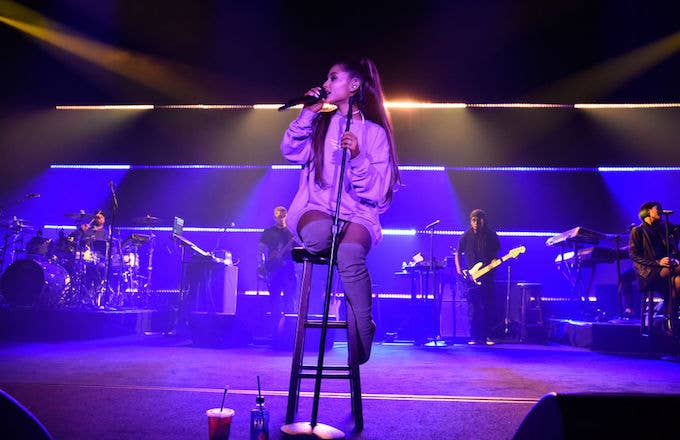 As Ariana Grande continues to cope with her extremely emotional year, she decided to cancel another performance in the wake of her ex Mac Miller's death.
According to People, Grande was expected to perform her first show since the rapper's death at Fuck Cancer's inaugural Barbara Berlanti Heroes fundraising gala on Saturday. The singer's manager Scooter Braun and his wife were both honored at the gala, and during his speech, Braun addressed Grande's absence.  
"Someone I'm very close to was supposed to come sing for you today, and because of things that she's going through, she couldn't be here today," Scooter told the crowd. "And while I was frustrated, being the manager, my wife, being who she always is, just looked at me and she goes, 'She needs this time.'"
Braun reportedly called in a last-minute favor with The Daily Show host Trevor Noah and asked him to perform a short comedy routine in Grande's place.
The pop singer previously canceled her SNL performance, leaving a slot open for Kanye to perform as a water bottle. "We had Ariana drop out for emotional reasons two days ago," SNL creator Lorne Michaels said back in September.
The "No Tears Left to Cry" singer may be stepping away from the stage, but Grande did return to the studio earlier this month. 
"Given the events of the past couple of years, Ariana is going to take some much needed time to heal and mend," Grande's team said in a statement on Sept. 17. "She will be staying close to home and using this period to spend time with her loved ones and work on new music without deadline. She thanks her fans for their understanding."
It's unclear if she's already working on a new project after dropping Sweetener in August or simply using music to recover during this emotional time. "I'm feeling sm better lately and this music is sick," she tweeted last week.