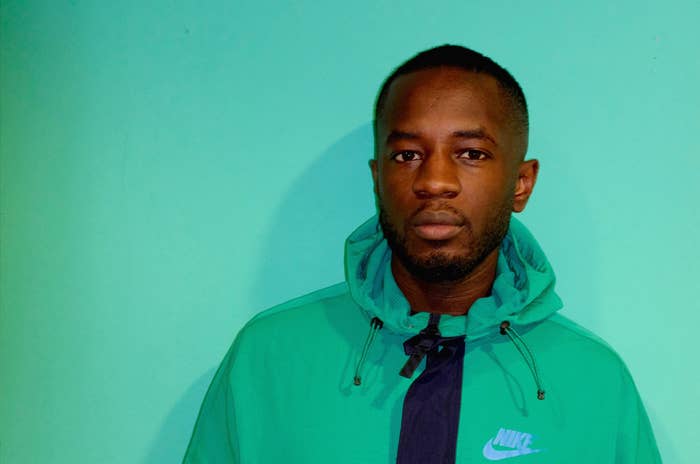 Alex Boateng, also known as 'Twin' (his twin brother is BBC 1Xtra DJ and Atlantic A&R Twin B, aka Alec Boateng), is now the head of a first-of-its-kind Urban Division at Island Records. Twin's hugely influential position in UK music marks another step in a journey littered with growth at every level. From working with emcees on pirate radio to globally-acclaimed stars like Drake and The Weeknd, his success is underpinned by a genuine passion for the music he pushes.
A breakthrough moment for Boateng came after the release of Split Mics—a compilation CD he and his brother (alongside a team including DJ's Wonder and Crisis) released over a decade ago—featuring grime stars like Kano, D Double E and Durrty Goodz. DJing and working in various roles across the industry allowed Boateng to build on the buzz of Split Mics, as did applying the skills learnt from his marketing degree as a consultant for a number of labels, eventually ending up at Island. 
Twin knows when an artist should be signed, but he also knows when to walk away from a deal. When he does sign someone, his foremost aim is to grow the artist, rather than milk the product—like the signing of Big Shaq indicates. As "Man's Not Hot" has catapulted into a Top 5-charting single, so too has Michael Dapaah's personal brand. Much of that is due to Dapaah's savviness as an entertainer, but on Alex's end, this isn't a case of cashing in on a viral hit: he wants to leave artists and creatives in a better position than what he found them in.
Nowadays, Alex Boateng is one of the most trusted bridges between an artist and signing a record deal, heading up a division at Island Records that aims to dedicate itself entirely to the world of black entertainment. We caught up with him to find out how he became such a trusted voice. 
COMPLEX: Where do your musical roots begin? 
Alex Boateng: No one in my family is an artist or singer, no one is a professional artist or anything like that, but there's always been a genuine love for music. I remember the house being full up with vinyls and listening to everyone from Michael Jackson and Boyz II Men, to a bunch of Ghanaian artists and George Michael. Then mix that with growing up in East London and the mix of cultures and being around the emergence of UK garage and that turning into grime. People around me were climbing up the flats around the corner from me to do pirate radio, so it's really been a big mix of influences. 
You released a mixtape with your brother, Twin B, called Split Mics that blew up in the mid-2000s. What impact did this project have for you?   
We're both DJs and realised then that there was a lot of opportunity there—there was definitely a gap. What we heard excited us so we wanted more people to hear it, and in terms of the impact—it was massive! For us, personally, even just co-ordinating it and working out the studios, choosing which instrumentals people are going to spit on, that was just the beginning of doing proper A&R and actually learning on the job. From that, we won awards, we got interviews and press around it, my brother got a show on BBC 1Xtra and is still there on Monday nights. I started working there as a producer on different shows, and whilst I was at university, I set up my own company with another DJ called G Money. We were doing promo for Dizzee Rascal and Klashnenkoff at the time, so it kick-started everything really because we got on and done it. That, and becoming a DJ were the two biggest sparks of my career. 
After Split Mics, what came next? How did you take the next step after that project? 
My brother fully got into the industry as an A&R at Ministry Of Sound, and the new relationships we built gave more opportunities; I was doing that all while doing a marketing degree. It's funny because, education-wise, that wasn't top of my list. I made a late decision to go to university... African family, so it wasn't really a decision [laughs]. Then, after Split Mics, I realised how much I loved it because that's what was happening in music. I started looking closely at pirate radio, people making videos, the campaigns major labels did and even when I bought vinyls, I started to think more about why I bought them and why I paid money for my music. So that turned into me setting up the company, working with a few companies that did brand stuff, and I carried on DJing and doing interviews and all that kinda thing. It was about just building off relationships that started from Split Mics, and using those to provide different opportunities.  
How did you manage to become an A&R at Island Records? 
After Split Mics, as well as a doing a few other jobs and having the company, I was consulting for a labels like Atlantic and Polydor. Even back then, I wasn't really into major labels and I had a couple of job offers, but I wasn't really into it. Island, though, they had something different. The big swinger for me was that one of my friends, Benny Scarrs, signed Tinchy Stryder. Tinchy came from the ends and it was interesting to see his journey and be a part of it. We didn't even know what he was going to do. The first thing I worked on was "Number 1" with N-Dubz, which went straight to No. 1 in the UK charts. That was a crazy time! I was DJing on the tour at the time, and it was a proper celebration.
In terms of my A&R journey, I started as a consultant, doing marketing. Scarrs was the A&R he signed and did the music, and I dealt with everything else in between. I was the product manager, so I looked after the visuals, the videos, making sure the radio and TV team got what they needed. And I did that for Tinchy and a bunch of other acts: Angel, Wiley, Jessie J, Kelly Rowland, Lil Wayne, Akon, Nicki Minaj, and The Weeknd. I went from product manager to A&R, which is quite weird for a major label, and again why I like Island's forward thinking. At the time, Darcus, the label boss, said that it made sense when I pushed for it because I'm across both, so I had the unique job of doing A&R and marketing. I signed JP Cooper while that was happening, which was challenging whilst doing both the A&R and marketing roles. But at the same time, good A&R people know marketing and good marketing people have a good ear. Eventually, the day-to-day stuff became more A&R than marketing, working with acts like Sean Paul and Dizzee. 
With more infrastructure in place to allow more artists to not rely so heavily on record labels, how has the role of an A&R changed? 
It means that A&Rs actually have to be good at their job. When I talk to people, they make music and they know what they're doing. That's how I came up too. We weren't waiting for labels to put out the mixtape—we got the investment and put it out ourselves. We took it to record shops and it feels like that kinda thing is happening again, right now. I'm finding myself standing next to more people rather than trying to give them a leg up, which is wicked, because it's about investing—sometimes time and knowledge, sometimes structure, sometimes money. If 10 people are feeling what you do, it should grow to 20, then 40, then hundreds of thousands and more; that sense of the A&R and the label being able to grow your audience.
In terms of how it's changed, you have to know what you're talking about. You have to have a lot more integrity because it's easier for you to be found out if you don't. And you have to be business savvy, too. It's not just about the music side of things—although, that's still the most important thing—you've also gotta know what you can bring to somebody's business. Now, artists are coming with an infrastructure and business model. You've gotta know how you can increase that or, really, you should just leave it.  
Some artists may have various deals in place to serve different functions, but still appear to be independent. For an artist to be considered as truly independent, what must happen? 
There are technical ways of being independent and being off labels and what that means financially, but I think independent is a mindset. If someone comes in and dilutes what you offer, then you are not independent. Some of the biggest artists on the biggest labels don't talk to their labels about everything creatively, because their relationship might not be about that. You look at people like Drake, I've worked with him and the OVO team. They're some of the most independent-minded and smartest businessmen in the world. Not just in music, but straight business. They use the machine well to amplify what they do, and the label smash it.
I think Stormzy put it best when he said J Hus is smashing it and he's signed, and how he himself is smashing it as an unsigned artist. Skepta as well: since coming off labels, he's become more inspirational. SZA and Kendrick Lamar are singed, for example, while Daniel Ceaser, Chance The Rapper, Dave and AJ Tracey are unsigned. But I don't care about that when I press play, just as long as I get the music. It just shows the importance of having the right team. So, for me, I don't watch status—whether you're signed or not, as a fan, I just care if your music is good. On the business side, I'm just focused on making sure the people I work with have got the right team around what they do. 
A few years back, as you said, you worked as a consultant and product manager at Island Records but now you're heading up the label's new Urban Division. How did you make that climb and become such a trusted and reliable voice? 
First of all, the word 'urban' is evolving. I don't love it but, for now, it does the job and it explains what it is we make. It's a tough one to answer... I suppose just being in it and having a history is important. Genuinely caring as well is very important—not even just the music and the artist, but even the people behind the scenes. For me, people like Buck and Trenton, who manage Giggs; Sam, Grace and Radha, who manage Skepta and BBK; Delessa, who manages Bugsy Malone; Dumi with Tinie Tempah; Tobi with Stormzy; Nadia with Bizzle, as well as my twin and people like Posty, Rashid, and Austin Daboh—these people are so, so important. 
Building relationships across the board with people like that and coming up with some amazing people who have helped me, that's all part of my journey. Of course, the talent that I've been blessed to work with and learn from too, from Tinchy to the Cash Money guys, Drake, Donae'O, Sean Paul, Giggs, Dizzee. I try to be honest where possible. Sadly, though, that's not a common trait. Even in ideal situations, I wouldn't sign someone just for the sake of it or because they might go somewhere else. Always having a reason for people to pick up the phone to you is important, and having a great team. Island has got some great people in every department, and they amplify everything that we do.
What are your plans for the new Urban Division? 
Just carrying on, really: more signings, more partnerships—there's so much exciting stuff coming out of the UK, so that will never stop. The international runnings are exciting too; Metro Boomin's killed 2017 dead as a producer. His label, Boominati, are gonna do the same in 2018 and his first project is a joint tape with Big Sean—which is sounding incredible. Then there's more from The Weeknd, Belly, and Nav is up next. Another producer, Zaytoven—who produced a banger on Giggs' Wamp 2 Dem mixtape—he's got a lot coming, as does Bibi Bourelly, Ski Mask, Chas French, Justine Skye, Jacquees, Alex Da Kid and Mishlawi, who is a new name but is sounding amazing. We've made so many bangers with Sean Paul that I can't wait for people to hear and move to—some surprising ones too! Donae'O will be one of the most important artists of 2018; Angel is working on his new album; 808INK are coming for 2018; 23 Unofficial just came on board; and Drake is currently back in the studio. We plan on hiring some amazing new people to work here in the next few months, and we're also doing a couple of things outside of music and with brands.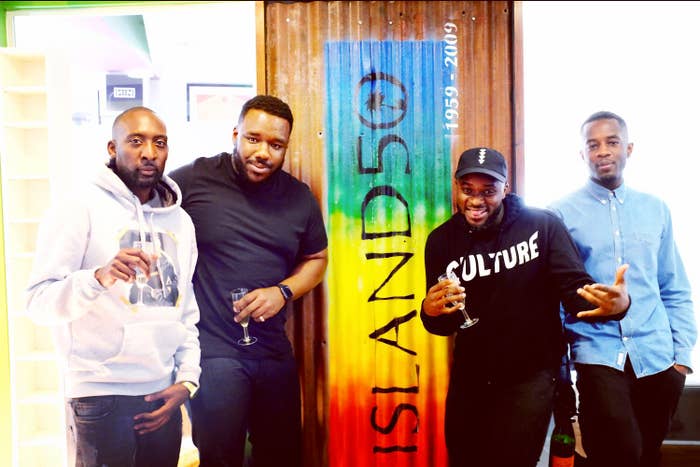 What are some of those things? 
We're doing a film—a prequel to The Intent. It's super exciting, man. That as a project really shows what we're trying to do with the Division. I want to be able to have conversations with everybody about everything creative, if it's linked to music. The beautiful thing about the project is I popped down to the studio and saw Ghetts smashing it as the lead actor. I first connected with Ghetts from when he was called Ghetto in the N.A.S.T.Y Crew/pirate radio days, which was years ago now. Even then, you could tell how naturally talented he was. But now, as a business, we're able to back that properly. We're fully doing the film; this isn't us going halves with a film company. Ghetts has never acted before, and he got the lead role because he deserved it through the audition process.
To be able to provide an opportunity for someone as talented as that as a record label and as a business, it exemplifies what we're trying to do. They're wrapping up shooting in London, then they're going to Jamaica—Popcaan is in it. Ghetts is also musical director as he has the ear to match the visual, and you can expect it next year. Nicky Slim Ting and Femi [Oyeniran] are the writers and directors of the film and, as well as being super talented, they're also from the scene and not just documenting it from the outside. We also recently worked on a project with Hennessy called 'Masters Of Potential', blending talent like they blend drinks, which had JP Cooper and Kojey Radical recording some magic down at Abbey Road Studios.
What are your biggest career highlights? 
Working with Dizzee Rascal on Raskit is one of them. For me, it was one of the best emcee-led albums this year—and it's his sixth album. To get in the Top 10 with your sixth album is mad! Watching and working with Giggs' team has been sick, as well as making music with Sean Paul in Jamaica—it was crazy. Big Shaq has been incredible and will continue to be. I've known Michael [Dapaah] for a while and seen his graft as an entertainer, so to be able to plug him and see what he's doing is great. I didn't go to him like, "I wanna sign the record." It was more like: "How do we build your business?" It's not about trying to squeeze the juice out of a hit—it's about building a young black businessman and entertainer and making sure he's better after working with us than he was before. 
Starting label life seeing Tinchy from ends have girls crying in Scotland and selling like he did, was just mad. The Nick Brewer record with Bibi Bourelly, "Talk To Me", was fun too and one of my favourites that I've put out—two very talented people. Watching Drake turn from a signee of Lil Wayne's to the most important artist in the world has been incredible to see. Nothing but love and respect for the OVO team. Another one is Jessie J's "Wild" with Big Sean and Dizzee—that's still my favourite video I've worked on. Signing Donae'O after years of listening to him was dope. Working with, and meeting, Erykah Badu... I spoke to Busta Rhymes on the phone the other day. Busta, ya know! [Laughs] Signing acts like JP Cooper and Nick Brewer and seeing them grow, like with everyone else I work with, is always a highlight and will never stop being exciting for me.