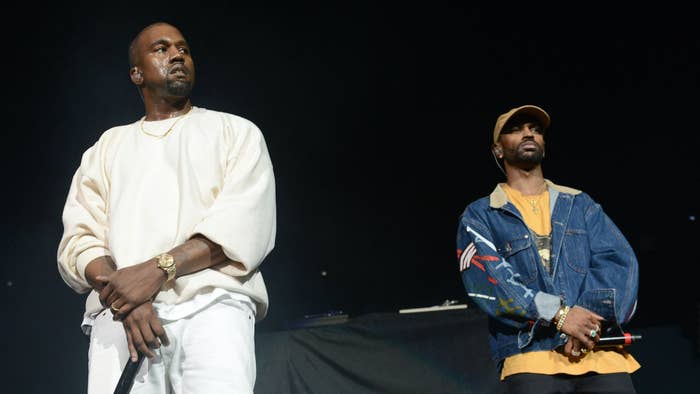 During Kanye West's recently released Drink Champs interview, the GOOD Music founder said that signing Big Sean was "the worst thing I've ever done." 
Ouch.
"Nah, look, I know this man's mama," Kanye said before also bringing up John Legend. "I've changed this man's family. And both John Legend and Big Sean, when I ran for office, got used quick by the Democrats to come at they boy that actually changed they life and that's some sellout shit. And I don't rock with neither of them and I need my apologies… n**gas is scared."
You can check out the exchange, which features a confused N.O.R.E. who thought Kanye said signing Big Sean was the "best" thing he's ever done, below.
Before the episode dropped, Big Sean took to Twitter to say he had a feeling that Kanye Ye said something about him during the interview because the folks over at Drink Champs asked if he'd be down to link up for a chat. "I just got asked to be on the next Drink Champs so I'm assuming Ye talkin crazy," Sean wrote shortly before the Ye episode was uploaded. Looks like he was right.
After catching wind of exactly what Ye said, Sean went back to Twitter to post a bunch of laughing emojis. In another tweet, Sean shared a picture of himself hanging with Ye and explained that the Donda artist "ain't say none of that" when they recently connected. 
Sean then said that he "can't wait to go on drink champs," presumably to tell his side of the story. 
Kanye's comments come on the heels of Big Sean announcing that he parted ways with GOOD Music. "By the way this the first project where I'm on my own label as well, no more lil dawg shit!!!! I bossed up! #DONLIFE," Sean wrote late last month while talking about his new What You Expect EP with Hit-Boy. "That's a forever brotherhood, but business wise, I had to start getting a bigger cut! I worked my way out that deal."
Stay tuned for that Big Sean Drink Champs interview and head here to check out Ye's interview in its entirety.