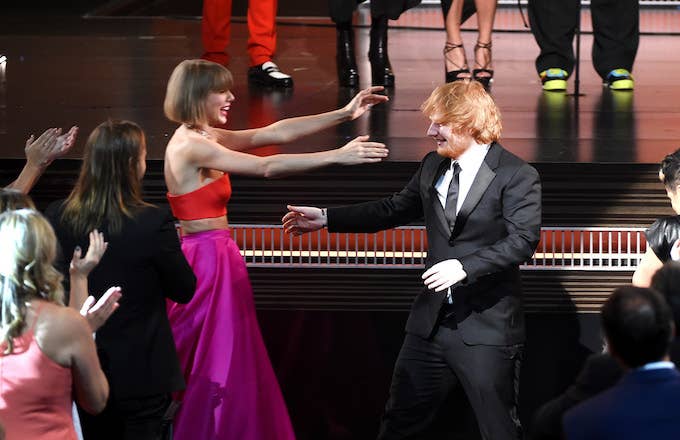 Ed Sheeran wants to make it known that Taylor Swift was definitely, 100% percent, forsure forsure, absolutely not talking about him on her Reputation track "Dress." 
During an Instagram livestream with August Man, Sheeran shut down the speculation, Billboard reports. "I don't think it is [about me]. I think if you read into it… it's not… you know, because she mentions someone with a buzzcut haircut, and I've never had a buzzcut haircut."
Rather, it most likely seems that Taylor is talking about boyfriend Joe Alwyn, who at one point did have a buzz cut. 
The song allegedly is about loving someone and wanting them to take off your "Dress" or something like that. "I don't want you like a best friend/Only bought this dress so you could take it off," Swift purportedly sings on the track.
I say allegedly because the album is currently not available to stream and I have not bought a CD in ages and if I were to buy a CD, which I wouldn't, I probably would not be out in these streets at Target copping a Taylor Swift album because people might judge me but more importantly it's not my proverbial cup of tea. But, then again, I might just be saying that cause I'm scared of what everyone will think.
Anyways, Taylor recently announced that she will be heading on tour to support her newly released album Reputation.  
Not I Taylor, not I. From each according to their ability, to each according to their need. If you are someone who wants to see Swift live then head right this way to get more info on acquiring tickets. And maybe cop me one too. Maybe not.