Houdini on New EP 'underGROUND,' COVID-19, & His Tory Lanez Collab
We chat with the Toronto rapper while he's out at a restaurant amid the COVID-19 pandemic.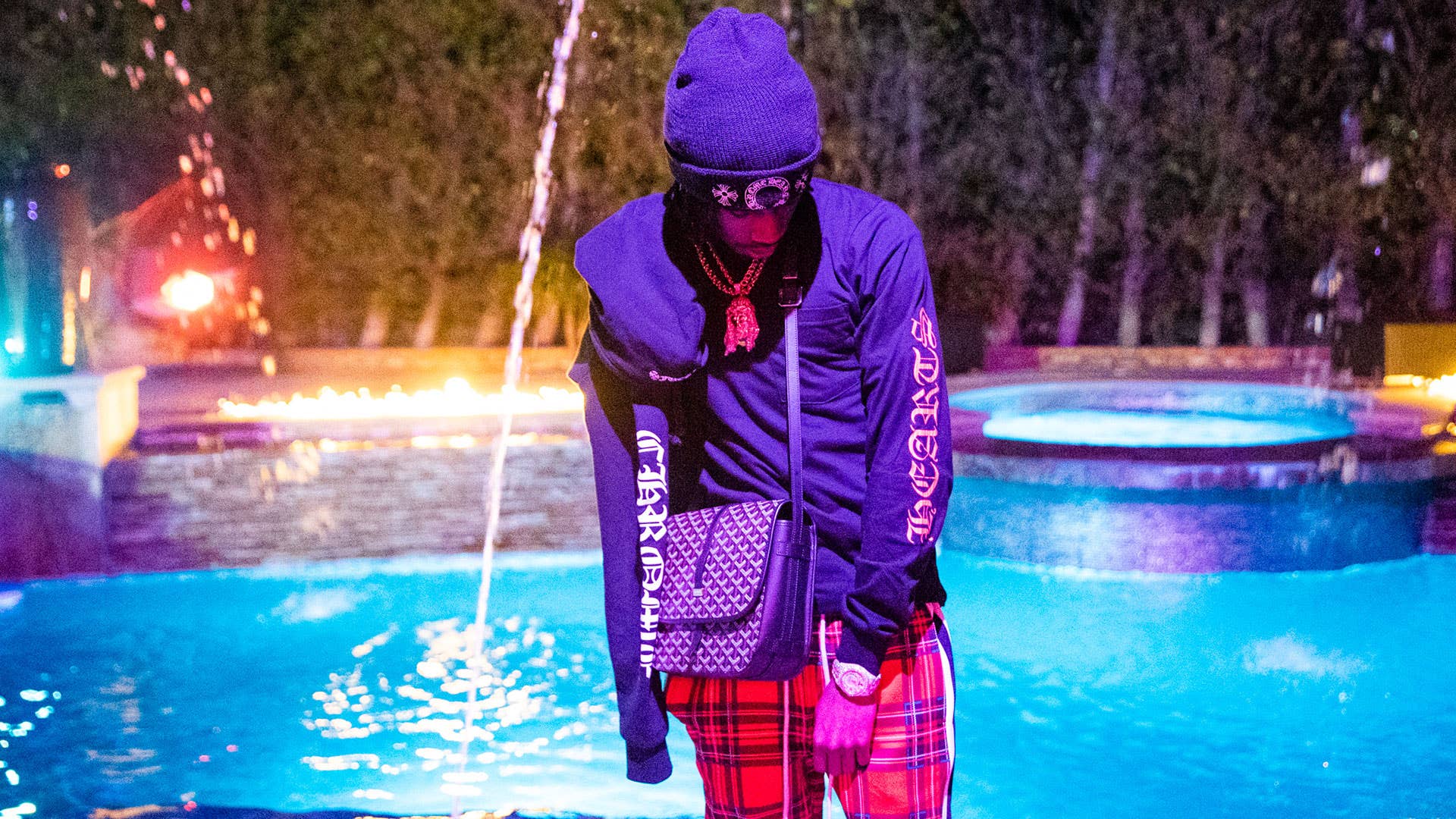 Houdini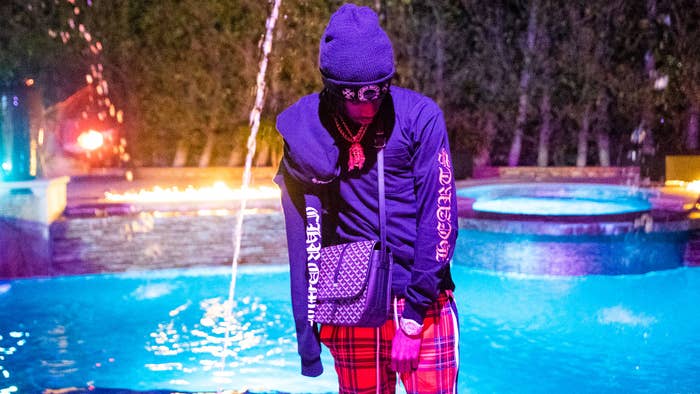 Sure, the world is currently in deep hermit mode due to COVID-19's rapid spread, but you can miss Houdini with all this social distancing stuff. When I phone the Toronto rapper on Tuesday, he's out at a diner in BC, sitting down for breakfast, flanked by friends.
"Man, one thing about me, I'm not with the hype," the 21-year-old explains. "I'm not gonna be doing something just because everyone is doing it. That's why I'm different from everyone else. I'm my own man. I do what I want. So people are saying, 'Don't go outside because you can get corona.' I'm going to take the chance. All my life, I've been risking."
Whether or not you agree with his pandemic etiquette, one thing's for sure: Houdini's going viral. (Only in the internet kind of way, for now.) The UpTop Movement Inc. affiliate is one of Canada's most-streamed independent rappers (racking up 19.2 million plays on Spotify last year) thanks to his melodious, effortlessly catchy brand of trap. He's been getting big co-signs from the likes of Tory Lanez and Nav. Dude's got a robust Instagram following, too; about a month ago, he told his followers he'd release a new EP if he would get 10,000 comments on his post. It happened right quick. 
Said EP, dubbed underGROUND, dropped today, and is quintessential Hou: five gauzy, swagger-dripping bangers slathered with the rapper's nimble, unflappable, hella tuneful flows. Contagious as fuck. (But seriously everyone—stay inside.)
We chatted with Houdini about Toronto's underground hip-hop movement, his upcoming Tory Lanez collab, and how it feels to drop an EP smack-dab in the middle of a worldwide crisis. 
Give me your origin story. Where did you grow up?
I grew up in Toronto in a little area called Jane and Driftwood. It's near Jane and Finch. My grandma had a townhouse there for about 20 years and I was living there with my mom, my dad, my sisters, and my brother. And then my grandma passed and we had to give up the house. My mom moved to Brampton, so I had to go to school out there because I was living with my mom. And yeah, I just started participating in certain activities and got into certain experiences that made me start to rap. Like, some people around me were rapping and I just got influenced by that. 
What kinds of activities?
You know, like street shit. I don't want to get into too much excruciating detail, but you know, just street shit.
Your flows are very melodic. Where did that influence come from?
I mean, there's a couple of joints that I fuck with in the R&B culture. My mom and my sisters used to play that music, like Aaliyah and Sade. Lots of reggae, too, like Beres Hammond and Sanchez. The OGs. So me being around them, I'm prone to it because I know what sounds good, and what notes to hit and how to orchestrate a song, I guess. 
How'd your parents react when you told them you wanted to rap?
[Laughs.] Yeah, they were not feeling that when I told them the first time. Like, 'What? You wanna be a what?' They weren't fucking with that. They thought I was going to be some waste little rapper trying to make it. But nah, it's bigger than that. They wanted me to be a lawyer, but I knew privately I wasn't gonna be one. I was either gonna be on some finesse shit or… I just knew I was gonna do something.
Tell me about underGROUND. What was your vision for the EP?
Basically my vision was, I just woke up one day and wanted to test out the fans. So I just said, "10,000 comments and I'll drop the EP." I got the 10,000 comments and it took me like a couple weeks to process it, finalize it, and get it processed to the distribution company. All the songs were recorded in L.A., except one that was done in Toronto, featuring my homie who just came out of jail, who's trying to take music seriously now. His name is Baby K.
It's called underGROUND and the cover is the CN Tower on a desert island, stuck underground. So the concept is basically me—I'm representing the CN Tower because I'm from Toronto. When I was in L.A., I was by myself. I went there by myself on my own plan and my own goal. 
I mean, shit. It's a good time for me because everyone's at home, just on their phone. So I have a chance of getting a lot of streams on this EP. I wasn't going to just drop it [this early], I was going to wait until summer time. But something just told me, 'Yo, if you have the ability to just drop music, do it. Do it as much as you can.' So I'm just doing it. Even if people aren't feeling it, I feel it. I drop what I like. You never know what song is going to leave an impact on people and change people's lives and shit.
Do you think releasing this EP at this time was fate?
Yeah, I have a strong belief in fate. I'm just manifesting right now.
Do you believe in God?
I believe in the universe.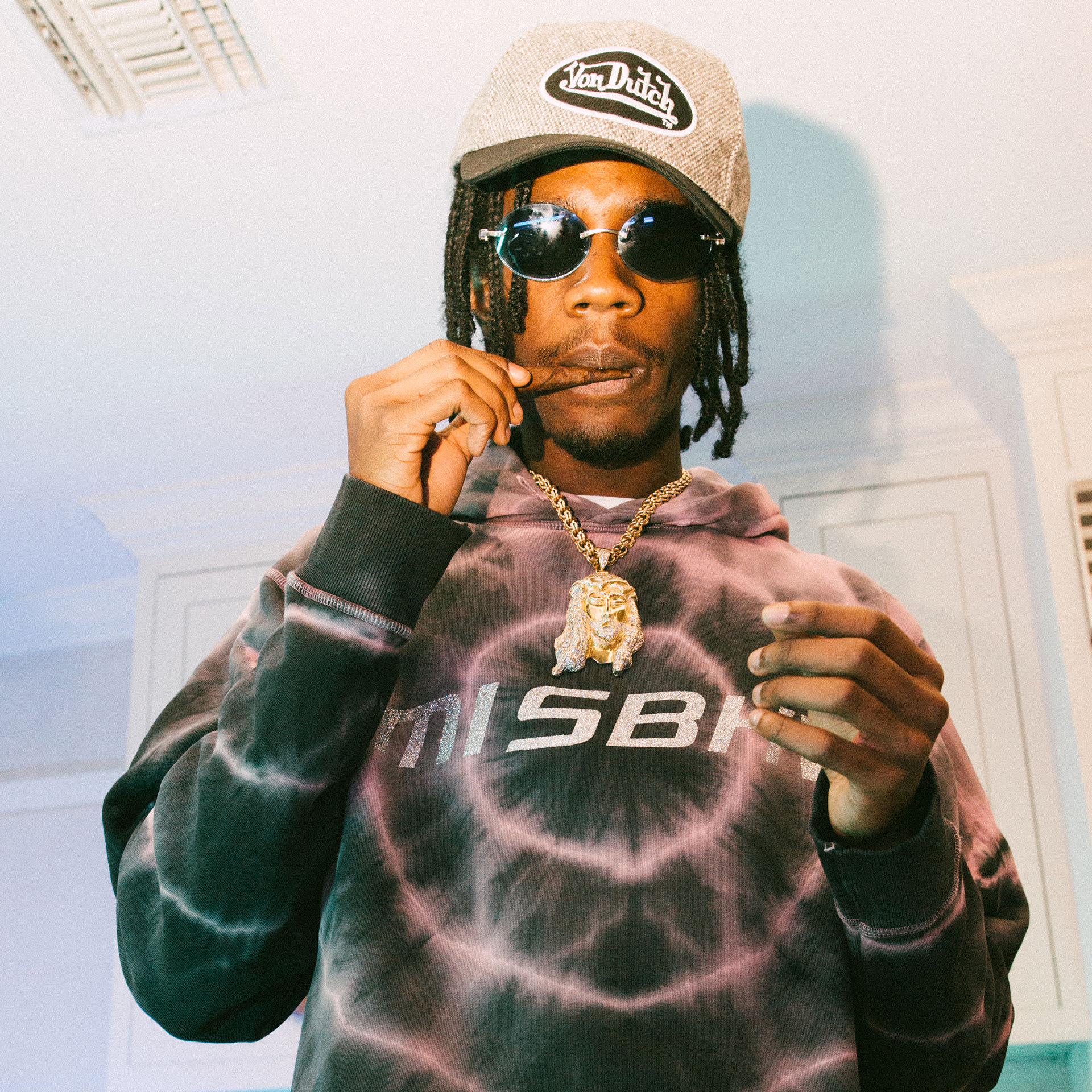 How do you feel about Toronto's underground hip-hop scene these days?
I mean, it's getting more convenient because, you know, people are more aware. Everyone is more intrigued by all this momentum coming from Toronto's underground scene. People used to just only focus on certain parts of the States. But now it's migrated to Toronto because there are a lot of people trying to make a name for themselves and come out of Toronto and rep the city.
Who are some of your favourite rappers from the city?
Why-G. Burna. Jay Neat. Robin. Northside Benji. 
You've been working with Tory Lanez recently right?
We actually made two records together. There's one with me, Pressa, Benji, and him. And there's one with just me and him. 
Has he kinda taken you under his wing?
He's a real nigga. He knows what it's like for a rapper like me to go up and be independent and try to make a name for yourself in the States. And just be on the grind. He knows what the grind is, so he appreciates that. So he acknowledges that by bringing me to the studio session and making me pull up to his house and just vibe. You know, just regular shit. Some genuine, genuine love.
Lots of rappers from Toronto's underground are starting to get record deals, but you seem to prefer being independent. Why is that?
I stand on that because when you're signed, people expect way more from you. Like, your numbers got to be up there, you have to make sure you maintain the way you look, maintain just your whole aura. Everything. But when you're underground, you're more in control. You're still kind of in the field and making music, so you could do shit. You could drop a tape and if it flops, no one really cares. But if you're signed and you drop an album and it flops, that's a big deal. You're signed and everything, and you got all this major label backing and all that stuff. So it's like, ''What the fuck?" That means you're a fluke. 
You know, I'm at the top of my tier right now when it comes to the underground scene in Canada. So I like that feeling. I don't want to feel like I'm competing with bigger names that have major backing, major labels, and a bigger budget than me and shit like that. I like the lane I'm in.
Do you think you'd eventually want to sign with a label?
I could've already. But I declined. I don't want to get into all the names and shit on them, but I've declined several offers. Basically I just let them know how I was feeling. I'm trying to be in full control. They know privately, like, there's a hidden agenda for every deal. So it's like, they know if they do certain shit that I won't like, that it could jeopardize them in a way because I can just go and backlash the whole label and go crazy. But I refrain myself from that. I just remain independent and do my own thing. 
Would you say you're still a work in progress?
Yeah, I'm still making my way. Like, I never peaked yet, you know? I'm still finding my sound. I'm still trying to see how I can elevate. I'm still trying to experiment and things. I'm still trying to just pave the way and be as unique as possible.