After years on the scene, Ugly God has finally released his debut album, Bumps & Bruises. 
The album spans 14 tracks and includes features by Migos' Takeoff ("Hold Up") and Wintertime ("Tell Me How You Feel"), as well as production by Reddrum, Nikko Bunkin, Tay Keith, and more. The Houston rapper announced the project in early 2019, along with his upcoming EP, 777.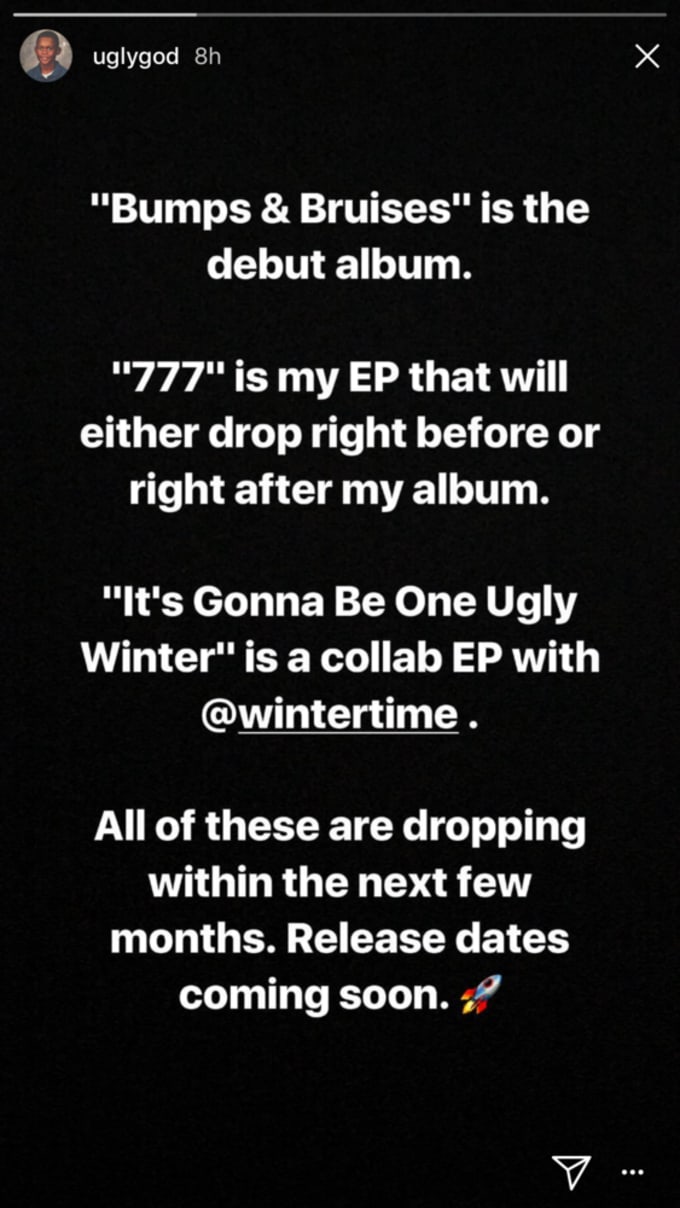 "It actually feels amazing to actually drop a body of music that, you know, I worked and put my all into, and that I'm super comfortable with—it feels fuckin' good," Ugly God said during his recent interview on Everyday Struggle. 
You can stream Bumps & Bruises on all major platforms and via SoundCloud below.
The rapper is now gearing up to hit the road for his U.S. tour. The trek will begin Sept. 1 in Mesa, Arizona, and will include stops in Portland, Chicago, New York, Atlanta, and Los Angeles. Click here for more information about the tour. 
Ugly God's U.S. tour dates
September 1 – Mesa, AZ – Club Red
September 5 – San Francisco, CA – Brick & Mortar Music Hall
September 6 – Portland, OR – Paris Theater
September 8 – Seattle, WA – El Corazon
September 11 – Minneapolis, MN – Varsity Theater
September 12 – Avondale Music  - Chicago IL
September 13 – Indianapolis, IN – The Citadel Music Hall
September 15 – Pittsburgh, PA – The Crafthouse Stage and Grill
September 17 – New York, NY – SOB's
September 20 –  Washington, D.C. – MilkBoy Arthouse
September 25 – Atlanta, GA – The Masquerade
September 27 – Tampa, FL – Pegasus Lounge
September 29 – Orlando, FL – Soundbar
October 4 – Los Angeles, CA – Catch One