SAINt JHN continues making waves. 
Since the release of his 2018 debut album, Collection One, the Brooklyn-born artist has come through with a number singles, collaborated with big-name artists—we're talking Beyoncé, Wizkid, and Blue Ivy Carter—and has signed to Kareem "Biggs" Burke's management company Circle of Success.
SAINt returns this week with the release of his sophomore album, Ghetto Lenny's Loves Songs, which he describes as a continuation of his debut effort.
"Collection One is a guy that walked into a bar with his blue mink and there's a girl sitting at the bar. She saw me walk in to order her a drink, paid for it and left. I never introduced myself nor asked for her name. She got the impression but no information about me," he explained. "Ghetto Lenny's Love Songs is where I come back to introduce myself. It's a random night and the same girl at the bar. But I left her hoping for something and I came back to tell her a little about myself. That's Ghetto Lenny's Love Songs."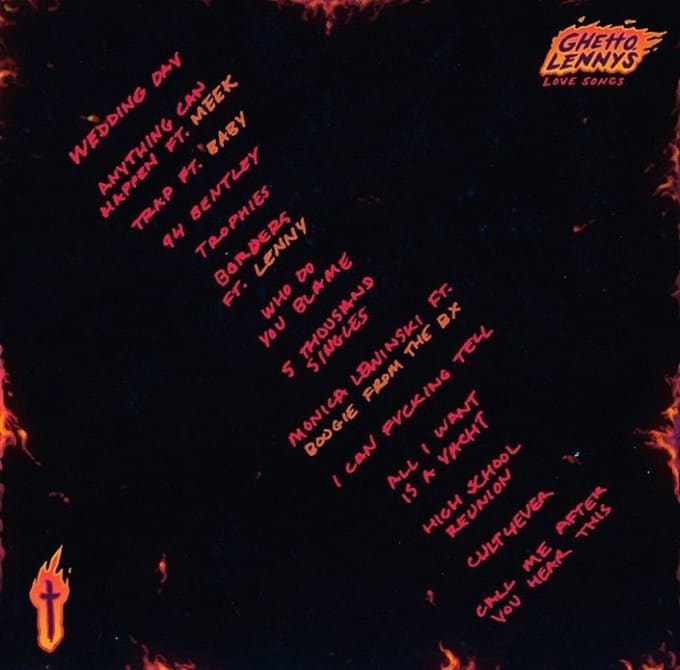 The album delivers 14 tracks, including the previously released singles "Anything Can Happen" featuring Meek Mill, "All I Want Is a Yacht," and "Trap" with Lil Baby. Ghetto Lenny's Love Songs also boasts contributions from GoldLink, Diplo, A Boogie, and Lenny Kravtiz.
You can listen to the album now an Apple Music and via Spotify below. 
In support of the album, SAINt is offering merch bundles that include graphic tees, hoodies, and digital copies of the project. The items are available now on the artist's official website.
SAINt has also released his five-piece capsule collection, which consists of t-shirt and hoodie streetwear staples. Inspired by Ghetto Lenny's Love Songs, both the hoodie and t-shirts are adorned with artwork from the album. Check the pieces out below and grab yours here.