The History of Lil Wayne and Pusha-T's Complicated Relationship
Rick Ross' attempt at uniting Lil Wayne and Pusha-T on "Maybach Music VI" didn't materialize. Here's a timeline of Wayne and Push's complicated relationship.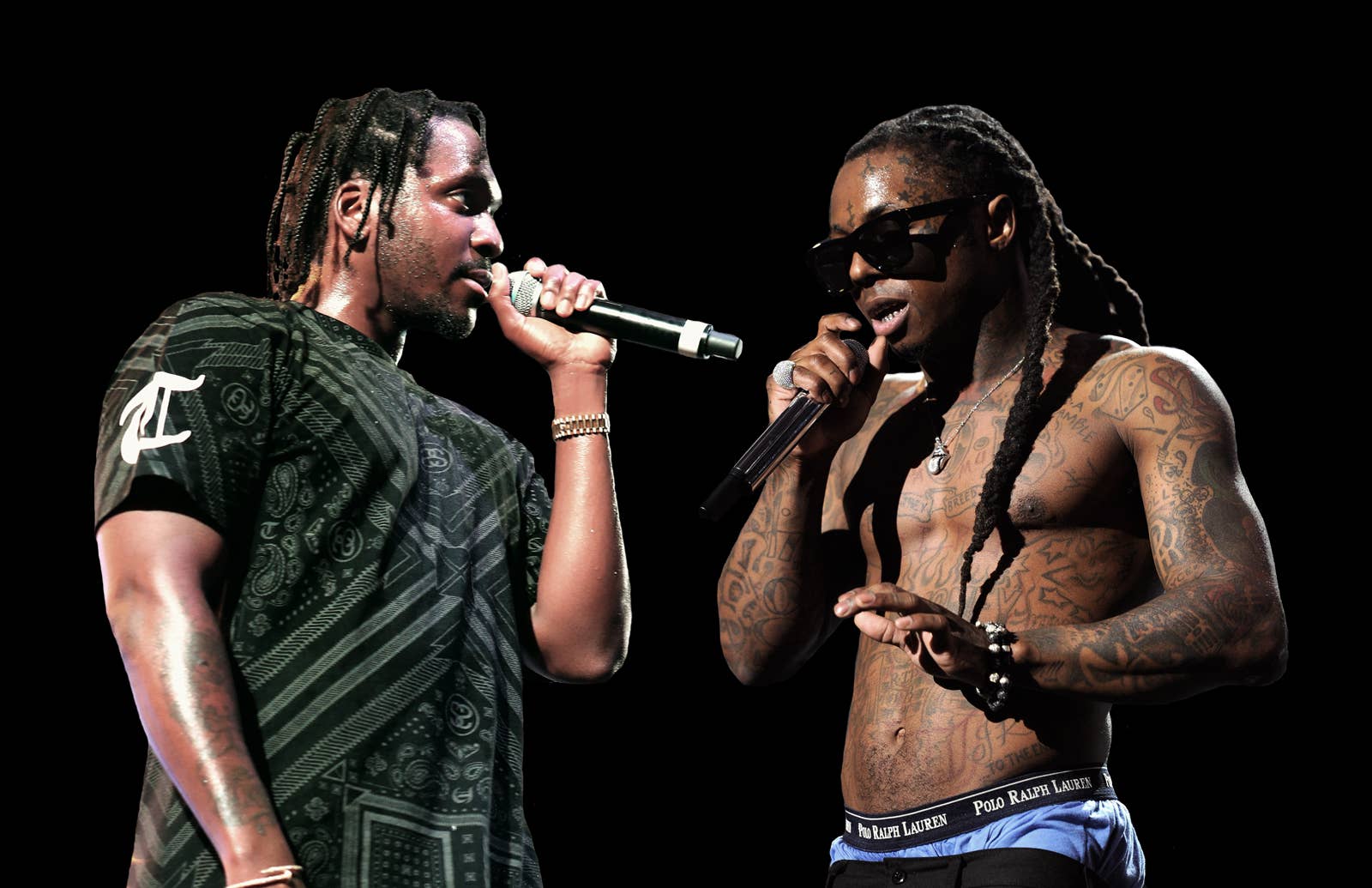 Getty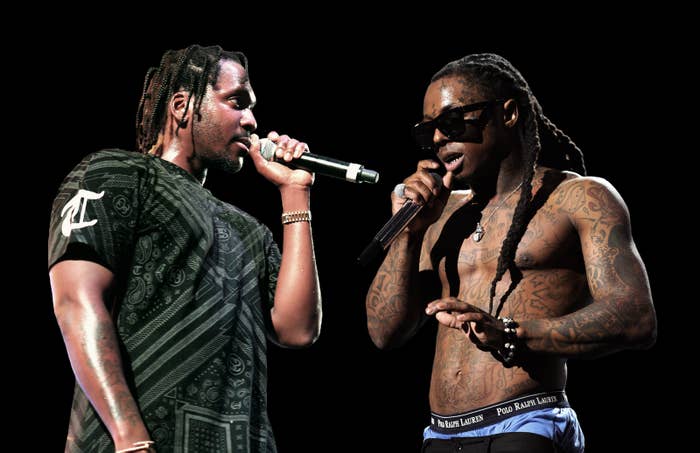 Before Rick Ross released his new album, Port of Miami 2, he said that Lil Wayne and Pusha-T were both on "Maybach Music VI." Then the album hit streaming services on Friday and fans noticed that "Maybach Music VI" featured a verse from Wayne, but not Push.
Ross explained to Hot 97 that, while both artists' contributions were cleared, Push's verse didn't make the cut because it didn't contribute to the Bawse's overall goal of limiting tensions between Weezy and Push that have existed for over a decade. "It was more about the bigger picture: Is this going to move them two getting together closer?" he explained. "I'm going to take the charge for that. I didn't feel like this was the time for [Pusha's verse]."
The long-running tension between Push and Wayne has waxed and waned over the years. In the weeks leading up to the release of Port of Miami 2, Rick Ross said the beef had quieted and mentioned that "whatever was said, it's over with." But he also admitted that he added their verses to the song without the knowledge of each other. 
Some are speculating that Push's verse, which leaked online, didn't make it because it may have contained subtle shots at Drake. Others think it's a sign the beef might not be fully squashed (although sources close to Pusha-T deny that). But one thing is for sure: Ross' plan to unite Pusha-T and Lil Wayne on a song didn't come together as planned. 
For the uninitiated, here's a timeline of Wayne and Push's complicated relationship: the complete, nearly two-decade-long story of how a Cash Money Millionaire and a Virginia grinder first found themselves on a collision course, and everything that has happened since.
Early 2000s: Bape Origins
Some time around 2000 or 2001, Pharrell meets Bape founder Nigo via their mutual friend Jacob the Jeweler. Skateboard P starts wearing Bape, and Nigo uses that connection to reach Clipse, who had just earned a hit with "Grindin."
"I just started getting boxes of clothes at my house in 2002 because Nigo was a fan of a record called 'Grindin,'" Pusha tells Vibe. "Some kids he didn't know from Virgina making 100% dopeboy music—he just liked it. I didn't know him. He didn't know me."
May 2002: The Remix
Wayne appears alongside Clipse, Nore and Birdman on a "Grindin" remix.
November 2002: The Genesis
Birdman's solo album contains the song "What Happened To That Boy," which features Clipse and is produced by the Neptunes. There are rumors that Birdman didn't pay the Neptunes properly for the track, and that this slight is the beginning of the problems between Star Trak and Cash Money.
Winter/Spring 2006: Wayne in Bape
Lil Wayne starts rocking Bape early in 2006. First, he sports a hoodie in the "Hustler Musik" video. Then he wears the brand again on the cover of Vibe. Pusha and Malice are watching.
May 2006: 'Wanna Know the Time? Better Clock Us'
Clipse release "Mr. Me Too," a song that accuses people of biting their style. It doesn't take long for listeners to figure out who they're talking about.
November 2006: 'And He Lied'
On the intro of Clipse's new album Hell Hath No Fury, Pusha spits, "I'm the best since he died, and he lied." The first "he," Pusha later admits, is Biggie. The second "he" is Wayne, who had called himself "the best rapper alive" the year prior.
December 2006: 'I Don't See No Fuckin' Clipse'
Weezy response to Clipse's claims of copying their style and cocaine-centric subject matter in an interview with Complex. 
"Talk to me like you're talking to the best," he says. "I don't see no fuckin' Clipse… They had to do a song with us to get hot."
Wayne also denies that he copied Pharrell.
"Who the fuck is Pharrell? Do you really respect him?" Wayne asks. "That n***a wore Bapes and y'all thought he was weird. I wore it and y'all thought it was hot."
December 2006: Pusha Responds
Pusha visits Virginia radio station WWHV and unloads. He accuses Weezy of "sort of copying the Clipse." He pokes at the infamous picture of Wayne and Baby kissing: "If you gonna kiss men, you can't even use them words in conjunction with The Clipse, Pharrell, or any of the [Star Trak] family."
July 2007: 'Dress Like the Clipse'
In a Laced cover story, Pusha and Malice continue the pushback. "You can't try to rap like Jay-Z, dress like the Clipse, become a coke dealer after five albums, and now dress like Jim Jones. You can't do all that and be a legend," they say. "If you wobble dee wobble dee, you can't be a legend."
February 2008: 'That Would Mean I'd Have to Kill Baby'
On the very first track of Clipse's We Got It 4 Cheap, Vol. 3, Pusha goes at Wayne and Birdman: "Sorry, but I don't respect who you applauding/Little nigga flow, but his metaphors boring/Don't make me turn daddy's little girl to orphan/That would mean I'd have to kill Baby like abortion."
May 2010: 'Don't Pass the Crown Too Soon'
Clipse team up with Jeezy for "Ill'in." Fans notice that Pusha spits, "Tell Hova, don't pass the crown too soon." Since JAY-Z had recently named Wayne his "heir," this was widely seen as a shot.
March 2011: Congratulations
Not long after Wayne gets out of jail, Pusha puts out "Open Your Eyes." On it, he celebrates Weezy's newfound status. "They done freed Weezy. Congratulations," Pusha says.
May 24, 2012: Exodus 
Pusha reignites the temporarily stalled beef with the release of "Exodus 23:1." It contains a direct dig at Wayne's protégé Drake: "Contract all fucked up/I guess that means you all fucked up/You signed to one nigga that signed to another nigga/That's signed to three niggas, now that's bad luck."
Wayne claps back on Twitter:
May 25, 2012: Things Get 'Goulish'
Immediately afterwards, Wayne releases the Pusha diss "Goulish." Drake, for his part, takes some shots during a live show.
June 2012: Push's Reply
King Push goes to Hot 97 to give his response to "Goulish." "It was horrible. It was trash," he says. "I didn't think it was good enough to respond to."
"[Wayne's] already said what he's said," Push continued. "At the end of the day, I think him saying what he said was in his best interest, to admit that you were emotional in reacting to something. I still want to know what part pertained, what hit you? I wanna know. I was surprised by anybody, Wayne specifically, answering 'Exodus.' I've never seen one record that didn't say a name cause so much of a firestorm."
June 2012: 'It Really Wasn't No Beef'
Wayne sits down with the Associated Press and talks about his feud with Pusha. "It really wasn't no beef, you know. It was just me. I just reacted," he says. "Just a reaction, a simple reaction. I don't apologize for it because I'm human. But it was just my human reaction. I don't take it back. But there's no beef. Beef is a whole different thing. … I'll move on."
September 2013: Having Fun With It
In an interview with DJ Envy on Sirius XM, Pusha explains why, years after their beef started, the Virginia rapper continues to needle Wayne—in this case, knocking Weezy's recently-recented Dedication 5 on Twitter. "I'm really just having fun with it," Push elaborates. "The thing is, though, you can't just let things like that go, because they got so many fans that by the time it gets quiet, everybody gonna start looking at you like, he just gets over on you. So I just play with it and have my fun with it. And then he's rapping bad, so that doesn't help."
Spring/Summer 2018: The Pusha/Drake Wars
Fans and media at Pusha-T's listening party for his album Daytona notice that the song "Infrared" takes a swing at Drake—notably, the stories that he had songwriting help from Quentin Miller. Given that Drake, in no small part due to his own affiliation with Wayne, already has a very tense relationship with Pusha, the shot is not unexpected. 
Drake returns fire with "Duppy Freestyle," which mentionsPusha's then-fiancé Virginia Williams by name. Push takes exception, and comes back with "The Story of Adidon." That track famously mentions that Drake has a heretofore-only-rumored son, something that he confirms. 
May 2018: 'I Shoot the Club Up. That's What I Do'
While visiting LA radio station Power 106, Pusha responds to a hypothetical: What if Wayne jumps into the middle of his then-red-hot beef with Drake (see above)? King Push is unsurprisingly not concerned. "I've been doing this by myself for a very, very long time. I shoot the club up. That's what I do. I'm by myself in this. There is nobody else. There are no other people to me. I don't care, they all look the same to me."
July 2019: Hints of a Collab
On July 23, Rick Ross hints about a very special collaboration on Instagram. For "Maybach Music VI," Ross explains, he approached Wayne and Push separately to get their verses. "I put this record together without each one of them not knowing just to spark that conversation," Ross later tells Bootleg Kev. "Because I feel like if there's anybody that should do it, it should be me."
"There's a difference between having differences with n****s and wishing death upon n****s. We know what this is," Ross says of Pusha and Wayne. "To me these some dope ass n****s that play football and scored some touchdowns and bumped into each other in the locker room after the game… I wanted this to spark their conversation of putting all that shit behind them because these n****s is legends."
Ross later clarifies that neither artist knew that they would be on a track together. He thought he was the perfect person to bring the rappers together. 
"Me being on Pusha's album, me always being on Wayne's album, me always being on Drake's album, and me understanding it and looking at it from a real boss perspective. And I felt like the differences they had, that just came from Wayne being a soldier to his big homie, whatever differences Pusha may have had with Stunna. And I felt like Drake was being a soldier to his big homie, so is it really personal? And whatever was said, it's over with."
August 9, 2019: Pusha-T's verse is missing from final version of "Maybach Music VI"
As Port of Miami 2 hits streaming services, fans notice Pusha-T's verse on "Maybach Music VI" is missing. It leaks online around the same time, and we hear what many assume are shots at Drake as Push raps, "What a hell of a year, true colors exposed/Crowns on these clowns, it's like you colored they nose."
Upscale Vandal, who works closely with Pusha-T, explains on Twitter that it wasn't Pusha-T's decision to remove his verse from "Maybach Music VI" after finding out Wayne was also on the song.
Then he adds that only the "owners and producers of that album" know the true reason why the verse was left off.
Ross tells Hot 97 that his hope for having Wayne and Pusha on the same song was to move them closer together, and that Pusha's contribution ultimately doesn't contribute to that. But Rozay doesn't feel like his efforts are wasted. "I wanted to bring them together, or at least spark that conversation, because it's going to come," he says. "And I feel like next year, I'm going to be a part of that, when that Drake/Wayne/Pusha/Kanye record come together. My intentions was to get Pusha and Wayne together, and I came close to that."