Pusha-T, Migos, Kendall Jenner, Lil Yachty Among Artists and Celebs Named in Fyre Festival Lawsuits
A slew of models, musical artists, and their talent agencies are being sued for their involvement in Billy McFarland's disastrous Fyre Festival.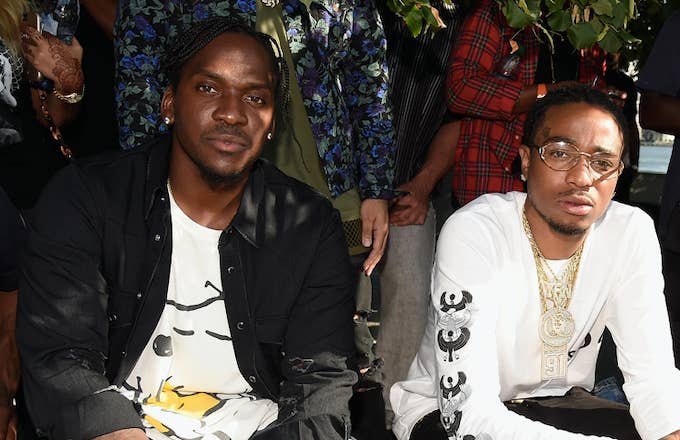 Getty
Image via Getty/Kevin Mazur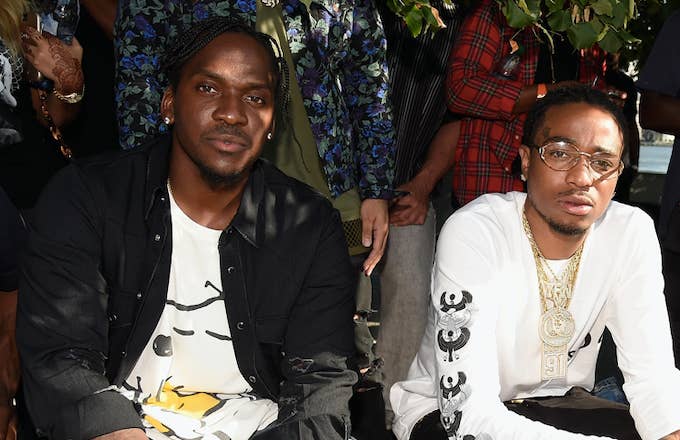 A slew of models, performing artists, and their talent agencies are being sued for their involvement in Billy McFarland's disastrous Fyre Festival.
According to the Wall Street Journal, Gregory Messer—the trustee appointed to oversee the Fyre Media's bankruptcy—filed lawsuits Wednesday against celebrities who were paid to promote the festival or were booked to perform. Defendants listed in the suit include Pusha-T, Migos, Lil Yachty, Kendall Jenner, Emily Ratajkowski, and Blink-182. The lawsuit claims the transactions made to these celebrities and their respective agencies were part of McFarland's elaborate "scheme to defraud investors, and therefore should be voided."
Messer seeks to reclaim the money and return it to those who collectively poured $26 million into the Bahamas event, which was billed as a luxury concert experience.
Jenner and Ratajkowski are being sued for $275,000 and $300,000, respectively, over paid Instagram posts that promoted Fyre Festival. The models are also accused of demonstrating a "clear lack of good faith," as they failed to list their posts as sponsored advertisements. "Nor did they inform their fans and followers that they ultimately decided not to attend the Festival because of problems with the Festival of which they and their agencies were uniquely aware," the suits allege, according to Variety.
"You get reached out to by people to, whether it be to promote or help or whatever, and you never know how these things are going to turn out, sometimes it's a risk," Jenner told the New York Times about her involvement with the event. "I definitely do as much research as I can, but sometimes there isn't much research you can do because it's a starting brand and you kind of have to have faith in it and hope it will work out the way people say it will."
The suits are also seeking $585,000 from Creative Artists Agency and $350,000 from ICM Partners. The former represents Blink-182, who were initially tapped to headline Fyre Festival, and the latter represents acts like Lil Yachty and Migos, who appeared on the event's performance lineup. Nue Agency—home to Pusha T, Desiigner, and Tyga—is being sued for $730,000.
Variety reports Messer also wants the court to void the transfer of $14.4 million to the festival's parent company Fyre Media. The lawsuit claims that $11 million of that transfer went to McFarland, who spent $300,000 of the money on personal expenses, such as a "luxury penthouse, hotel stays, dining, entertainment and clothing."
McFarland is now serving six years in prison for multiple counts of fraud.