DJ Khaled Reportedly Planning to Sue Over Billboard Chart Results for 'Father of Asahd'
DJ Khaled and his team feel like they were unfairly disqualified from the No. 1 spot on the Billboard 200.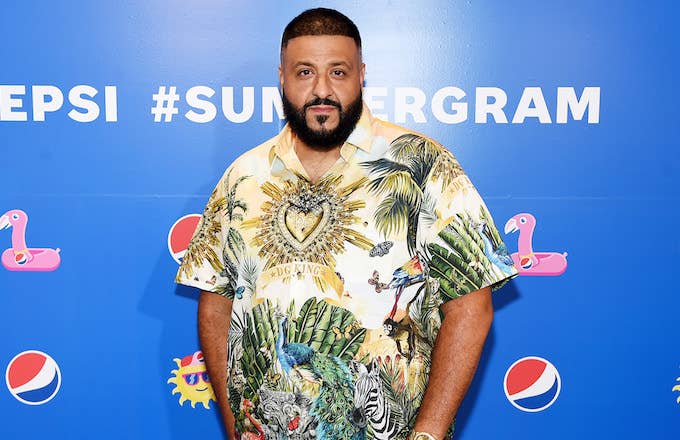 Getty
Image via Getty/Jamie McCarthy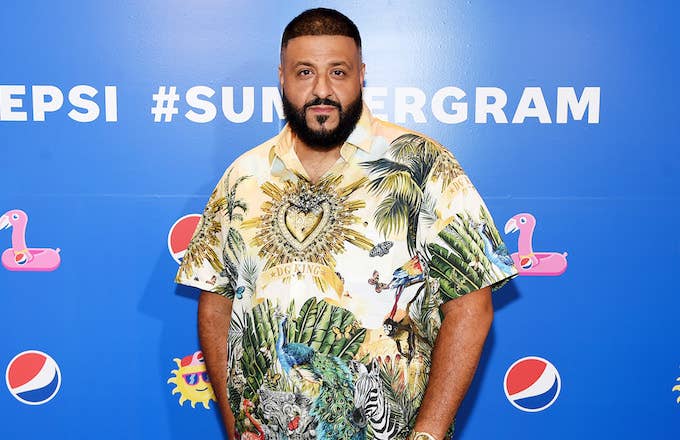 DJ Khaled is reportedly planning to sue over the Billboard Chart results, claiming that he was cheated out of the No. 1 spot because the organization unjustly discounted bundle sales, Page Six reports.
According to the outlet, Billboard allegedly agreed it would include downloads from Khaled's energy drink bundle, which totaled over 100,000. Billboard reportedly then retracted the agreement, disqualifying all of the sales from the promotion, contending that there were "anomalies" in his numbers. Page Six shares that Khaled's lawyers have sent a letter to Silvio Pietroluongo, SVP of charts and data development at Billboard.
A Khaled source told the outlet, "When Khaled's team tried to appeal, Billboard refused to budge." His team saw the situation as more unfair after the figures from Tyler, the Creator's bundle deal counted in his sales total. On May 30, Billboard revealed Tyler's album IGOR debuted at No. 1 on the Billboard 200 with 165,000 albums sold, while Khaled's album Father of Asahd landed at No. 2 with 137,000 sold.
Roc Nation is also not pleased with Billboard for disqualifying Khaled's bundle sales, per a report by the New York Times.
Desiree Perez, chief operating officer at DJ Khaled's label, Roc Nation, blasted the idea of bundles, calling the practice "confusing and demeaning to art." She continued, "We're obviously not fans of bundling, nor should anyone who cares about artists making music. But our hands are being forced by Billboard's desperate, last-ditch effort to keep streaming from eliminating what's left of music downloads."
In its report, the Times outlined how IGOR landed the No. 1 spot, which reportedly upset Khaled. While the two albums had almost the same number of streams, what broke the tie was the validity of their respective bundles.
Billboard examined both artists' packages for discrepancies. While both were offered with merchandise, Khaled's album was also offered with sales of energy drinks. That was the one component that the chart-monitoring company thought wasn't accurate, largely due to obvious attempts at encouraging bulk purchases. One blog post by e-commerce site Shop.com reportedly told its members to buy 12 packages to "push DJ Khaled and Market America to No. 1!"
Deanna Brown, the president of the Billboard-Hollywood ReporterMedia Group, backed the choice. "In this particular instance," she said, "we saw an organization encouraging purchases among their members by promising them material and organizational benefits."
At first, it was thought that Khaled's issue was with Tyler, largely because Khaled had posted and then deleted a video where he expressed frustration over debuting at No. 2. Initial reports from Page Six also claimed that Khaled had stormed into the Epic Records office and caused a scene, furious over losing to Tyler. However, it was later discovered Khaled's issue was with Billboard, and that he wasn't shading Tyler in the video.
Still, Tyler's been having fun with the situation. On Friday, DJ Akademiks posted an Instagram photo asking which album was better, to which Tyler jokingly responded, "Who tf listens to tyler the creator?" He later commented again, writing, "His MSG show sold out but FR I never heard a Tyler song my life."
He's trolling Khaled on Twitter too. Tyler liked a tweet by user @fearofroya that reads, "Khaled's album is like when someone has a trash ass outfit but every piece is designer so they think it's fire."