The Lasting Impact of YG's 'My Krazy Life'
Five years ago, YG owned 2014 with the release of his debut studio album, 'My Krazy Life.' Looking back, the album is still as brisk and varied as ever.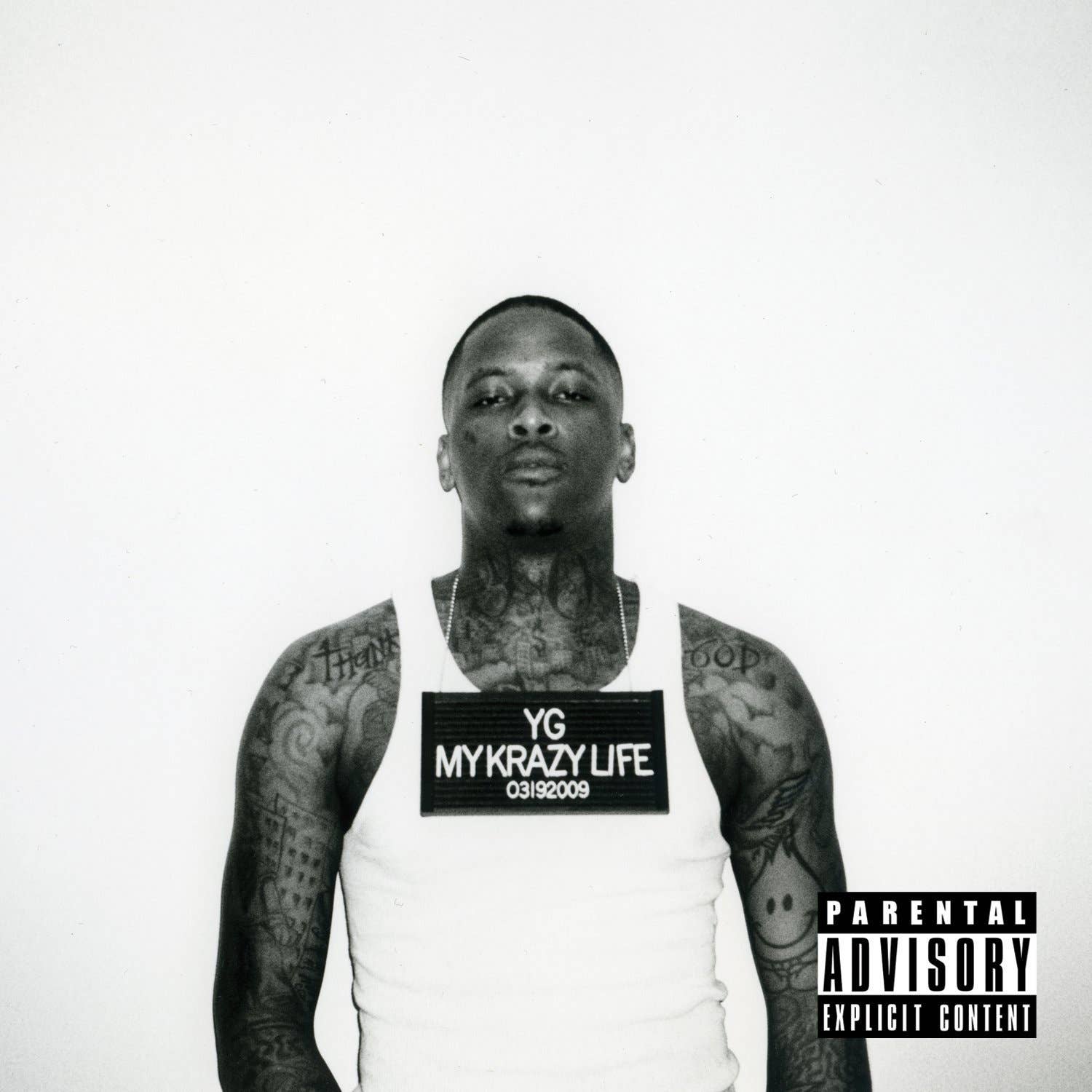 Publicist
Image via CTE World/Def Jam/Pushaz Ink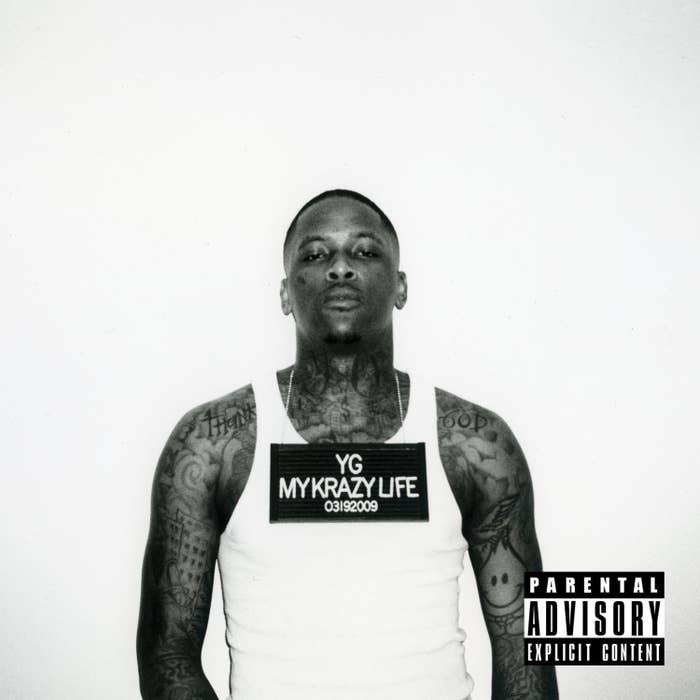 In the final days of 2013, rap fans and writers alike were already forecasting a drought for 2014. The previous year had seen blockbuster releases from, to name a few: JAY-Z, Kanye West, Lil Wayne, Eminem, Drake, Pusha-T, J. Cole, Wale, Mac Miller, 2 Chainz, Tyler, The Creator, Big Sean, and Chance The Rapper. It appeared 2014 was up for grabs, with next to none of the obvious choices seemingly available to take it. Five years later, the idea of a bunch of A-listers dropping in close proximity to each other being bewildering is a distant memory, as is the expectation that they would be too creatively spent to return within the next calendar. And five years later, the unlikely album that won over 2014 still belongs to YG.
To clarify: In December of 2014, Complex awarded the album of the year slot to Run the Jewels 2. But while YG's debut studio album My Krazy Life ranked right below it, it's difficult to argue against it being the album that defined 2014, in terms of impact and reach.
The YG we hear on My Krazy Life is a far cry from the jerk scene rapper who crafted the bubbly, undeniable "Toot It and Boot It." Of course, attentive, plugged-in listeners know his maturation in sound and craft didn't happen overnight, but instead developed gradually over his highly enjoyable Just Re'd Up mixtape series. Still, as far as the mainstream was concerned, YG had yet to define his persona and formerly reintroduce himself.

My Krazy Life dropped in the waning days of winter, and endured all the way to the end of 2014, maintaining both relevance and critical acclaim. Successful, club and radio-approved singles like "My Nigga" and "Who Do You Love" (featuring assists from Jeezy, Rich Homie Quan, and Drake) set the tone, but they didn't prepare listeners for just how complete the album would sound narratively and sonically. Following the loose theme of a day in YG's life, he and DJ Mustard pulled from the West Coast classics of their youth to invoke (or, some might say, restore) a throwback feeling with production that harkens back to the G-funk days (complete with Roger Troutman-esque Auto-Tune flourishes) without feeling dated.
The skits don't drag, the beats bang, and there's a song for every mood and setting.
YG uses the day-in-the-life theme to employ skits that give the album a spine and propel the narrative forward. In that regard, it recalls albums like Snoop Dogg's Doggystyle, but also a modern classic in Kendrick Lamar's good kid, m.A.A.d City. But it's less of a rip and more of a companion piece: If good kid is Boyz n the Hood on wax, MKL hews closer to Menace 2 Society. Indeed, Kendrick appears towards the end of the album for "Really Be (Smokn n Drinkin)," a song that feels in line with good kid's recurring concern with using vices to numb daily pain.
My Krazy Life debuted at No. 2 on the Billboard Hot 100, grinding to an eventual platinum plaque to go along with an 80 median review score on Metacritic. The album wouldn't be revered then and now, though, if it only contained masterful homages and hat-tips. At the center of it all is YG. He's far from the world's most technically dazzling rapper, sure, but he possesses a delivery that oscillates between brash snarls, sly humor, and rare vulnerability. He has a way of immediately drawing the listener in to both his music and the larger picture the album is painting: his world. YG takes the gangsta rap album formula and adds innovations like "Meet the Flockers" and a veritable YouTube tutorial for staging successful B&Es. He also arguably gave the mainstream world at large their first introduction to the Bloods' practice of subbing the letter b for c's in casual conversation—one of the album's original titles was I'm From Bompton.

Five years removed from its release, the album is still as brisk and varied as ever. The skits don't drag, the beats bang, and there's a song for every mood and setting ("Do It To Ya" is vastly underrated). Half a decade later, DJ Mustard is one of the game's most reliable hitmakers, and YG's stardom propelled forward the careers of his equally impressive compatriots like RJMrLa, Slim400, and especially Kamaiyah. Meanwhile, similarly street-minded West Coast classicists like Mozzy and Nipsey Hussle helped push forward the L.A. reign with projects that each feature YG contributions.
Following the loose theme of a day in YG's life, he and DJ Mustard pulled from West Coast classics to invoke a throwback feeling that harkens back to the G-funk days, without feeling dated.
Some would argue that YG topped My Krazy Life on his sophomore effort, Still Brazy, if not with impact than in quality. Whichever you favor, what's important is that he didn't stagnate. Instead of hewing to formulaic song and album concepts, as politics began to encroach on all corners of pop culture, YG used his new platform to look inward and voice his own thoughts on the matter, sometimes with a refreshing bluntness (see: "FDT"). Beyond that song, though, issues of civil unrest appear throughout, on tracks like "Blacks and Browns" and "Police Get Away Wit Murder," to go along with intensely personal matters like surviving his own shooting. The album still takes time to celebrate My Krazy Life's success, though: "I'm the only one who made it out the west without Dre." A wild flex sure, but factual, more or less.
After a solid album in 2018, Stay Dangerous, that nonetheless underwhelmed when compared to its two predecessors, it's anyone's guess where YG will go on his next project. But with a debut album that served as a crucial support beam to L.A.'s enduring hold on contemporary rap music, and an ensuing rise into a figure we look to for both a specific Cali bounce as well as substance, it would be foolish to ever count YG out.