Anderson .Paak's Mom Responds to 'Oxnard' Criticism: 'He Presented His Great Diversity'
.Paak's mother reacted to the claims that her son "lost his identity" on 2018 studio album, 'Oxnard.'
Getty
Image via Getty/Jerod Harris/FilmMagic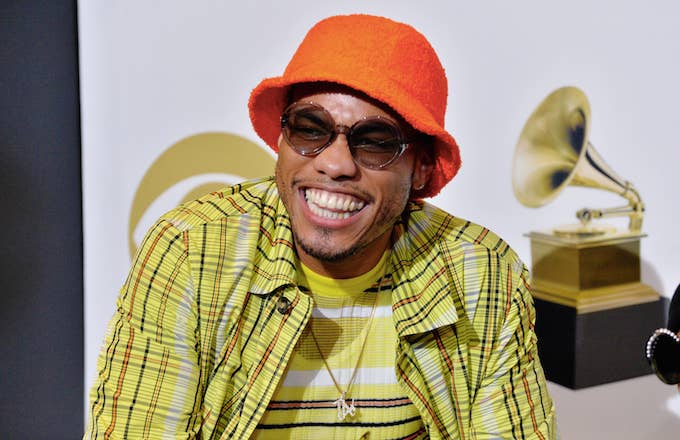 Think Anderson .Paak's lost his identity on Oxnard? Well, his mother has a message for you.
In a recent interview with Esquire magazine, .Paak spoke about the ways his third studio album will differ from its much anticipated follow-up. Though he revealed he had to make a number of compromises with Oxnard, which served his Aftermath debut project, .Paak reassured fans he would much more control over Ventura. 
"[Dr. Dre] let me have a lot of leeway on Ventura. He was like, 'It seems like you got it,'" .Paak explained. "I spread my wings on the production and on the writing and on these collaborations. Again, very ambitious, working with icons on this one, as well."
This was great news for many .Paak fans, as many believed Oxnard lacked identity. DJ Booth addressed this specific criticism in a recent article titled, Anderson .Paak's 'Ventura' Album Will Be an Anderson .Paak Album.
The piece, written by DJ Booth managing editor Donna-Claire Chesman, eventually made its way to .Paak's mom. She then shared the article with her son in a text message, along with a message to the Oxnard "haters."
"For all those haters out there that said Anderson .Paak 'lost his identity in the Oxnard album,' this is what I have to say about it," she wrote. "I don't agree that .Paak lost his identity in the Oxnard album. On the contrary [...] he presented his great diversity! And all the haters can take that to the bank!"
.Paak shared the message via Instagram on Wednesday.
Despite Oxnard's criticism, the album marked .Paak's highest-charting project ever. The effort included guest appearances by Pusha-T, J. Cole, Kendrick Lamar, Snoop Dogg, and Aftermath boss Dr. Dre.
"We put everything into [Oxnard] and regardless how you guys feel or anybody feels about it, I really feel proud about it," .Paak told Complex back in November. "Just to see the reception, it's overwhelming, so I don't know how to express it sometimes other than tears of joy."
Ventura is expected to drop April 12.