Anderson .Paak has announced the follow-up to his 2018 studio album Oxnard.
On Wednesday, the 33-year-old artist confirmed his next LP will be titled Ventura, named after the California town he grew up near.
"Growing up in Oxnard gave me the grit and the church to find this voice of mine. One town over I went further and found my depth," he said about the inspiration behind project. "The duality of each place inspired me greatly and from that I made two albums at the exact same time but held one back because that would have been too many songs to perform live for you all! I like ending things on an even number so welcome to Ventura."
The project will drop April 12 and will be supported by a North American tour that will feature appearances by Earl Sweatshirt, Noname, Thundercat, Mac Demarco, and Jessie Reyez. The Best Teef in the Game Tour will begin May 17 in Nashville, with stops in Toronto, Detroit, Houston, and Las Vegas. Check out the full tour schedule below.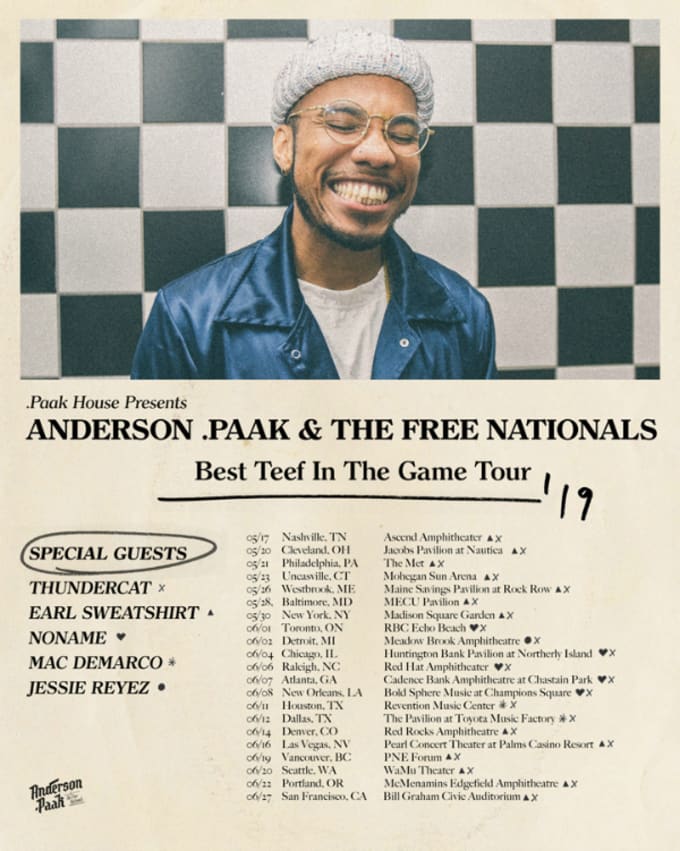 .Paak hasn't shared any other details about the forthcoming project, such as the number of tracks or potential guest artists, but according to a press release, it was executive produced by Dr. Dre. During a recent appearance on The Tonight Show Starring Jimmy Fallon, .Paak revealed he and his label boss had recorded two albums worth of unreleased music. 
The Aftermath signee set a pretty high bar with the release of Oxnard, as it marked his highest-charting album and earned him his first Grammy (Best Rap Performance for "Bubblin").