The family of Mac Miller, who died last month at his home in Studio City last month, has released a statement in response to the proliferation of "fraudulent" fundraising events in the 26-year-old's name.
"The family of Malcolm McCormick, known best to the world as Mac Miller, has become aware of a number of fraudulent events recently announced under the guise of fundraising for causes on his behalf," a family rep said Wednesday. "It should be known that the only event sanctioned by his family and contributing to The Mac Miller Circles Fund is the Mac Miller: A Celebration Of Life event taking place in Los Angeles on October, 31. While the intent of further celebrating Malcolm's life through these various efforts is appreciated, it is important that it be known to paying fans which of these are official or not."
The family also recommended that fans keep an eye on the Mac Miller Circles Fund website for future announcements from the estate regarding sanctioned events.
Mac Miller: A Celebration of Life is set for later this month at the Greek in Los Angeles, California. The show will feature performances by Travis Scott, SZA, Vince Staples, Ty Dolla Sign, Thundercat, John Mayer, Earl Sweatshirt, and many more. All ticket proceeds will be donated to the MMCF, whose goal is to assist young people in underserved communities by providing them with access to resources related to creativity and community building.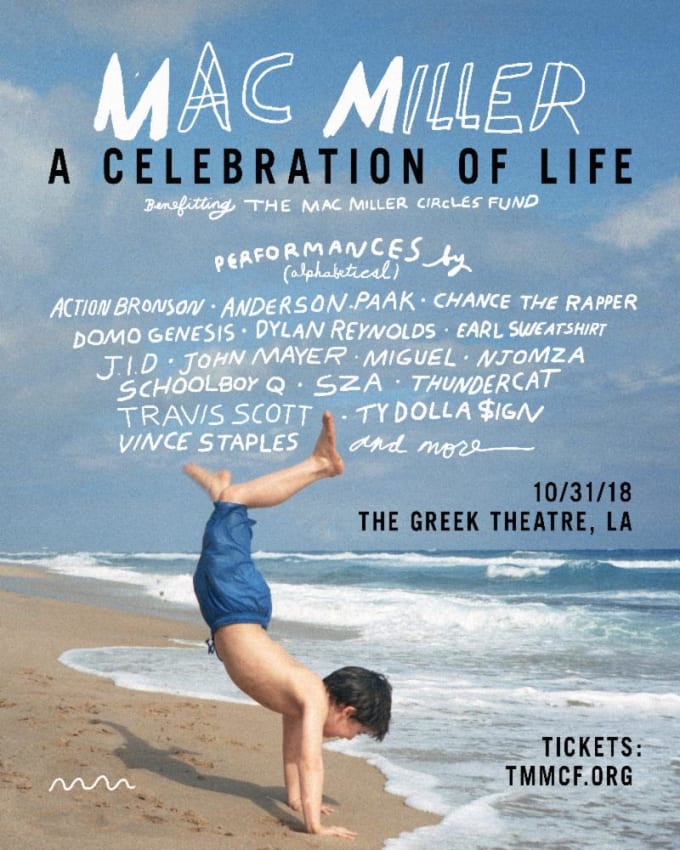 "I don't really know what [to] say about the whole situation but I appreciate everybody sending their condolences," Staples, who worked with Miller on Stolen Youth, said last month. "There is no Vince Staples music without Mac Miller, with that being said we about to smash on the gas."
In their initial statement on Miller's death, the family asked for fans and press to respect their privacy. "He was a bright light in this world for his family, friends, and fans," the family said at the time. "Thank you for your prayers."
Miller's excellent Swimming was released one month prior to his death. The album included production and uncredited vocal features from Snoop Dogg, Thundercat, J. Cole, J.I.D, Dev Hynes, and more. A tour of the same name, also featuring Thundercat and J.I.D, was originally scheduled to begin Oct. 27 in San Francisco.
Below, revisit Miller's August 2018 appearance on NPR's Tiny Desk concert series: